Realosophy Team in Media Roundup, Toronto Real Estate News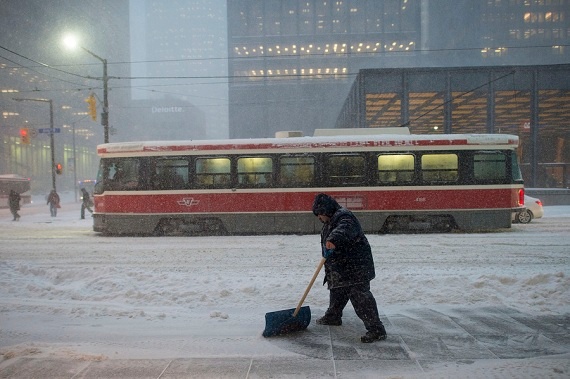 Photo Credit: Toronto Star
All you need to know regarding the housing market in Toronto, Canada and abroad.
This week in Toronto: The city's condos are shrinking, putting down a deposit doesn't guarantee a home and a Realtor is accused of fraud.
Elsewhere: Canadian banks are on the brink of a mortgage war, rural America's silent housing crisis and China builds a giant apartment with a 3D printer.

Toronto
Toronto's shrinking condos: Built for families, perfect for roommates or couples without kids (The Globe and Mail)
"I don't think we're achieving three-bedroom units. I think we're achieving units where people are crammed in just because a design that should be a two-bedroom unit is being made into a three-bedroom unit," said David Wex, a partner at Urban Capital, one of the developers.
Builder quietly cancels condo complex (Toronto Star)
In Urbancorp's case, however, purchasers put down deposits for the first tower of well-priced one- and two-bedroom condos more than three years ago. Some 181 buyers are only now being alerted that the 639-suite condo complex — still a busy construction pit on King St. W. just north of Liberty Village — is being abandoned.
Homelife Superstars realtor accused of duping homebuyer of $12K (CBC)
"If these agreements are used unscrupulously ... it's like walking into a car lot and before they'll even show you a car, asking you to sign an agreement [saying] if you ever buy a car anywhere in this city we get paid. You see the ridiculousness in that," Campbell says.
How one buyer scored on the cheapest real estate day of the year (The Globe)
Mr.Lush's real estate agent, Shawn Lackie of Coldwell Banker R.M.R. Real Estate, says his client had missed out on those other houses that interested him because they came to market during a busier time. In the short time it took for Mr. Lush to decide to make an offer, other bidders had beaten him to the table.
Sex trafficking victims to get special Toronto housing (The Star)
"Given the trauma and issues of power, control, abuse and deprivation (the victims) have suffered for extended periods, their spirits and health are eroded to the point that they need specialized services and support," Rivers said.
Guvernment nightclub closure signals death of 'superclubs' in the city (The Star)
"Areas become busy and people want to live there, but when the condos come, people don't want the noise. We've seen that now play out a number of times in different parts of Toronto," says longtime DJ and club writer Denise Benson. "When you look around the city you have to wonder where large clubs could be created."
Canada
Canadian banks on brink of mortgage price war (The Globe)
The renewed price war is raising concerns that the central bank's rate cut will add fuel to the country's overheated housing market even as Canadians struggle under the burden of rising household debt. Canadian Imperial Bank of Commerce deputy chief economist Benjamin Tal warned last week that falling mortgage rates could lead to "a monstrous spring in the real estate market."
What's so smart about unaffordable housing? (The Globe)
The biggest losers are millennials now entering their 30s, a generation urban planners and creative-class types predicted would always prefer downtown living over the suburbs. For these echo boomers, moving up to a single- or semi-detached home to raise a family is no longer even an option. Bringing up junior in a 600-square-foot condo is not as cool as it might sound. Yet that's the choice many face.
Will oil's big drop pop Canada's housing bubble? (Financial Post)
Canadians have been worrying more and more about a housing bubble. In that context, it's worth examining whether the fall in oil prices will be what finally causes the bubble to burst.
Realtors offer cash rebates to woo do-it-yourself homebuyers (CBC)
A new breed of realtors say they're often not needed until the home stretch. So they're offering clients a cut to their commission that can amount to a rebate of thousands of dollars.
USA
Rural America's Silent Housing Crisis (The Atlantic)
It can be hard to understand how finding affordable housing could be an issue in areas where housing is substantially cheaper than it would be in the nearest city or suburb. But the fact of the matter is, despite lower costs of living, income for many in rural areas is also significantly lower thanks to limited economic opportunities and struggling industries, like coal.
Long Lines, and Odds, for New York's Subsidized Housing Lotteries (New York Times)
As the city tries to address a housing crisis, many New Yorkers are becoming all too familiar with the lotteries used to dole out apartments that poor and working-class residents can afford.
Rupert Murdoch: 'What the hell does Zillow mean?' (Inman)
"What the hell does Zillow mean?" Murdoch said when asked whether "realtor.com" remains relevant. "We know what Realtor means."
International
China Has Built a Giant Apartment With a 3D Printer (City Lab)
According to the chief engineer of China Construction, Ma Rongquan, who inspected the buildings, both structures are in compliance with national standards, though he was quick to note that there were really no standards written yet for 3D-printed architecture. "We need to revise and improve such a standard for the future," Rongquan told the 3D-printing-focused blog 3Ders.
Rising housing costs reshape the UK home (Financial Times)
The number of households containing two or more families in the UK has surged during the past decade, highlighting the extent to which rising housing costs have forced changes in behaviour.
Realosophy Realty Inc. Brokerage is an innovative residential real estate brokerage in Toronto. A leader in real estate analytics and pro-consumer advice, Realosophy helps clients buy or sell a home the right way. Email Realosophy
Share This Article