Realosophy Team in Media Roundup, Toronto Real Estate News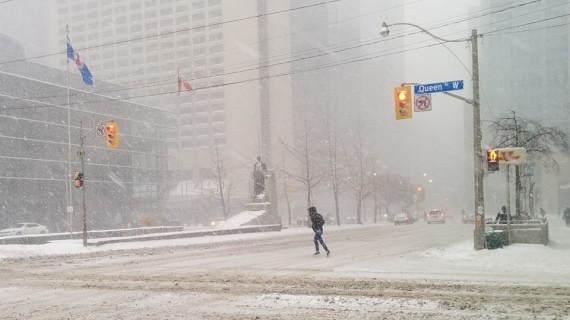 Photo Credit: CP24

All you need to know regarding the housing market in Toronto, Canada and abroad.
This week in Toronto: Micro condos face their first real test, which neighbourhoods could be affected by TDSB school closures and Realtors are left scrambling after threats by MLS.
Elsewhere: The price gap between houses and condos continue to swell in Canada, the NY Times launches a major investigation into foreign wealth flowing into United States real estate and Australians won't spend their housing wealth.

Toronto
Micro condos will face their first real test in Canada this year, experts say (CTV)
The appeal of so-called shoebox condos -- no larger than the size of two average living rooms -- will face its first real test in Canada this year, with an influx of the compact homes set to hit the country's largest real estate market.
Mapping Which Neighbourhoods Could Be Most Affected by TDSB School Closures (Torontoist)
Regardless of the outcome, the choices made will have an impact on communities across the city. Many of the schools shortlisted for review are also the site of daycares, adult programs such as English-as-a-second-language instruction, and other after-school uses such as local community organizations and sports programs, which are not considered in calculating a school's space utilization.
Realtors scrambling after threats by board to cut access to MLS (Toronto Star)
The move is largely seen as aimed at a new, tech-savvy generation of realtors who believe that all MLS data — and especially sales histories of homes — should be readily accessible online, as it is on popular U.S. sites like Zillow.com and Trulia.com, which allow folks to do more of their own research.
The Canary District: Here comes Toronto's instant neighbourhood (The Globe and Mail)
That's the plan. The building's initial occupants, thousands of Pan Am and Parapan Am Games athletes, arrive in July and will reside in this building for the short term. Then the whole area of six buildings will be renovated to serve new purposes as condos, rental buildings, student housing and a YMCA. It will form Toronto's newest built-from-scratch neighbourhood.
Canada
Price gap between condos, houses swells to record level (The Globe)
The causes are predictable. The supply of new listings for urban houses, has followed "an almost uninterrupted downward trend" for several years, said Shaun Hildebrand, senior vice-president of condo research firm Urbanation. That has been driven partly by a lack of newly built homes in urban centres and also by the fact that existing homeowners have been hesitant to sell in case there's nothing to buy.
Canadian housing starts defy expectations and rise in January (Canadian Press)
The increase came as the rate of new home starts in urban areas rose to 172,322 units in January from 161,940 in December, led by an increase in multi-unit homes including condominiums, townhouses and apartments.
Canadian dollar advances amid strong housing data, rising oil prices (Vancouver Sun)
The loonie rose 0.37 of a cent to 80.22 cents US as Canada Mortgage and Housing Corp. said that starts in January came in at 187,276 units, up from 179,637 units in December. The increase was led by multiple urban starts, which increased to 115,008 units in January from 102,384 in December, while single-detached urban starts decreased to 57,314 units from 59,556.
USA
Stream of Foreign Wealth Flows to Elite New York Real Estate (NY Times)
But The Times also found a growing proportion of wealthy foreigners, at least 16 of whom have been the subject of government inquiries around the world, either personally or as heads of companies. The cases range from housing and environmental violations to financial fraud. Four owners have been arrested, and another four have been the subject of fines or penalties for illegal activities.
Mexican Political Family Has Close Ties to Ruling Party, and Homes in the U.S. (NY Times)
Over the years, he and members of his immediate family — starting with his father, José Murat Casab, a former governor of Oaxaca — have bought at least six properties in the United States, including two condominiums near a ski resort in Utah, another at the beach in South Texas and at least one in Manhattan, according to records and interviews. In New York, José Murat's children have also lived for periods of time in one of the more modest condos at the luxurious Time Warner Center overlooking Central Park.
Jho Low, Well Connected in Malaysia, Has an Appetite for New York (NY Times)
At the time, Mr. Low said he represented a group of investors, according to two people with direct knowledge of the transaction. Mr. Low recently told The New York Times that he had not purchased the penthouse for investors, and that it was owned by his family's trust.
At the Time Warner Center, an Enclave of Powerful Russians (NY Times)
For many wealthy Russians, a New York condo serves as a double parachute — a safe-deposit box of sorts, and a soft landing spot should the climate back home turn inhospitable or dangerous — even if that apartment sits dark and vacant for most of the year. In the process, the Russians, while not quite as ubiquitous as they are in, say, some of the tonier districts of London, have become the face of a sharpening debate about the impact of New York's pied-à-terre economy.
International
Australians won't spend their housing wealth (Sydney Morning Herald)
Deciding to spend more of your income simply because your house has gone up in value may sound a bit simplistic, even foolhardy. But the wealth effect is a well-established idea within economics, and there's been a strong correlation between the property market and household spending in the past.
London Housing Weakens as RICS Index Plunges to Six-Year Low (Bloomberg)
London's housing market weakened at the start of 2015, and there appears little chance of a near-term pickup, according to the Royal Institution of Chartered Surveyors.
Realosophy Realty Inc. Brokerage is an innovative residential real estate brokerage in Toronto. A leader in real estate analytics and pro-consumer advice, Realosophy helps clients buy or sell a home the right way. Email Realosophy
Share This Article