Realosophy Team in Media Roundup, Toronto Real Estate News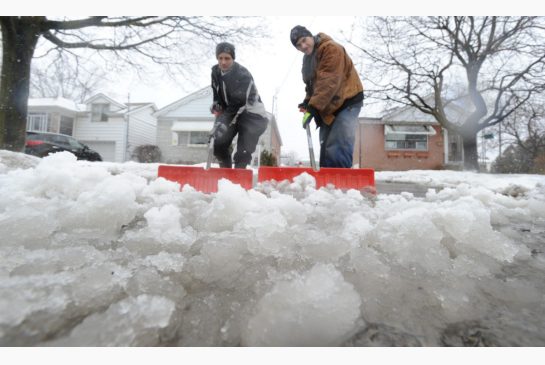 Photo Credit: Toronto Star
All you need to know regarding the housing market in Toronto, Canada and abroad.
This week in Toronto: How might the GTA housing market unravel, prices continue to surge in Toronto and a lack of listings lead to lively bidding.
Elsewhere: Smaller lenders are battling the bigger mortgage lenders, a turning point for first time U.S. home buyers and the housing poverty crisis widens across Europe.

Toronto
If GTA housing unravels, how it might unfold: Mayers (Toronto Star)
As an example of what can happen, Burleton says the oil price shock is paralyzing Calgary's housing market. Average prices are down 10 per cent from their highs and more is likely in store. Listings are rising, but buyers are few and far between.
Toronto's housing surge: Prices jump 10%, borrowing costs ease (The Globe and Mail)
"With tight market conditions continuing to prevail in most parts of the Greater Toronto Area, especially where low-rise home types are concerned, it is no surprise that we continue to see strong competition between buyers leading to robust annual rates of price growth," said Jason Mercer, the group's director of market analysis.
A lack of listings leads to lively bidding for Toronto homes (The Globe)
One neighbour on Berkshire Avenue looked around at his own nearly identical bungalow and called listing agent Christopher Stevenson to pepper him with questions about the sale down the street at number 21. By the end of the conversation, the owner at number 75 had decided to enlist Mr. Stevenson to sell his house too.
#TorontoIsFailingMe: I ran against Rob Ford and suffered the consequences (Toronto Life)
The first time I really got involved in the community was when I was 13. At the time we had a community centre with an after-school tutoring program. One day I showed up and the program had been shut down without notice. I was so frustrated. When Toronto Community Housing later held a meeting, my mom told me I should go and speak out. I did, and after the meeting we got our program back.
Canada
Mortgage rate war heats up as smaller lenders offer deep discounts (The Globe)
Only weeks after the country's banks began offering eye-popping specials such as 2.84-per-cent five-year fixed mortgages, the average discounted five-year rate offered by the Big Six banks now sits around 2.79 per cent, driving the spread between the bank's posted rates and the rates that customers actually pay to levels not seen since 2012.
Average Canadian house price hit $401K in January, up 3.1% in past year (CBC)
If hot markets in Toronto and Vancouver are stripped out of the calculation, house prices have actually dropped in the past year, with the average price outside those two cities now $312,280, a decline of 0.3 per cent.
Non-Bank Lenders Not Casting Big Shadow Over Canada's Housing Market (Wall Street Journal)
One of the frustrating aspects of the debate for many has been the absence of data on some key issues for the market, including the degree of foreign ownership and the extent of "shadow" financing of mortgage and home equity loans.
USA
Housing Turning Point Seen in U.S. First-Time Buyers (Bloomberg)
Younger Americans who have been locked out of the housing recovery as lenders raised standards and wages stagnated are getting a boost this year. Federal regulators late last year adjusted mortgage rules to reduce risks for lenders and cut premiums and down payments for lower-income borrowers. The slowdown of home purchases by investors has also created an opening for first-time buyers.
Supportive Housing Could End the AIDS Epidemic in New York (New York Times)
The most effective way to keep people with H.I.V. in care, and in reach of viral suppression, is stable housing, with supportive services for those in need. It can reduce H.I.V. mortality by as much as 80 percent and decrease the rate of new infections.
Why LGBTQ Seniors Need a Housing Strategy of Their Own (City Lab)
"There is an affordable-housing crisis in America—period," says Jennfier Ho, senior adviser to HUD Secretary Julián Castro and the "principle queer" representing the agency in this effort. "America is aging at a rapid pace, and they are losing income in collision with the affordable-housing crisis," she says. "America is going to have to face the needs of an aging population, and LGBT people are part of that. Those of us in the younger generation owe it to the older generation who showed the way."
International
All of Europe may march in protest against housing poverty (The Guardian)
Affordability is a problem even in smaller capitals like Bratislava in Slovakia, where 50% the city's residents have expressed some form of concern about housing prices. Scandinavian capitals are not immune either. Stockholm, a city with 2 million people, has a shortage of more than 100,000 homes, according to the Swedish Chamber of Commerce and the shortage will get worse with an estimated increase of 600,000 residents by 2030.
Tincknell insists that of the 1,300 homes sold so far, two-thirds have gone to UK buyers, and that "people are coming over the river from Chelsea". But Angela Parkinson, a local resident and BPSCG campaigner, is not impressed: "It's going to be a 'buy to leave' business. These flat are just deposit boxes for buyers taking advantage of the rising value of property in London."
Realosophy Realty Inc. Brokerage is an innovative residential real estate brokerage in Toronto. A leader in real estate analytics and pro-consumer advice, Realosophy helps clients buy or sell a home the right way. Email Realosophy
Share This Article