Realosophy Team in Media Roundup, Toronto Real Estate News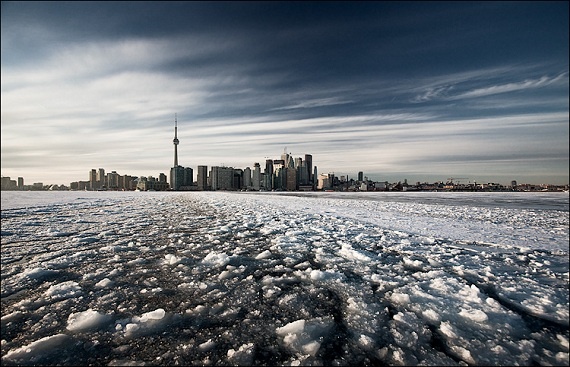 Photo Credit: Top Left Pixel
All you need to know regarding the housing market in Toronto, Canada and abroad.
This week in Toronto: The condo market is headed for a relative slowdown, where can you live for $400,000 and the TDSB lists 60 schools are under review for "under-used" space.
Elsewhere: Calgary's housing market takes a hit due to the price of oil's decline, New York City mayor Bill De Blasio's housing plan faces roadblocks and Britain's housing crisis is muddled by political turmoil.

Toronto
Toronto condo market likely headed for 'moderate slowdown' (The Globe and Mail)
With oil prices falling and Canada's banks facing downgrades and layoffs, Toronto's condo market is likely headed for "a moderate slowdown," said condo research firm Urbanation.
Condo market bounces back across GTA after 2013 slump (Toronto Star)
"After taking a break in 2013, new condo buyers were enticed back into the market as pricing and incentives became more competitive across a greater selection of available units," said Shaun Hildebrand, Urbanation's senior vice president, in a statement.
The Chase: they had $400,000 and were willing to live anywhere but in a condo (Toronto Life)
After checking out places in Markham, Aurora and Richmond Hill, they decided there was nothing decent for $400,000 that wasn't a condo. Since they were going to have to up the ante, they opted to limit their search to Markham, which they liked for its Chinese restaurants and grocery stores—and Sharon's dad liked for the investment potential.
The average price of a home sold in Toronto in January climbed 4.9% to $552,575, according to the Toronto Real Estate Board which predicts more increases in 2015 amid near record-low interest rates.
As many as nine schools — which include Vaughan Road Academy, Downsview Secondary School, Fairbank Public School and Keelesdale Jr. Public School — could eventually be closed, board officials said. The full list appears below.

Canada
Calgary's housing market slumps as oil's fall takes a toll (The Globe)
Calgary's housing market has taken a sudden turn downward, raising new concerns about the state of Alberta's economy in the midst of falling oil prices.
It's Cinderella time for North Vancouver as house prices shoot up (The Globe)
"It's absolutely crazy," says Shelley Williams, who's been a real estate agent on the North Shore for 14 years. "Houses are going quickly. If it is in your price range and your area, you'd better get in there because it's all moving so quickly."
'Welcome Signs Of Cooling' In Canada's Overvalued Housing Markets: IMF (Huffington Post)
"Welcome" because the IMF sees risk to Canada in growing household debt. The organization is worried that the country's economy continues to rely too heavily on consumer debt, and that the kind of debt Canadians are taking on is riskier than it used to be.
USA
De Blasio Housing Push Faces Hurdles as Neighbors, Politicians Raise Questions (Wall Street Journal)
"East New York is one of the last affordable neighborhoods in Brooklyn and really in New York City as a whole. We would love to hear more in terms of the affordability and how deeply affordable it's going to be," said Jonathan Westin, executive director of New York Communities for Change, which is participating in the march.
Affordable housing in San Francisco affordable only for upwardly mobile (Al Jazeera)
In exceedingly expensive markets like San Francisco and New York City, where median home prices top $1 million and one-bedroom apartments typically rent for $3,000 or more per month, these inclusionary housing programs are increasingly pitched as a solution to the affordability crisis.
Does Gentrification Mean the End of the Laundromat? (VICE)
Chances are that you have a co-dependent, if tenuous, relationship with your local laundromat. They're a necessary hassle of city living if you're not lucky or wealthy enough to live in a new or newly renovated apartment with on-site laundry. So do rising rents spell doom for laundromats?
International
Labour condemns housing 'chaos' as developers call for policy U-turn (The Guardian)
"David Cameron's government has consistently and repeatedly watered down affordable housing requirements depriving local communities of badly needed affordable homes, and have failed to assess the impact of their policy. But one thing is clear – it will lead to fewer affordable homes. Ministers should urgently scrap this policy and think again."
The Luxury Housing Of Our Flood-Plagued Future Will Float (Gizmodo)
In our flood-plagued future, what kind of housing will the super-rich buy? In Dubai, we're getting a sneak peek at what super-luxury real estate looks like in a world with unpredictable waters—and the main selling point is that it floats.
Why Istanbul Is Building the Largest Monorail Network in Europe (City Lab)
This week, Istanbul started the process of building the largest monorail network Europe has ever seen. Covering 47 kilometers (29 miles) and ultimately carrying 200,000 passengers a day, Turkey's largest city will one day have a total of eight monorail lines snaking across it, adding missing links to a still-developing transit system.
Realosophy Realty Inc. Brokerage is an innovative residential real estate brokerage in Toronto. A leader in real estate analytics and pro-consumer advice, Realosophy helps clients buy or sell a home the right way. Email Realosophy
Share This Article