Realosophy Team in Media Roundup, Toronto Real Estate News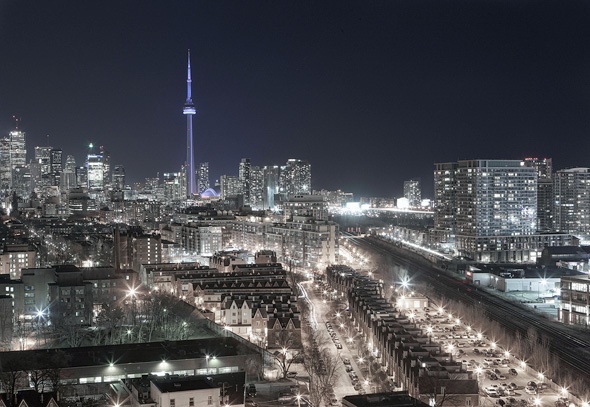 Photo Credit: Blog TO
All you need to know regarding the housing market in Toronto, Canada and abroad.
This week in Toronto: Why the condo king is worried about downtown, a new building at Yonge and Bloor could be the tallest in the city and some real estate brokers are defying TREB.
Elsewhere: There have been corrections in Canadian housing, the Treasury Department in the United States is asked to vet foreign investors and Argentina's real estate resurrection.

Toronto
Why is Toronto's condo king Peter Clewes so worried about the emerging shape of downtown? (National Post)
He'll be driving downtown, on his way to the office at 5 a.m. say, and he'll make an extra turn. He'll loop around to skip certain buildings. Or, if he's walking, he'll keep his head down and not look up at the structures he would rather not remember.
First look: New Yonge and Bloor tower would be Toronto's tallest (The Globe and Mail)
Is it The One? The new development at the southwest corner of Yonge and Bloor streets will be sold with that catchphrase, and it will in some ways earn that title. The design by global architects Foster and Partners is tall, brawny and complex.
Morguard makes towering reinvestment in Toronto rental market (The Globe)
South to the shore of Lake Ontario are the clustered outcroppings of condos. Precious few of the new buildings contain apartments purposely built as rentals. The demand for rentals is heavy, but developers have preferred to construct condos. So rental demand has been partly sated by the fact that nearly one-third of condos in Toronto are rented out by their owners.
Real estate brokers defy TREB, vow to publish home sales stats (CBC)
Two of the three brokers who shut down their online service this week after receiving a threatening letter from the Toronto Real Estate Board have decided to get back in the game.
Canada
Canadian housing: 'There have clearly been corrections in progress' (The Globe)
Canadian house prices may be up for the second month in a row, but a key report warns that "there have clearly been corrections" in some markets.
Developers say foreign investors still a small segment of condo market (Financial Post)
"When we take an agreement of purchase and sale, we need a [social insurance number] and photo identification," he said, adding lenders providing construction financing demand to know the origin of money before they go ahead. "We kind of know what percentage of buyers are foreign buyers."
The International Monetary Fund is raising red flags about Canada's housing market, warning that moves by Ottawa in recent years to tighten mortgage lending standards and boost oversight of the country's financial system haven't gone far enough.
Vancouver's problem isn't high housing costs, it's stagnant incomes (BC Business)
Housing affordability has been a Vancouver preoccupation for three decades, and not without reason. High housing costs take a toll on the well-being of residents, on the texture of the city, and not least on the economy, by distorting labour markets and diverting capital from more productive investments. Following last November's municipal elections, in which the cost of housing and associated ills bubbled to the forefront, the topic appears set to blossom as a major civic debate and may even precipitate action. Before that happens, there are a few misconceptions that should be cleared up.
USA
Treasury Urged to Scrutinize Foreign Real Estate Buyers for Money-Laundering Risk (New York Times)
In a broad show of support for increased scrutiny of foreign real estate buyers in the United States, 17 nonprofit organizations on Tuesday urged the Treasury Department to require that the real estate industry verify the identities of buyers and screen them for potential money-laundering risk.
Why America's Racial Wealth Gap Is Really a Homeownership Gap (City Lab)
People of color continue to face barriers to homeownership. They are less likely to own a home (below) and less likely to get returns from the homes they do own, says Catherine Ruetschlin, senior policy analyst at Demos, a public policy organization. Ruetschlin and her colleagues have authored a new report showing the extent to which inequality in homeownership drives the racial wealth gap, and how eliminating this disparity could significantly reduce U.S.wealth inequality.
US Mortgage Applications Dip, Housing Market Seeks Revival (Yahoo)
In the US, applications for mortgages decreased by 1.3%—compared to the previous week. Applications for purchases increased by 2%. Applications for refinances decreased by 3%. The slowdown in refinances could be attributed to the slight rise in interest rates. For example, the average rate for a 30-year fixed-rate mortgage was 4.01%—compared to 3.96% in the previous week.
International
Investors Getting Ready For Argentina's Real Estate Resurrection (Forbes)
In 2011, Kirchner pulled out all the stops while investors pulled out their hair. Call it Act III in the Kirchner drama, el Presidenta put a limit on dollar transactions, making importing next to impossible. Foreign investors, especially Yankees with dollars, were not welcome by the Kirchner government.
This Award-Winning Micro-Housing Design Is Inspired by Bubble Tea (City Lab)
A 120-square-foot nook is nobody's dream apartment. A new housing development in Seoul built around such tiny units might,in fact, cause some folks nightmares. Yet the Songpa Micro-Housing project could totally work for people who don't mind the prospect of living as if they were suspended in a giant vat of bubble tea.
How do you fix a housing crisis in a time of austerity? (The Guardian)
Although housebuilding in England last year rose by 10% to 137,000, that figure is 25% down on 2007 levels. These numbers are just over half of what housing campaigners estimate we should be building to make a dent in the housing shortage. With big cuts to public investment in housing under the coalition – and little sign of a big pot of cash on the horizon after the general election – how can we get anywhere near the number of affordable homes we really need?
Realosophy Realty Inc. Brokerage is an innovative residential real estate brokerage in Toronto. A leader in real estate analytics and pro-consumer advice, Realosophy helps clients buy or sell a home the right way. Email Realosophy
Share This Article