Realosophy Team in Media Roundup, Toronto Real Estate News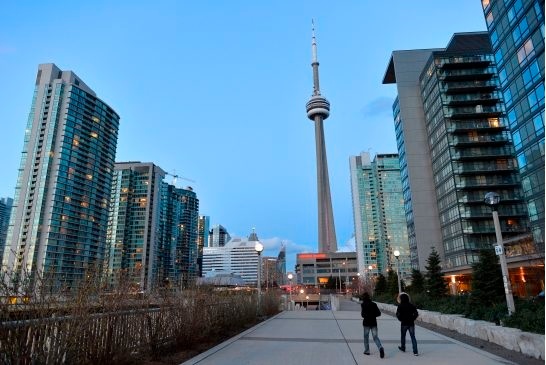 Photo Credit: Toronto Star
All you need to know regarding the housing market in Toronto, Canada and abroad.
This week in Toronto: What can $1 million buy you in the city, trying to cut red tape for affordable housing development and limits in landlord accountability.
Elsewhere: Deconstructing Canada's housing market valuations, the deep housing roots of Baltimore's decline and the UK housing crisis is in breach of human rights according to a report.
Toronto
House hunting? Here's what $1-million buys in Toronto these days (The Globe and Mail)
To scratch my itch, I settled on the west-end Toronto neighbourhood of Roncesvalles, where houses routinely snag multiple offers and winning bids often exceed the million dollar mark. With High Park, good schools, transit, and adorable shops steps away, it's easy to see why "Roncy" is a hot location for families.
Open Door initiative to cut red tape for affordable housing development (Global)
The initiative, Open Door, is designed to encourage developers, both private and non-profit, to build affordable rental and ownership housing. "Open Door will change the way the city does business with developers," said Tory. He said the city will "build more badly needed affordable housing, faster."
Inside Toronto Community Housing's uphill battle (Toronto Star)
But in fact expensive repair work is constant and ongoing. This year alone TCHC is investing $175 million in capital fixes and as of last month, there were 487 projects underway in 313 of its 2,200 properties. This week, the agency led the Star on a tour of three active work sites to provide an up-close look at what's being done to beat back the rising tide of urgently needed repairs.
The Limits in Landlord Accountability (Torontoist)
Crime is an ever-present concern at 500 Dawes, but it's just one of many issues faced by tenants. In the past, serious maintenance problems like a broken heating system in winter have competed for attention with pest-control troubles and vandalism. But despite the steady stream of complaints about the building to City officials and tenant's rights organizations, improvements have been slow coming.
Canada
House of cards: Deconstructing Canada's housing market valuations (The Globe)
Is Canada's housing market in a bubble? The question has lingered for years – ever since national home prices managed to defy a global real-estate correction. Observers, both domestic and foreign, continue to issue dire pronouncements about the health of the Canadian housing market. But those predictions vary wildly, with some saying the market is overvalued by as much as 60 per cent, while others say it could be undervalued by almost 10 per cent.
Bank of Canada's Poloz dispels speculation of housing bubble (The Globe)
The Bank of Canada's top brass assured a parliamentary committee that Canada's bloated housing market has not become a risky asset bubble, despite the central bank's own calculation that house prices nationwide are roughly 20 per cent overvalued.
CMHC says Regina, Winnipeg are the riskiest housing markets in Canada (Financial Post)
Regina and Winnipeg were assessed as the two riskiest markets in the country — both high risk. In Regina, the problem is price acceleration, overvaluation and overbuilding with condominium apartments singled out. In Winnipeg, the risk is overvaluation and overbuilding.
Ottawa should clear up obscure mortgage penalties (The Globe)
Most Canadian home owners don't know how much it would cost them to break their mortgage before the maturity date. But with penalties potentially in the thousands of dollars, they should.
What Every Canadian Borrower Needs To Know About Fixed-Rate Mortgage Penalties (Move Smartly)
The vast majority of Canadian mortgage borrowers do not have any idea that there are significant differences in the way fixed-rate mortgage penalties are calculated, and the largest Canadian lenders, who have milked that lack of awareness to their advantage for years, have been in no hurry to explain it to them.
USA
Home Prices in 20 U.S. Cities Increase at Faster Pace (Bloomberg)
"There's a combination of factors that are pushing prices higher -- one is that there's some demand for housing, and also there hasn't been much of a rise in inventory," said Ryan Wang, an economist at HSBC Securities USA Inc. in New York and the best forecaster of home-price changes over the past two years, according to data compiled by Bloomberg. "Prices are rising moderately, and we'll probably continue to see that for the rest of the year."
Rent Will Remain Too Damn High for the Foreseeable Future (City Lab)
The thing is, these folks don't go from zero-to-homeowner in a matter of months. They rent. And that's why rental vacancy rates also have fallen back to levels last seen in the early 1990s.
The Deep, Troubling Roots of Baltimore's Decline (Slate)
In 1950—following complaints from white residents over plans to expand public housing—the mayor and the City Council agreed to limit future building to existing "slum sites" where the majority of blacks lived. As they had done for the past four decades, white leaders prepared to limit black migration in the city as much as possible. But there was still a housing problem; blacks were still moving to Baltimore, and there weren't enough units for the new residents. Both dynamics, working together, led to a decade-long project of "urban renewal," as the city used federal funds for "slum removal" to make way for new, high rise public projects. Renewal displaced 25,000 Baltimoreans—almost all of them black—and the new high-rises were built with segregation in mind. By the time construction was finished, the new projects had bolstered and entrenched the segregation of the past. The black areas of 1964—and of the 1968 riots—are almost identical to the black areas of 50 years prior.
International
UK housing crisis 'in breach of human rights' (The Guardian, UK)
"It is quite clear we are in breach of our UN obligations," said the report's author, Dr Jessie Hohmann, law lecturer at Queen Mary University of London. "It is possible to take policy steps to protect the most vulnerable and marginalised, but the UK government has decided not to do that. Since the 1980s we have lost any concept of housing's social function, and that is why protest movements are gaining ground. Without decent housing, you can't experience an adequate life in society, but now housing is seen just as an asset."
'No evictions and yuppies': Vandals trash upmarket estate agents Foxtons in protest against gentrification and rising house prices they claim are forcing locals out of deprived South London district of Brixton (Daily Mail, UK)
One of the event's organisers denounced the violent actions of 'one idiot' but told MailOnline there could be a reason Foxtons - which has a reputation for selling expensive homes - has been 'continuously targeted'.
Reclaim Brixton march: traders slam 'lunatic' protesters who smashed Foxtons shop front (Evening Standard, UK)
Traders today slammed "lunatic" demonstrators who hijacked a protest against the gentrification of Brixton by storming the town hall and smashing up a branch of Foxtons. The event had been organised by residents and traders who say they are being driven out of the area by soaring rents as well as house prices and regeneration schemes.
Ikea offshoot sending innovative housing to UN refugee camps (Toronto Star)
One hundred lightweight plastic housing units — developed by Better Shelter, a company founded by a charitable arm of Ikea, and the UN Refugee Agency — are being delivered to Erbil, Iraq, on Thursday, the first units to roll off the line before full production begins in June.
Realosophy Realty Inc. Brokerage is an innovative residential real estate brokerage in Toronto. A leader in real estate analytics and pro-consumer advice, Realosophy helps clients buy or sell a home the right way. Email Realosophy
Share This Article