Realosophy Team in Media Roundup, Toronto Real Estate News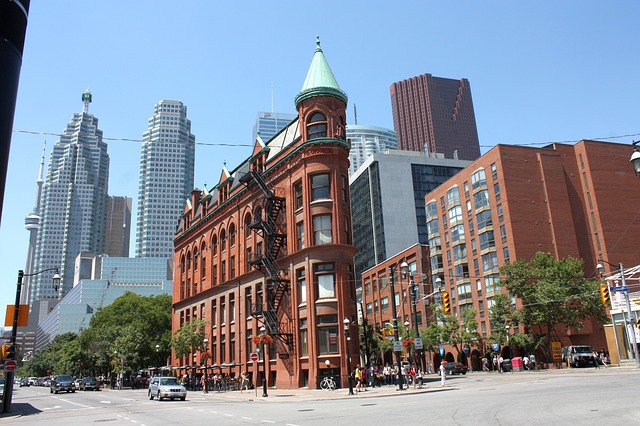 Photo Credit: Aaron Kroll
All you need to know regarding the housing market in Toronto, Canada and abroad.
This week in Toronto: The season of the bully in the Toronto housing market, why we need to invest in walkable neighborhoods and Muskoka becomes the new Hamptons.
Elsewhere: Looming housing problem requires action from Ottawa, San Francisco's housing boom goes over the top crazy and a sad tale of violence in Paris.
Toronto
In Toronto, it's the season of the bully (The Globe and Mail)
In the Greater Toronto Area, bidding contests are still common even in neighbourhoods far from the core. But if there's one defining theme in the spring of 2015 it's the prevalence of bullies who would rather make one bold move than risk waiting around for the scheduled offer night.
Toronto Needs to Invest in Walkable Neighbourhoods (Huffington Post)
There's a lot developers can do to help make Toronto's inner suburbs more walkable, but with consumer preference so pronounced for neighbourhoods that already have that walkability, it's hard to make the business case.
Muskoka now 'Hamptons of the north' for luxury cottage living (Toronto Star)
"We're seeing a renewed interest in Muskoka," says Halloran, echoing a recent Christie's International Real Estate global luxury white paper. It noted a 66 per cent increase in high-end Muskoka waterfront purchases in 2014 over 2013, much it fuelled by the weak dollar and growing international interest from the wealthy of the world.
Evict drug dealers and prostitutes, Toronto Community Housing officials told at meeting (Inside Toronto)
People who live in Toronto Community Housing say they want managers who listen, and who see them as human beings. But they also want someone to enforce the rules, and say most often the city's giant housing authority has no one around its buildings at night or on weekends to stop drug sales, prostitution and other illegal activity.
Canada
Joe Oliver tells realtors Ottawa will stay out of housing market because no bubble seen (Financial Post)
The government, which has made four changes to housing finance rules since 2008 to cool booming sales and rising prices, is satisfied with market dynamics today and isn't seeking further reform, Oliver said.
Low oil prices taking toll on Alberta housing prices and demand, says new report (Calgary Herald)
"With oil prices off more than 40 per cent from a year ago, there are broader worries of a contraction in the region … with employment prospects shakier in a region highly dependent on commodities pricing, uncertainly has begun to chip away at demand for housing."
Take that Toronto, Vancouver! Canada's housing market is now 'a tale of 22 cities' (Financial Post)
Only four of Canada's top 26 cities reported really weak sales last month — no surprise — all in oil producing provinces, Porter said in a note Friday. Calgary, Edmonton, and Regina were the only cities to post double-digit yearly declines in sales, and Saskatoon declined 9.7%.
Looming housing problem needs action from Ottawa, study says (The Globe)
The country has a looming housing problem that is going to require action from all levels of government, according to a new report from the Federation of Canadian Municipalities. The study says the long, steady decline in federal subsidies for social housing has left provinces, territories and municipalities struggling against market forces that are making it increasingly difficult for low- and modest-income renters.
USA
U.S. housing starts surge in April to highest since November, 2007 (The Globe)
U.S. housing starts jumped to their highest level in nearly 7-1/2 years in April and permits soared, offering a glimmer of hope for an economy that is struggling to regain strong momentum after a dismal first quarter.
San Francisco's housing boom has gotten over-the-top crazy (Business Insider)
In San Francisco, a boom is always associated with its essential counterpart, the bust. They're as typical to the city as sun and fog. And currently, the city is in one heck of a housing boom, but the national indices don't quite do justice to how over-the-top mind-blowing crazy the situation has gotten.
The Deep Roots of America's Housing Affordability Crisis (City Lab)
It's getting harder and harder for recent college graduates to afford a place to live in the booming U.S. cities where the most diverse pool of jobs can be found. In the tech hub of San Francisco, new grads need to make more than $137,000 a year to comfortably afford that city's median rent, but their median salary is just $41,000, according to a new analysis by Trulia. In New York, a new grad would need a starting salary of $121,500 to pay the median rent, almost four times the $33,000 median income for recent grads there.
International
Despair haunts Paris housing estate touched by violence (Financial Times)
When Fatima bought a flat in the Chêne Pointu housing estate on the eastern fringes of Paris, she thought that owning a property would far outweigh the relative inconvenience of life just beyond the city's Périphérique ring road. Sixteen years later, plans to improve the inadequate public transport to the area remain on the drawing board and the estate, built during the prosperous 1960s but now blighted by years of recession and delinquency, feels further away from Paris than ever before.
Why are more than 10 million homes vacant in India? (BBC)
Many of these homes have been bought as investments by people who have "extra" money to invest. A substantial portion - no one knows how much - of this is black money on which taxes haven't been paid. Hence, homes have been bought but nobody is living in them.
Realosophy Realty Inc. Brokerage is an innovative residential real estate brokerage in Toronto. A leader in real estate analytics and pro-consumer advice, Realosophy helps clients buy or sell a home the right way. Email Realosophy
Share This Article