Realosophy Team in Media Roundup, Toronto Real Estate News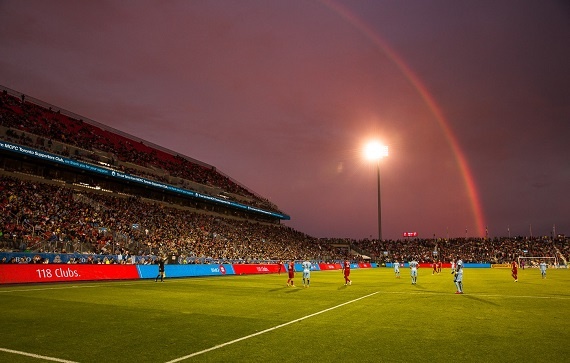 All you need to know regarding the housing market in Toronto, Canada and abroad.
This week in Toronto: An article in the Toronto Star raises a huge fuss, condo owners look to list and protecting condo owners from fraud.

Elsewhere: Canada's national housing agency raises questions, how Penn Station saved New York and righting a wrong in Paris.
Toronto
Midtowners battle the rise of the midrise (Toronto Star)
"I'm really concerned about my property value going down," says Lisa Goodwin, 49, a stay-at-home mother of two who has lived in a four-bedroom dwelling on Keewatin Ave. for 19 years. "Right now all the houses are $1.1 to, say, $2.2 (million) but they're looking at putting in places that are only $500,000."
Toronto, Vancouver condo owners look to list over next 5 years: CMHC (The Globe and Mail)
The changes were driven largely by investors in Toronto, where 52 per cent of investors expected to own their unit for at least five years, down from 61 per cent from a year earlier. In Vancouver, the number of investors who said they planned to hold their units for less than two years rose from 8 per cent to 12 per cent. The biggest increase was among investors who planned to hold their units for between 2 and 5 years.
Ontario unveils new legislation to protect condo owners from fraud (The Globe)
In the wake of a massive condo boom, Ontario is overhauling its outdated rules governing condominium living, giving the province's 1.3 million condo owners new rights to battle boards and unscrupulous property managers.
Snow storms and ice hockey: Billionaires flock to the world's new luxury homes hotspot (The Telegraph)
Toronto is towering above the rest of the world's luxury property markets, as the only city to record an acceleration in the sales rate of high-end homes from 2013 to 2014. The Canadian city, well known for its economic stability, experienced a 37pc increase in the sale of luxury penthouses, apartments and houses in the 12 months to the end of December, after just a 4pc rise in the previous year, outstripping San Francisco, Sydney and Miami, according to a report from Christie's international real estate group.
Canada
Canada's national housing agency is skeptical that a private mortgage-bond market would work here (Financial Post)
Canada Mortgage & Housing Corporation, which backs more than $422 billion of mortgage bonds that are packaged and sold to investors, is looking for ways to limit taxpayer exposure to the housing market. While the Ottawa-based agency has pulled back on mortgage insurance, the residential mortgage-backed security market is less likely to attract the private sector, said CMHC Chief Executive Officer Evan Siddall.
Average home price of affluent Canadians tops $1.5-million (The Globe)
"If you owned a house that was paid off in 2002, then this is very good news for you. Those folks who managed to do that are going to be relatively well off," he said. These homeowners will tend to be older, he added.
Real estate woes: The secret lives of house-poor Canadians (CBC)
The family is house poor, or as Edgerton puts it, "house rich and cash poor." They live in Lachute, Que., about an hour outside of Montreal, far from the housing hot zones of Toronto and Vancouver. Edgerton estimates she and Camus spend 43 per cent of their combined income paying down their $418,000 mortgage and covering other fixed housing expenses. Once they pay the rest of the bills and buy groceries, "there is nothing left," she explains. She describes their existence as living "hand to mouth."
#Donthave1Million protesters rally against high cost of housing (CBC)
"I hear on a daily basis from people who are struggling to stay in the city, whether it's finding a decent place to rent for their family or a modest home to make an entry into the housing market. This conversation needs to happen and I hear the concerns loud and clear — and I hope the provincial and federal governments are listening too."
USA
How Penn Station saved New York's architectural history (BBC)
Much of SoHo's beautiful cast-iron district would have gone. Likewise, Tribeca and the Meatpacking district. In other words, the developers would have laid waste to what have recently become Manhattan's most desirable neighbourhoods. Row upon row of Brooklyn's brownstones would also have been obliterated, so, too, Radio City Music Hall, the home of the famed Rockettes.
The Urban Housing Crunch Costs the U.S. Economy About $1.6 Trillion a Year (Huffington Post)
The dearth of affordable housing options in superstar cities like New York, San Francisco and San Jose (home of Silicon Valley) costs the U.S. economy about $1.6 trillion a year in lost wages and productivity, according to a new analysis from economists Chang-Tai Hsieh of the University of Chicago and Enrico Moretti of the University of California at Berkeley. The study, which journalists like The Economist's Ryan Avent and Vox's Tim Lee have written about, was made publicly available as a National Bureau of Economic Research working paper earlier this month.
International
How Paris Is Trying to Fix One of the Worst Planning Decisions It Ever Made (City Lab)
Demolishing the beautiful steel and glass pavilions of the old market was still a huge loss. In its place, Paris built the Forum Des Halles, a partially subterranean modern mall that had a striking look—it resembled a cascade of glass houses—but never quite gained the public's affection. In rainy weather, its sunken courtyard could look so forlorn you want to give it a hug.
Realosophy Realty Inc. Brokerage is an innovative residential real estate brokerage in Toronto. A leader in real estate analytics and pro-consumer advice, Realosophy helps clients buy or sell a home the right way. Email Realosophy
Share This Article