Realosophy Team in Media Roundup, Toronto Real Estate News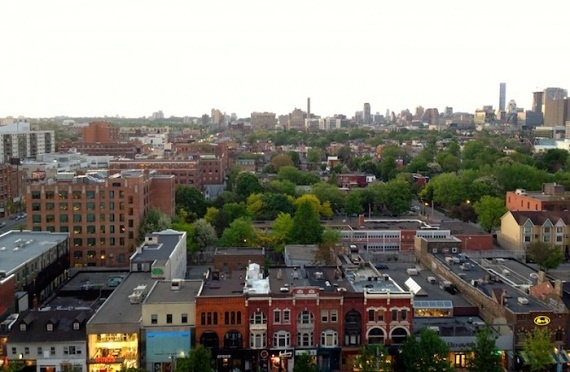 Photo Credit: Chestnut Park

All you need to know regarding the housing market in Toronto, Canada and abroad.
This week in Toronto: Who can afford homes in this city, crunch time is upon us and affordable housing remains an unfeasible goal.
Elsewhere: Housing prices soar in markets you wouldn't think out west, it's possible to end homelessness in the United States and the housing market in Britain remains ridiculous.
Toronto
Toronto: Where 'relatively average' homes now cost up to $2-million (The Globe and Mail)
The "Luxury Defined" report released yesterday by the real estate arm of the renowned auction house found that high-end home sales jumped by 37 per cent last year in Toron to, the only city in the world to register a year-over-year faster pace.
It's crunch time for Toronto's home sellers and home buyers (The Globe)
May, 2015 is already off to a frantic start, agents say, with barely a wisp of the bidding war ennui that often descends at this time of year. And, with spring temperatures so late to arrive this year, many real estate agents are betting that the market will remain hectic longer into the summer than usual.
Ontario's affordable housing wait list hits record high (Toronto Star)
Ontario's affordable housing wait list continues to break records, with more than 168,000 households now waiting an average of almost four years.
GTA house prices up 10% in April (The Star)
The spring house-buying spree hit record levels in April, with sales up a stunning 17 per cent year over year across the GTA and prices up 10 per cent, according to figures released by the Toronto Real Estate Board Tuesday.
Are Giorgio Mammoliti and Jim Karygiannis that Different from Raccoons? (Torontoist)
Mammoliti and Karygiannis—and this may be controversial—should be held to a higher standard than raccoons. After all, they're city councillors. There's any number of serious issues that are more germane to their constituents, like transit, housing, and youth unemployment, than how much media coverage they can generate (which is considerable, if this article is any indication). But unlike raccoons and their redeeming features, Mammoliti and Karygiannis don't seek to co-exist in their environment, or slink stealth-like in the margins. Instead, they insist on commanding attention they do not deserve, as though speaking loudly is a form of credibility.
Canada
Vancouver house prices spike in once-ignored markets (The Globe)
Interest has intensified for single-family detached properties – extending to fixer-uppers on busy streets previously overlooked – as the price of entry within the city of Vancouver approaches $1-million.
Competition tribunal's ruling a blow for home sales by owners (The Globe)
Canada's Competition Tribunal struck a blow to Canadians looking to sell their homes without using an agent, ruling that the real estate industry's restrictions on how private sellers advertise their contact information through the popular realtor.ca website were fair.
Shipping container housing being rolled out across Canada (The Star)
They were once rusting hulks relegated to junkyards. Now shipping containers are being repurposed into stylish homes that developers plan to roll out in housing-crunched communities across Canada.
USA
Yes, It's Possible To End Homelessness In The United States (Huffington Post)
It's a radically simple solution to the American homelessness crisis that boasts two big advantages: It happens to work, and it's the type of rare idea that appeals to both sides of the political spectrum.
New play explores complicated story of public housing in Chicago (Milwaukee Journal-Sentinel)
Presented by an ensemble of eight African-American actors, their story unfolds in three acts, during which we're whisked through a century's worth of history involving public housing in Chicago — a microcosm of our collective failure to address the intersection of race and poverty in America.
Mayor de Blasio's Plan Aims to Spur More Affordable Housing in New York (New York Times)
"No more tax breaks without building affordable housing in return," Mr. de Blasio, a Democrat, said in a statement. "This can't be a city of just penthouses and luxury condos. We are turning the page, and making sure the same pressures that have pushed New Yorkers out of their neighborhoods are harnessed to build the next generation of affordable housing."
International
Unreal estate - Britain (The Economist)
Eddie Richardson has lived in the same council flat on Woodberry Down council estate in north London since 1961. Mr Richardson, who worked all his life for London Underground, pays £100 ($150) per week in rent, less than half the market rent in the area. But he, like his neighbours, is waiting to find out when he will have to move from his flat, as it is demolished and reconstructed, and whether he will get a flat on the newly built estate. It is part of a wave of state-led gentrification of council estates that has brought accusations of "social cleansing" of the working class from central London.
Auckland's Housing Bubble (The Diplomat)
However parity with the Aussies is not always something to aspire to: House prices in Auckland are increasing steeply and out of step with the rest of the country, with the average price now at NZ800,000-plus (around $600,000), still below Sydney's A$1 million ($795,000), but getting closer, faster.
Realosophy Realty Inc. Brokerage is an innovative residential real estate brokerage in Toronto. A leader in real estate analytics and pro-consumer advice, Realosophy helps clients buy or sell a home the right way. Email Realosophy
Share This Article