Realosophy Team in Media Roundup, Toronto Real Estate News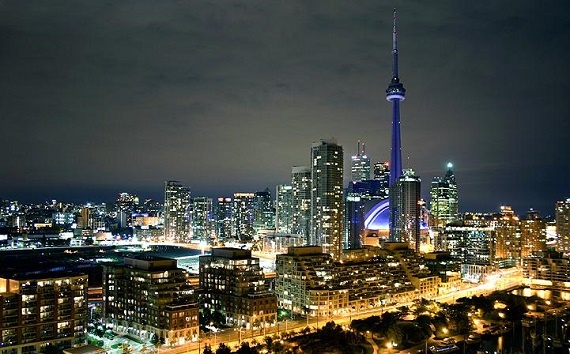 Photo Credit: Pax News
All you need to know regarding the housing market in Toronto, Canada and abroad.
This week in Toronto: The gap in price between condos and low-rise homes extends to record levels, a new law aims to target phantom real estate bids and bully offers take over the Toronto housing market.

Elsewhere: One national columnist believes you would be crazy to buy real estate now, home prices return to sanity in the United States and a controversial plan to house thousands of migrants in France isn't popular with some.
Toronto
Gap between Toronto condos and low-rise homes jumps a record $100,000 from a year ago (Financial Post)
"The rapidly widening price gap is an indication that demand is far outpacing supply in this part of the market," said Bryan Tuckey, president of BILD, in a statement. "As the price of ground-related housing continues to grow at a record pace, it's becoming increasingly difficult for GTA residents to afford a low-rise home."
Phantom real estate bids targeted by new Ontario law (Toronto Star)
As of July 1, agents will not be allowed to imply they have received an offer unless it is in writing and has been signed. They will also be required to keep records of all of the offers they have received on file for one year.Thought the real estate market couldn't get any crazier? Think again
Thought the real estate market couldn't get any crazier? Think again (Macleans)
"We're seeing the bully offers take over, and it's chaos," Fleming says, adding that he's been involved in 20 bully-offer deals so far this year, about triple the number he saw last spring. For those unfamiliar with the tactic, a bully bid occurs when a buyer registers an offer shortly after the house is listed—usually well above the asking price—instead of waiting around for an offer night, when all interested buyers are supposed to submit bids.
Closure of online brokerage Zoocasa sparks debate about real estate data (Global)
"A lot of realtors right now are trying to protect this data because they're so useless that their only value is standing in front of this data and releasing the information when you need it," said Mamourian, the broker of record at Spring Realty Inc.
Canada
Bruce Yaccato: You'd have to be crazy to buy real estate (National Post)
With data like that why are people incurring Frankenmortgages and crawling over broken glass to buy? Shiller's answer, simply put, is that they're crazy. Whether it's tulip bulbs in Holland in 1637, dot-com stocks in Silicon Valley in 2000 or homes in Toronto in 2015, people are terrified of not having one, whether they need it or not.
How foreign real estate investors are changing Canada's skyline (Forbes)
Canada's housing market for investors remains stable, with risks to the upside. Land prices are one contributing factor. Locals are moving upmarket, and wealthy foreigners – in this case Chinese and Indians – are depositing cash in their adult child's bank accounts to buy real estate.
Experts call for more data on foreign investment in Canadian real estate (CTV)
Foreign investment has become a hot-button issue in Vancouver lately, with many residents blaming demand from offshore buyers who are looking for a safe place to stash their money for the city's soaring home prices.
USA
After an Era of Ups and Downs, Home Prices Return to Sanity (New York Times)
A decade ago the market was unquestionably too hot. Four years ago it was too cold. Now, by a wide range of measures, nationwide home prices look relatively normal when compared with incomes, rents and other fundamentals — and are rising at similar low, single-digit rates.
Mapping Where American Workers Spend the Most on Housing (City Lab)
In Santa Cruz, it would take the average worker 13.1 years' worth of wages to buy a home. In Honolulu, it's 12.8 years of wages, San Jose 11.5 years, and San Francisco 11.0 years. Other metros where housing is far out of reach for the average worker include New York (6.6), greater Boston (6.2), and Washington, D.C. (5.6), on the East Coast. There are also some expensive surprises:Bismarck, North Dakota (6.0); Fort Collins, Colorado (5.9); and Missoula, Montana (5.9).
Where Are The Boomerang Buyers? (Wall Street Journal)
The passage of time allows many of the foreclosed-upon to meet the technical requirements of getting a loan–both because they "time out" periods mandated by Fannie Mae, Freddie Mac or the Federal Housing Administration and because their credit scores improve. However, it remains to be seen whether or not such people yet have the wherewithal or the desire to buy again.
International
China to provide 149.4 billion yuan in housing regeneration subsidies in 2015 (Economic Times)
China will step up "effective investment" in key sectors, including shantytown renovation and rural power infrastructure, to support growth, the cabinet said earlier this week.
The government will implement a three-year plan to renovate 18 million dilapidated urban houses and 10.6 million dilapidated rural houses.
France's Socialist government is to create 10,500 extra housing spaces for migrants as part of an "unprecedented" plan to deal with the growing numbers reaching France – a move centre-Right critics attacked as "madness" on Wednesday.
Realosophy Realty Inc. Brokerage is an innovative residential real estate brokerage in Toronto. A leader in real estate analytics and pro-consumer advice, Realosophy helps clients buy or sell a home the right way. Email Realosophy
Share This Article