Realosophy Team in Media Roundup, Toronto Real Estate News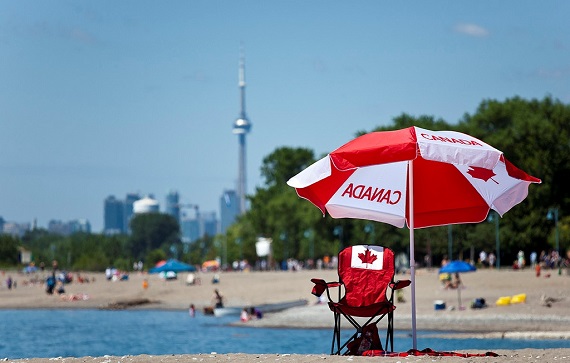 Photo Credit: Best Western

All you need to know regarding the housing market in Toronto, Canada and abroad.
This week in Toronto: A Toronto couple has their million-dollar dream home ruined by a hydro pole and housing affordability isn't improving anytime soon in our city.

Elsewhere: The condo boom has help stabilized the Canadian housing market, the United States Supreme Court takes a stand against housing discrimination and where do Europeans spend the most on rent?
Toronto
Toronto couple in million-dollar home struck by calamity when power pole installed in front of house (National Post)
Shirley and Todd Ankenmann, a couple in the city's neighbourhood of Bloor West Village, say their million-dollar dream home just isn't the same since the electric utility installed a power pole in front of the house and ruined the view.
Housing affordability improves, but not Toronto and Vancouver, RBC says (CBC)
A report by RBC Economics says housing affordability continued to decline in Toronto and Vancouver, while conditions for homebuyers improved in Alberta during the first quarter of the year as lower oil prices caused the real estate market to soften.
Canada
Condo boom has helped stabilize housing market: CIBC (The Star)
The booming condo market has so far been a stabilizing, rather than a destabilizing, force in Canada's housing landscape – an affordable safety valve for first-time buyers, renters and newcomers.
U.S. short sellers betting on Canadian housing crash: 'An accident waiting to happen' (National Post)
The hedge fund investors, known as short sellers, are betting against what they believe is a housing bubble in Vancouver, Toronto, Calgary and other Canadian cities. They believe Canadians hold too much mortgage debt, and that Canadian banks, mortgage insurers and "subprime" private lenders will lose money on unpaid loans when property prices fall.
Why many fear a 'deep correction' in Canada's housing market (The Globe and Mail)
Much of the angst, of course, has to do with the booming Toronto and Vancouver markets. "Strong demand from international migrants and young millennials, an influx of foreign wealth, and low mortgage rates are driving the two markets," Mr. Porter's colleague at BMO, senior economist Sal Guatieri, said just this week in a separate economic forecast, citing a price surge in single-family abodes in those cities.
Will slowing population growth affect the Canadian housing market? (CTV)
Robert Hogue, a senior economist with RBC Economics Research, said slowing population growth "should not be overlooked," but added that it is unlikely on its own "to cause the market to crash or to doing anything like a major downward correction." "It might be an issue if builders don't react," he said. "But builders don't typically work like that … typically they would not pour the foundation on a building until that building is already sold."
USA
Supreme Court upholds broad housing discrimination claims (Reuters)
A divided U.S. Supreme Court on Thursday embraced a broad interpretation of discrimination claims allowed under the landmark Fair Housing Act, a blow to lenders and insurers that face such lawsuits and had urged the court to curb them.
The Supreme Court takes a stand against housing discrimination (Slate)
To be clear, the court hasn't struck a blow against housing discrimination, it has just maintained the status quo. While the Obama administration has been more aggressive with the Fair Housing Act than its predecessors, there's still tremendous work to do before the United States has a genuinely fair housing market. But this ruling clarifies the FHA and preserves its broad scope for action.
It's Mostly White People Who Prefer to Live in Segregated Neighborhoods (City Lab)
Other studies, the authors note, have found that whites are not comfortable with more than 20 percent of their neighbors being black, while blacks prefer a 50-50 split and don't particularly prefer either all-white or all-black neighborhoods. Importantly, black people's aversion to all-white neighborhoods is rooted not in a desire to live exclusively among blacks, but rather derives from the fear of discrimination in all-white neighborhoods.
International
Where Europeans Spend the Most on Rent, Mapped (City Lab)
The average renter in the U.K. pays more than double the E.U. average for their home. That's the stark picture (stark for Britons, at least) painted by some new maps released this week by Britain's National Housing Federation. Based on E.U. figures for 2013 (the last year for which figures are available for the entire union) the two maps detail the cost of renting across the E.U.—the first in absolute terms and the second as a proportion of average income. While looking at countries as a whole can mask extreme differences from region to region, the results provide a fascinating, sometimes surprising snapshot of the dramatic peaks and troughs of Europe's private rental market.
A third of all empty homes in Europe are found in Spain (The Times)
Spanish government data laid bare the extraordinary scale of the country's crisis, with figures revealing there are now 3.4 million empty homes — 30 per cent of Europe's vacant properties — in Spain, with 95 families being evicted every day by the courts.
Housing Crisis Sees Britons Pay Highest Private Rents In Europe, National Housing Federation Study Reveals (Huffington Post)
British renters get a raw deal in comparison to their continental counterparts. Not only do they face crippling rents, but renters in the UK have almost no certainty about whether they will be able to stay in their home from one year to the next.
Realosophy Realty Inc. Brokerage is an innovative residential real estate brokerage in Toronto. A leader in real estate analytics and pro-consumer advice, Realosophy helps clients buy or sell a home the right way. Email Realosophy
Share This Article