Realosophy Team in Media Roundup, Toronto Real Estate News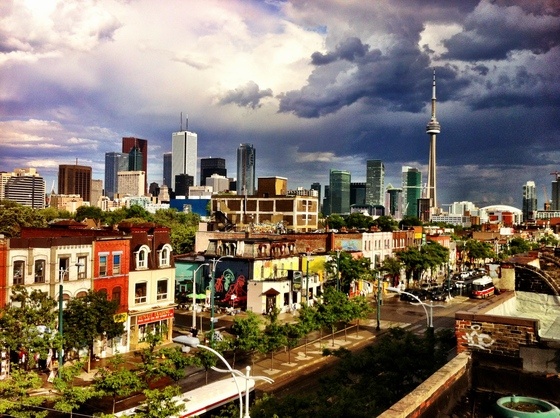 Photo Credit: CBC
All you need to know regarding the housing market in Toronto, Canada and abroad.
This week in Toronto: Home prices soar as there is no relief to meet demand, the average price of a detached home hits $1.15 million and you should have bought a house in 1915.

Elsewhere: It's not all doom and gloom for Canada's housing market, how much do you need to make to get a two-bedroom apartment in the United States and the long shadow of Mumbai's mushrooming high rises.
Toronto
Toronto home prices soar: 'No relief' to meet pent-up demand (The Globe and Mail)
"Tight market conditions, especially for singles, semis and town homes in the [Greater Toronto Area], have resulted in strong price growth regardless of the price metric being considered," Jason Mercer, the group's director of market analysis, said in today's report. "With no relief so far on the listings front, expect similar rates of price growth as we move through the remainder of 2015," he added.
Average price of detached home in Toronto hits $1.15M (Toronto Star)
The GTA is in the midst of a record-setting frenzy for real estate. The region set a new record in May for sales, right on the heels of a record-smashing April, according to figures released Wednesday by the Toronto Real Estate Board.
Expert Interview with John Pasalis Of Move Smartly On Toronto's Real Estate Market (Mint)
The relative increase in condo stock is in part due to governmental policy to promote high density building (for example, through the Places to Grow Act), but land scarcity is probably the key driver of why developers haven't built more houses. While the building of condos has successfully introduced more options into the housing market (particularly as our rental housing stock hadn't increased since the 1960s), when it comes to houses, there just isn't enough supply to meet consumer demand in that segment of the market.
If only you'd bought these Toronto houses in 1915 (The Star)
To that end, we looked up classified ads from the Toronto Daily Star that listed houses for sale in 1915. The ads suggest home sellers haven't changed that much. Just like today, features such as hardwood floors, yards with lots of tree and solid brick are used to entice buyers.
Canada
Plenty of plankton and four other reasons why Canada's housing market won't crash (Financial Post)
"We look at the housing market like a food chain," Levings said in an interview at Bloomberg's office in Toronto May 28. "The first-time homebuyers are really the plankton. And if you don't have plankton in the ocean, you're going to eventually starve out even the big whales and the sharks. You need that first time homebuyer to buy that home so the next person can move out to buy their own home."
Toronto, Vancouver experiencing rental renaissance as appetite for condos wanes (The Globe)
But with the appetite for condos beginning to wane and sky-high home prices leaving home ownership out of reach for many, developers and institutional investors in Toronto and Vancouver are increasingly setting their sights on rental units.
House prices may stay high in Canada: Here's why (CBC)
I am one of those who have warned repeatedly of what happens to an economy when house prices see a general decline. I have also warned that house prices go through cycles, with long price rises followed by sharp declines. But there are at least two reasons why that downturn may not be yet.
Why the sky still isn't falling on Canada's real estate market (Financial Post)
If there is a reversal in the recent trend towards job creation, there could be big downward pressure on housing sales and values. On the other hand, the BoC still has tools at its disposal to free up money and stimulate the economy – which, of course, would be supportive of house prices.
USA
This Is The Hourly Wage You Need To Afford A 2-Bedroom Apartment Around The U.S. (Huffington Post)
The National Low Income Housing Coalition released its annual housing report "Out of Reach" earlier this month. The organization calculated the hourly wage a resident would need to earn to afford a moderate, two-bedroom apartment -- and the outlook is grim. The report found that a person earning minimum wage in each state cannot afford to spend only 30 percent of income on such an apartment in the U.S.
Bank of America: U.S. Home Prices Set for a Fall in 2017 (Bloomberg)
Americans will face falling home prices in a matter of years as personal income gains fail to keep pace with the recovery from the financial crisis, according to a Bank of America Corp. analyst.
It began as soon as they started interviewing architects. "We had one woman tell us, 'I wouldn't do anything unless you're ready to spend a million dollars,' " Mr. Liano said. This was almost double their budget, and "before we even discussed what we wanted."
International
The Long Shadow of Mumbai's Mushrooming Highrises (City Lab)
"There is no checkpoint," she says. "The transparency isn't there, even today. What is a common man supposed to do? It's just going to get worse. There are more and more loopholes that the builders are finding to be able to commit these crimes. At the end of the day, it's the buyer who suffers because the builders have so much political clout with the authorities that they get away with everything."
Where the world's super-rich send residential prices soaring (USA Today)
Uber-Richskis (rich Russians) is the new byword for opulent dwellers in some of the most exclusive neighborhoods in London. A continent away in Vancouver, the number "8" — a symbol of good fortune in China — adorns windows of real-estate brokers. More than 3,000 miles to the south of that Canadian city, Miami has become the housing mecca for Latin American millionaires seeking a haven from political and economic chaos that threaten their wealth at home.
Realosophy Realty Inc. Brokerage is an innovative residential real estate brokerage in Toronto. A leader in real estate analytics and pro-consumer advice, Realosophy helps clients buy or sell a home the right way. Email Realosophy
Share This Article