Realosophy Team in Media Roundup, Toronto Real Estate News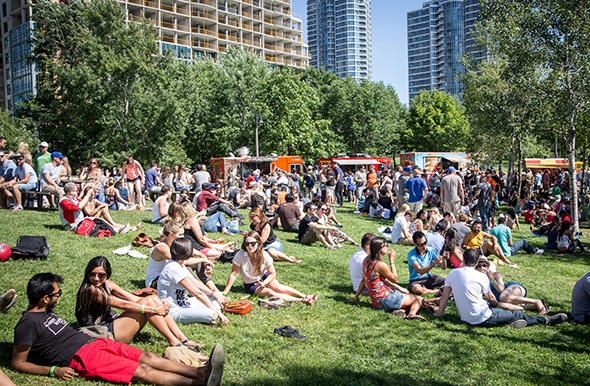 Photo Credit: Blog TO
All you need to know regarding the housing market in Toronto, Canada and abroad.
This week in Toronto: A federal agency says a house-price correction is coming, evidence of overbuilding in the market and the 10 weirdest homes in the city .
Elsewhere: Chinese buyers make their mark in Vancouver, the fragile state of housing in Ferguson and is a China housing crash coming next?
Toronto
Risk of Toronto house-price correction 'high' federal agency says (Toronto Star)
Toronto is now at "high" risk of a housing correction — up from "moderate" just four months ago, says a quarterly examination of risks to the national housing market, released by the Canada Mortgage and Housing Corporation Thursday.
Housing market risk 'high' in Toronto, Winnipeg and Regina, CMHC says (CBC)
The reasons for concern are not the same in each city. In Toronto, the main concern is that "the rise in house prices has not been matched by growth in personal disposable incomes" the CMHC said, adding there is evidence of overbuilding in the market, with a historically high level of unsold units.
Rental woes: Prices jump, vacancy shrinks for Vancouver, Toronto (CBC)
Real estate expert John Andrew says there are quality rentals available in hot real estate markets, Toronto and Vancouver — if you're willing to pay a premium price for a condo. "If you can afford the $2,000 a month, which is pretty typical for a one-bedroom [condo], you're fine," says the Queen's University professor.
Toronto ranked most livable city in the world (Blog TO)
Earlier this year, The Economist ranked Toronto as the world's best city to live in. Now, the architecture and design trade publication Metropolis Magazine has followed suit by naming Toronto as the most liveable city in the world.
The 10 weirdest houses in Toronto (Blog TO)
All across Toronto there are residential streets lined with uniform, unremarkable homes. So when someone breaks the mould with a strange front yard or weird architecture, it tends to stand out. Some express their individuality with front yard ornaments, others through bold design.

Canada
Canada's housing market takes a breather; home resales slip (The Globe)
Resale housing activity fell in half of all major markets, the Canadian Real Estate Association reported, disappointing analysts who had expected the Canadian housing market to post another strong month of solid sales activity in the wake of the Bank of Canada's July interest-rate cut.
Canadian PM Stephen Harper wants to track foreign buyers (BBC)
Hurt by failing oil prices, Canada's ailing economy has become a major issue as the country elects new leadership. Mr Harper said that about 15% of condos in Vancouver aren't being lived in.
Chinese buyers making mark on Vancouver's luxury housing (The Globe and Mail)
Buyers from China "dominate" the luxury segment of Vancouver's red-hot housing market, according to new data from prominent B.C. real estate company Macdonald Realty Ltd., which says mainland Chinese buyers in 2014 accounted for 70 per cent of the firm's transactions of high-end Vancouver homes over $3-million.
Renting among the rich (The Globe)
As housing prices rise and vacancies remain scarce, group-rented mansions are popping up all over Vancouver.
Hamilton setting a new precedent in its student housing fight (CBC)
Councillors voted Tuesday to hire an outside planner to fight the case of 111 Winston Ave., a proposal to turn a single-family home in Ainslie Wood into 15 habitable rooms for at least seven students. Johnson, a Ward 1 councillor, says the move, combined with a committee of adjustment decision that sides with residents, is precedent setting.
USA
San Francisco's housing market: Pricey, increasingly unaffordable (The Globe)
The median home price hit $1.35-million (U.S.), making San Francisco the priciest market in the state. To afford such a home, buyers needed a minimum income of about $268,000, the report said.
The Fragile State of Housing in Ferguson (City Lab)
The housing market in Ferguson is not recovering fast. It's not that homeowners facing foreclosure or underwater mortgages are suffering because of policing or protests, of course. Rather, the troubled housing market is another example of the circumstances that make life so difficult for some residents in Ferguson to begin with.
David Simon's epic tragedy on public housing in New York (The Globe)
Based on the book by the former New York Times reporter Lisa Belkin, the series has twin stories. It is first about Nick Wasicsko (Oscar Isaac), who ran for mayor of Yonkers in the early 1980s, at the age of 28, and won. What he didn't grasp was that his election wasn't an endorsement of him. It was a rejection of the sitting mayor who had decided not to fight a court decision to end years of public housing segregation in Yonkers. The public wanted Wasicsko to stop poor black families from moving into their neighbourhoods.
International
What next? A China housing crash? (Financial Times)
China's housing market is one of the most important parts of its economy, and also one of the most misunderstood. Important, because residential real estate together with construction accounts directly for more than 10 per cent of gross domestic product. Misunderstood because few observers appear to grasp the structure of China's residential property market.
Realosophy Realty Inc. Brokerage is an innovative residential real estate brokerage in Toronto. A leader in real estate analytics and pro-consumer advice, Realosophy helps clients buy or sell a home the right way. Email Realosophy
Share This Article