Realosophy Team in Toronto Real Estate News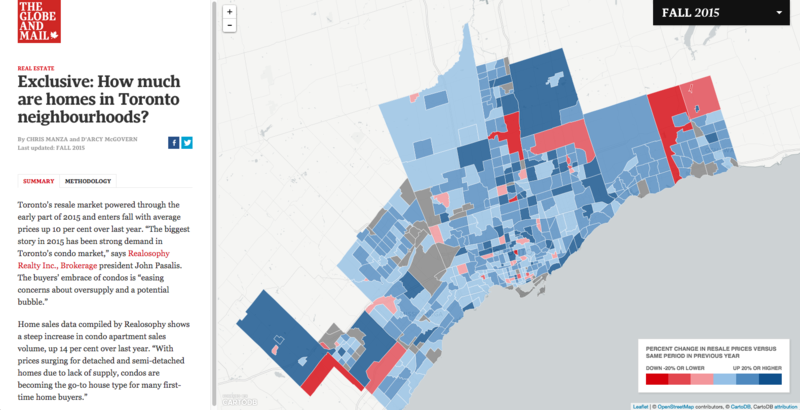 Image Credit: Globe and Mail
With the turn of the weather, TIFF coming to a close and the reappearance of dubious pumpkin treats, you know it's once again time for Realosophy to power the Globe and Mail's Fall Home Value Survey for the 7th straight year.
Check out this cool interactive map of Toronto home prices to see how your neighbourhood is doing - and to keep an eye on the neighbourhoods you'd love to get into.
We're loving the ease of the graphic our Globe partners have put together which allows you to research change over the past seven years. (And thanks to eagle-eyed readers of this blog for pointing out that the Globe's colour scheme may be a bit counterintuitive - red indicates prices are down, blue indicates prices are up.)
Realosophy's John Pasalis talked to the Globe about surprisingly strong performance across the market, including the one segment we all wonder about - condos. Once thought to be at risk of an oversupply-driven correction (even on this blog), it appears that fast-rising prices in the house segment are pushing more buyers towards condos, keeping all segments competitive.
Realosophy Realty Inc. Brokerage is an innovative residential real estate brokerage in Toronto. A leader in real estate analytics and pro-consumer advice, Realosophy helps clients buy or sell a home the right way. Email Realosophy
Share This Article