Realosophy Team in Media Roundup, Toronto Real Estate News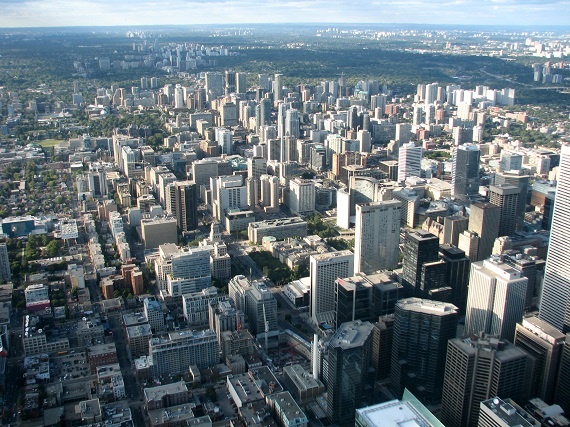 Photo Credit: Wiki Commons
All you need to know regarding the housing market in Toronto, Canada and abroad.
This week in Toronto: Sales continue to be strong, buyers tread cautiously into the market and why renting a condo is a better idea than buying.
Elsewhere: Housing prices continue to rise in Canada, apartments in Manhattan approach the 1 million mark and a very small London "flat" takes the internet by storm.
Toronto
Housing sales in Toronto strong in all market segments (The Globe and Mail)
Toronto residents continue to pay eye-popping prices to gain a toehold in their preferred patch – whether they favour a townhouse in Kensington Market or a château in the suburbs, Globe Real Estate's exclusive fall home value survey confirms.
Toronto buyers tread cautiously into fall housing market (The Globe)
Real estate buyers in Toronto appear to be treading more cautiously into the fall market – especially compared with the excessive bidding that took place in the city last spring.
Competition Bureau battle begins over public access to crucial real estate stats (CBC)
The fight is back on in a dispute that could shake up the traditional real estate industry. The battle boils down to whether real estate brokers can give the public unfettered online access to important home sales information.
Why you should rent that condo — even if you can afford to buy it (Financial Post)
Kathy and Henry Fiala put half of their belongings on the kitchen table of their midtown Toronto townhouse last year and invited friends, family and colleagues to take what they wanted. These two boomer professionals had no interest in holding a garage sale — they barely have time to take their Bouvier for her daily walks. Besides, they'd rather spend what free time they do have eating dinner with family and browsing boutiques.
Why Ira Gluskin is still bullish on real estate
(BNN)
"(Finance is) populated by brainiacs, it's populated by people who work 24/7," said Gluskin, "The real estate business, which is a way bigger business, is populated by some smart people and heavily by a lot of people who are lucky enough to be in the business."
Canada
Canadian house price rise outstrips all but 3 other global markets (CBC)
The year-over-year rise in the price of Canada's housing in the second quarter of 2015 is one of the highest in the developed world, largely because of low interest rates, according to a report from Scotiabank.
Stephen Harper wants to add another 700,000 homeowners in Canada. Is that what we really need? (Financial Post)
But the question some critics are quick to ask is whether we actually want so many people owning their homes, with some pointing to the housing crash in the United States that happened almost a decade ago as home ownership rates there soared to all-time highs just below 70 per cent before dropping to about 63 per cent earlier this year.
So why is it getting such little attention? Because Canadians have found something else to be emotionally and financially invested in: real estate. Now, the day traders are elementary school teachers accumulating portfolios of townhouses, and cabbies are keen to talk about their latest pre-construction condo buy.
USA
Manhattan Apartment Prices Near Million-Dollar Mark, Reports Say (New York Times)
The median sales price, which reflects the middle of the market and is less affected by high-end sales, was $999,000, according to a report by the Corcoran Group. Reports from other brokerage firms, using different figures and methodologies, put the median price at or just below the million-dollar mark, with most calling it a record.
Canadians have been big investors in Manhattan real estate in 2015, buying $3.85 billion US of property, more than any other foreign investor, according to Real Capital Analytics. That's double the $1.97 billion bought in 2014 and more than the $2 billion in acquisitions in 2007.
Chinese Magnate Is Accused of Lying About Millions in Cash He Brought to U.S. (NY Times)
When Ng Lap Seng, a Chinese real estate magnate, travels to the United States, he tends to do so in style — either flying commercial or on one of his private jets. And, the authorities say, he often comes with cash.
International
Clapham 'bed-under-stairs' advertised for £500 a month in London, England (BBC)
Alex Lomax, 23, went to view the flatshare in Clapham, south-west London, which was described as "furnished" in an online listing. Ms Lomax, who posted images on Twitter of the "bed under the stairs", said: "I was obviously shocked but was all-too-polite, I think."
Nicola Sturgeon denies knowledge of MP's business dealings (The Guardian)
Opposition parties pressed the first minister to disclose when the Scottish National party first became aware that Thomson, a leading figure in the pro-independence campaign, had been named in connection with a solicitor, Christopher Hales, struck off for possible mortgage fraud. The first minister told reporters on Wednesday she had learned of the allegations only when they were published by the Sunday Times this month, implying that Thomson had not disclosed them when she was vetted by the SNP as a general election candidate.
Realosophy Realty Inc. Brokerage is an innovative residential real estate brokerage in Toronto. A leader in real estate analytics and pro-consumer advice, Realosophy helps clients buy or sell a home the right way. Email Realosophy
Share This Article