Realosophy Team in Media Roundup, Toronto Real Estate News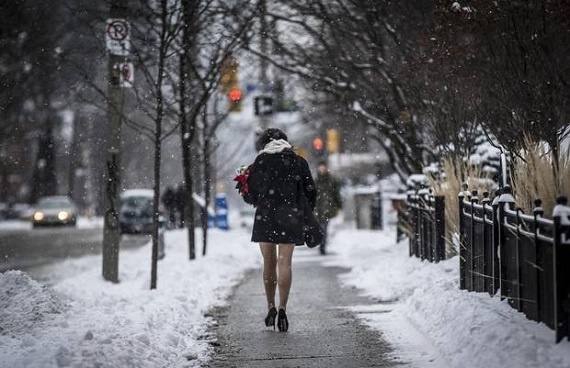 Source: The Globe and Mail
All you need to know regarding the housing market in Toronto, Canada and abroad.
This week in Toronto: Prices worry all in Toronto, refugees impact on housing expected to be minimal and does size really matter in real estate?
Elsewhere: Housing prices have Canadians living on the edge, something is going wrong with the U.S. housing market and Britain lays out plan to tackle crisis in home ownership.
Toronto
Skyrocketing cost of housing worries builders, realtors (Toronto Star)
After almost a decade of finding "creative ways" to build more affordable housing — more condos rather than costly low-rise houses, and suites that now average just 767 square feet compared to 908 square feet in 2006 — developers fear they are hitting a wall.
Syrian refugees' impact on Ontario housing will be minimal: Experts (The Star)
Ten thousand people may sound like a lot of bodies to house, but by the time the Syrian refugees settle in permanent housing in Ontario, no one will even notice, say housing and settlement experts.
In the real estate market, does size really matter? (Toronto Observer)
While there are pros and cons to both downtown and suburb living, with Toronto's notoriously expensive housing market, Teixeira says she is leaning toward a move to the suburbs so the couple could save some much needed money for her family.
The $2.1-million Riverdale home that shows there's still money to be made in flipping (Toronto Life)
After seven open houses and more than a month on the market, a professional couple made an offer. Several days of negotiations later, the home was theirs. Though there was no bidding war, the selling agent says the sale price was high for the neighbourhood.
Graffiti-marred laneway transformed into 'living art gallery' (CBC)
Fed up with looking at graffiti-covered garages on a lane behind their homes in the St. Clair West neighbourhood, Christine Liber and Elly Dowson picked up paint cans and went to work.
Canada
Debt load has many Canadians 'living on the edge,' with high housing prices largely to blame: report (Financial Post)
The blame, he said, appears in part to belong to the high price of houses in Canada's major markets, which is causing mortgage payments to take up an ever-larger piece of family income, leaving less money for savings. Canadian homeowners carry an average of $175,000 in mortgage debt, with higher amounts exceeding $200,000 in Alberta and British Columbia, according to the Manulife Bank survey.
Canadian Mortgage Rates On The Rise, Threatening Housing Market (Huffington Post)
With Canadians' debt levels at record highs, households are particularly vulnerable to increases in their mortgage payments, experts say. Even relatively small increases in rates could put an end to years of strong growth in some of Canada's largest housing markets.
Even Fort McMurray's real estate agents are leaving the oilsands town in droves (Financial Post)
Phil Soper, chief executive of Royal LePage Real Estate Services, said some agents at his company have left Fort McMurray because market conditions are so poor in the town known for its proximity to Alberta's oilsands. The local board said October sales were down 41 per cent from a year ago, while the average sale price of a home plunged 20 per cent during the period.
USA
"Recently we've seen a slight uptick in wage growth which has been stagnant for the last decade, and that drives housing demand. During the housing crisis, the demand for housing was driven by fast and easy credit," Miller says.
But it's also worth dwelling on the fact that even though "everyone knows" house prices vary from place to place, there's actually something a bit mysterious about the divergence. If a house in New Jersey is twice as valuable as a house in Arkansas, why don't we build a bunch more houses in New Jersey? Now, it's true that hiring construction workers in New Jersey will cost more than hiring them in Arkansas, but is it really double?
The Tent City Next Door (City Lab)
Just a week ago, scores of tents lined the grassy juncture near a freeway and an urban national park that's right across the street from CityLab's offices in Washington, D.C. Dozens of people experiencing homelessness, possibly as many as 50, lived at the campsite, some of them for more than a year.
International
Osborne promises 400,000 new homes and vows to tackle Britain's 'crisis in home ownership' (This Is Money)

The Chancellor announced plans to build 200,000 new starter-homes over the course of this Government aimed at first-time buyers under 40 at a 20 per cent discount.
Germany is often held up as a model for social housing privatisation. But its public housing was sold to international investors, such as Deutsche Annington, and Vonovia, Cerberus, Fortress and commercial banks. The sale and resale of the same properties on the market ended in a race for profits and an increase in housingprices. There are a million fewer social dwellings than there were prior to privatisation.
Realosophy Realty Inc. Brokerage is an innovative residential real estate brokerage in Toronto. A leader in real estate analytics and pro-consumer advice, Realosophy helps clients buy or sell a home the right way. Email Realosophy
Share This Article