Realosophy Team in Media Roundup, Toronto Real Estate News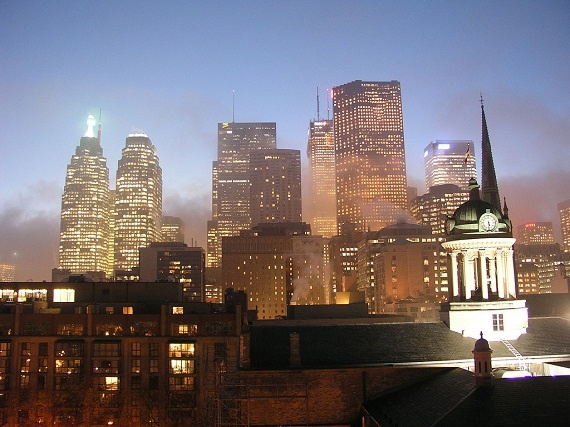 Photo Credit: Wiki Commons
All you need to know regarding the housing market in Toronto, Canada and abroad.
This week in Toronto: Home renovations are the new housing boom, the impact of supply-side economics on Toronto's housing prices and how to pay off your mortgage in three years.
Elsewhere: Finding out where Canada's priciest rental markets are, the Economist provides a reality check on American housing prices and a possible solution for more affordable homes in London.
Toronto
Home renos are the new housing boom: CMHC (Toronto Star)
Basement renos are going to be big business across the Ontario housing market over the next few years, as will be the remaking of the province's aging rental buildings, more than 85 per cent of which are creeping up on 40 years old.
The impact of supply-side economics on Toronto's rising house prices (The Globe and Mail)
Normally, in the private economy, when demand for a product or service picks up, prices begin to rise and suppliers respond by increasing supply, which in turn, moderates the initial price increase. While homebuilders are like other suppliers in their desire to increase the production of homes, they are unable to do so as there is a severe shortage of sites in the GTA for new single and semi-detached houses and townhouses.
Pay off your mortgage, live debt free: how one guy did it in 3 years (CBC)
In 2012 Cooper bought a house in Toronto for $425,000. He then embarked on a painstaking financial plan — including working three jobs and living like a pauper — to pay off his $255,000 mortgage as soon as possible.
Canada
Canada's priciest rental markets (BNN)
An increasing number of rental apartments are sitting empty in Calgary and Edmonton as the oil price slump takes its toll on the market, according to a new report from Canada's housing agency.
Greater Vancouver is witnessing a booming housing market, especially within the city of Vancouver. For prospective buyers watching in frustration, it is the perfect storm of high housing demand and limited supply. The region is already boxed in by the ocean, mountains and protected areas collectively known as the agricultural land reserve.
B.C. government must stop hiding from the data on house buyers (The Globe)
For months, the debate raging in Vancouver around the widely held perception that investors from mainland China have been fuelling an obscene surge in house prices in the city has been stymied by the question: Where is the proof?
24 Sussex Drive shares our real estate dilemma: Mallick (Toronto Star)
People buy homes that are in a particular state, without realizing that homes are living structures that deteriorate as much as their owners do. Wood rots, plumbing leaks, floors creak, squirrels claw through window screens and anything plastic eventually crisps up and cracks.
Canada named most tolerant country in the world (CTV)
A new ranking has named Norway the most prosperous country in the world for the quality of its healthcare system, civil liberties and social fabric, while Canada has come out on top as being the most tolerant.
USA
5 years after the house price crash that nearly took down an entire financial system, America's property market appears to be in rude health: prices have appreciated by 17% over the past three years. But that statistic hides vast differences in housing markets across America. In San Francisco, thanks to a tech boom and constrained supply, prices have increased by 50% over the same period, and have now surpassed their 2005 peak. While prices in Las Vegas—where housing was built like billy-o leading up to the crash—have increased by the same amount, they still remain 40% below their peak.
For Some Americans, the Mortgage Crisis Isn't Over (City Lab)
"It's easy to say housing crisis is over but, for many parts of the country, it's certainly not. The recession isn't, either," said Sarah Edelman, one of the authors of the report.
How Tiny Houses Could Help Curb Homelessness in Nashville (City Lab)
The homes are brightly painted yellow, blue, orange, and purple, with red doors and white trim. They cost about $7,000 each to build, and measure 5-by-12 on the inside. Residents use bathrooms in the church, and shower outside with a hose. They eat donated food and drink coffee set up under a tent in the yard.
International
Goldsmith calls for more affordable homes in London in housing bill (The Guardian)
Zac Goldsmith, the Conservatives' London mayoral candidate, has said he will propose amendments to the government's housing bill to require local authorities to build two affordable homes for every one they sell off in London.
Housing to lay off another 200 employees this month (Times Of India)
The move comes three months after Housing fired 600 employees to step up focus on its core technology and product. At that time, the company shut a few departments including commercial properties, short stays and land business.
Sweden says can no longer guarantee housing for new refugees (Reuters)
Sweden's migration minister warned on Thursday that the government could no longer guarantee finding accommodation for newly arrived refugees as the country applied for EU emergency aid to cope with record number of asylum seekers.
Realosophy Realty Inc. Brokerage is an innovative residential real estate brokerage in Toronto. A leader in real estate analytics and pro-consumer advice, Realosophy helps clients buy or sell a home the right way. Email Realosophy
Share This Article