Realosophy Team in Media Roundup, Toronto Real Estate News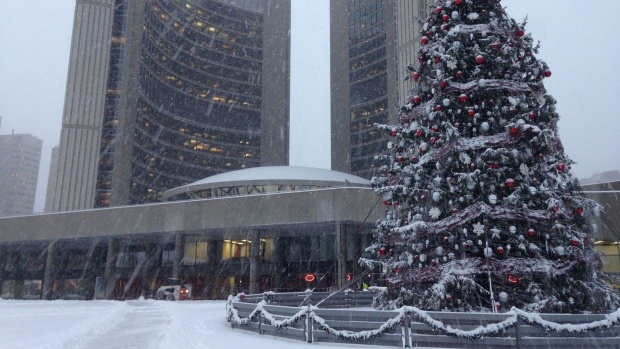 Source: CTV
All you need to know regarding the housing market in Toronto, Canada and abroad.
This week in Toronto: It's not easy buying a house in the province, a frugal man looks for a frugal woman and why there is no end in sight for Toronto's housing boom.
Elsewhere: Canada faces a housing price dilemma, New York's mayor looks to rebuild momentum for an affordable housing plan and one London housing charity takes a positive view at the city's housing crisis.
Toronto
26% of Ontario homeowners struggling to afford homes (Toronto Star)
About 480,000 of the estimated 840,000 homeowners being seriously squeezed by monthly mortgage and other costs are middle-class workers under the age of 45 — those who've had the hardest time breaking into the house market because of skyrocketing real estate prices and their disproportionate dependence on part-time and contract jobs.
What's next for the 30-year-old Torontonian who paid off his mortgage in three years? (The Star)
On his blog, he refers to himself as "an adventurous person looking for someone with the same lust for life" and describes his ideal woman as "intellectual, active and frugal," among other things.
Why analysts see no quick end to the Toronto, Vancouver housing booms (The Globe and Mail)
"Large inflows of permanent immigrants (about 240,000 in the past year) coupled with the misfortune of commodity-producing regions have redirected inter and intra-provincial population migration flows towards Toronto and Vancouver," he added in a research note.
Affordable housing for artists aims to keep them in Toronto (The Star)
She pays 80 per cent of the average market rent for Toronto, as determined by the Canada Mortgage and Housing Corporation — in the $800-a-month range — for one of 28 units owned by non-profit Artscape and rented to artists and art professionals at the Triangle Lofts.

Canada
Morneau, who replaced Oliver after October elections, said days into his new job that along with the budget, real estate was one of the first briefings he sought. That suggests policy makers are grappling with what, if anything, should be done to contain Canada's two most expensive markets without precipitating a major decline in cities like Calgary and Montreal, where prices are flat or falling.
House prices ratchet higher but Montreal market staying relatively steady (CBC)
As home sales in Toronto and Vancouver continue to hit record levels, the real estate sector in Canada's second-largest city remains an outlier, with prices almost $100,000 less than the national average.
1st flight of Syrian refugees to arrive by military aircraft Thursday (CBC)
On the eve of those arrivals, Immigration Minister John McCallum said today the refugees won't move to the front of the line for social housing or Canadian citizenship, The Liberal government is "very sensitive" to some concerns that the new arrivals will have higher priority for jobs, housing or citizenship, McCallum said.
The most important charts for the Canadian economy in 2016 (Macleans)
"This is a chart of purchases of Canadian residential real estate by non-residents. Yes, it's blank. These purchases are not measured in Canada. That needs to change. Circumstantial and anecdotal evidence suggest that these capital inflows have had a large and growing influence on the Canadian housing market, whose imbalances continue to represent a key risk to the Canadian economic and financial outlook."
USA
Mayor de Blasio Seeks to Rebuild Momentum for Affordable Housing Plan (New York Times)
Disdain has cascaded around the city, with civic leaders from the South Bronx to suburban Queens worried that a pair of key policy changes could generate a glut of construction, eliminate parking spaces and allow developers to build tall luxury towers while offering meager benefits for existing residents.
San Francisco's Affordable Housing Crisis: The Board Game (City Lab)
The Bay Area is facing a housing affordability crisis that's only growing more desperate. It seems as if there's no end to the death spiral of soaring rents, deepening congestion, and rising displacement. Until now, that is!
Metro planners recommend affordable housing incentives (The Tennessean)
At a time of rapid gentrification and soaring housing prices in Nashville, Metro planners have recommended the city adopt a new system of financial incentives to spur developers to pursue affordable housing.
International
London housing: Shelter sets three tests for mayoral candidates (The Guardian)
Shelter, the illustrious housing charity, has taken a positive view of the next mayor's ability to get a real grip on London's housing problems. Though under no illusions that rocketing prices, rising rents and a growing shortage of truly affordable rented homes is hurting huge numbers of young and less affluent Londoners, with bad consequences for businesses and public services alike, they argue that whoever next takes command of City Hall "really will have the power to turn the housing crisis around".
Housing crisis: London property costs three times more than the average UK home (The Independent)
"We expect prices in London to continue along this upwards trajectory in 2016 especially with the introduction of improved help to buy schemes from the government, which will do more for protecting high house prices than it does for getting poorer people on the property ladder," according to MoveHub.
Realosophy Realty Inc. Brokerage is an innovative residential real estate brokerage in Toronto. A leader in real estate analytics and pro-consumer advice, Realosophy helps clients buy or sell a home the right way. Email Realosophy
Share This Article