Realosophy Team in Media Roundup, Toronto Real Estate News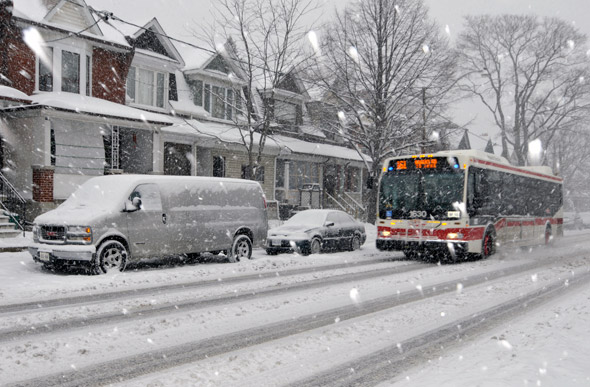 Source: Blog TO
All you need to know regarding the housing market in Toronto, Canada and abroad.
This week in Toronto: What the federal budget means for the city, how a real estate titan has weathered the ups and downs of the real estate business and real estate crowdfunding goes residential.
Elsewhere: Should we take the IMF's views on Canadian housing seriously, home ownership out of reach for average Americans and Germany has Europe's best housing market.
Toronto
Budget cash for transit, housing repairs 'very sexy, indeed,' mayor says (CBC)
Mayor John Tory says the investment in housing and transit in yesterday's federal budget will allow the city to make repairs to key infrastructure that may sound unglamorous, but which he defended as "very sexy stuff, indeed."
How Bosley weathered ups and downs of Toronto's real estate business (Metro)
Bosley has the relaxed satisfaction of a self-made man in the twilight of his career. Despite its deep roots, W.H. Bosley and Co. was drowning in debt when Thomas took it over in 1985. He turned it around by focusing almost exclusively on residential property sales, and by training real estate agents who last year made $1.3 billion worth of property transactions under his company's banner.
Conrad Black sells Toronto mansion for $5-million below asking (The Globe and Mail)
According to the Multiple Listings Service (MLS), which tracks real estate sales, the home was sold for $16.5-million on March 21. It was originally listed at $21.8-million Black and his wife, Barbara Amiel-Black, plan on continuing to live in the home, which was sold as part of a lease-back deal.
Real estate crowdfunding goes residential (The Globe)
Crowdfunding has arrived in the Toronto residential real estate market, but while these deals have the potential to be lucrative for investors, they're not without risk.
Canada
The IMF's Take on Canada's Housing Dilemma Is So Absurd I Can't Even (Bloomberg)
The problem: There is no dilemma here. The key flaw in this analysis is presenting this so-called problem for Canadian monetary policymakers as a binary choice dictated by the level of the policy rate.
A government-imposed housing correction is the last thing Canada needs (The Globe)
While it's clear that the beleaguered energy sector is driving these unemployment highs, there is one strong facet of the current Canadian economic climate: housing in British Columbia and Ontario, driven by Toronto and Vancouver. The government would do well to avoid stunting the growth in that sector given the fragile economy.
Chinese Buyers In Vancouver Real Estate Account For One-Third Of Sales Volume: Bank (Huffington Post)
Routledge came to his conclusions using two sets of data: one from the U.S. National Association of Realtors (NAR), the other from a Financial Times survey of 77 affluent and high net worth individuals from China — "not a statistically significant sample size," he admitted.
When it comes to Canada's housing market, ignorance is not bliss (The Globe)
Nobody really knows to what extent foreign investors are bidding up Canadian home prices, especially in the hot markets of Vancouver and Toronto. Is non-resident money a leading actor in the real-estate market, or a bit player? To what extent are foreign students or residents with family abroad investing in Canadian real estate, and pushing up prices? Good questions – to which there are still no good answers.
USA
That dream was about price and convenience. Like Luxe, many of these companies marketed themselves as clever hacks of the existing order. They weren't just less headache than old-world services, but because they were using phones to eliminate inefficiencies, they argued that they could be cheaper, too — so cheap that as they grew, they could offer luxury-level service at mass-market prices.
2015 U.S. Population Winners: The Suburbs and the Sunbelt (City Lab)
The Villages—a small metropolitan area near Orlando with lots of retirees—led all metros in population growth. Six of the ten fastest growing metros in 2015 were in Florida and Texas, while none were in the Midwest or Northeast.
International
The takeover party is over. Revelers are nursing wounds following a brawl. Stand back from the fray, however, and German housing still looks an unusually healthy asset class.
Mumbai is often referred to as the New York City of India, and for good reason. It's the financial hub of the country, and it's arguably the only city in the country that has a full-fledged seaside skyline—one that's set to become much higher in the coming years.
Realosophy Realty Inc. Brokerage is an innovative residential real estate brokerage in Toronto. A leader in real estate analytics and pro-consumer advice, Realosophy helps clients buy or sell a home the right way. Email Realosophy
Share This Article