Realosophy Team in Media Roundup, Toronto Real Estate News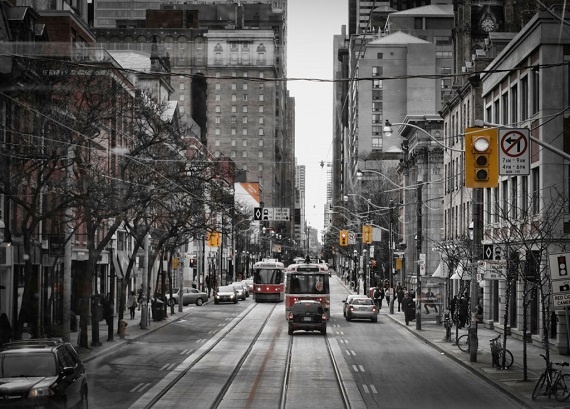 Source: WikiCommons
All you need to know regarding the housing market in Toronto, Canada and abroad.
This week in Toronto: Sales in February hit a record high, the market is still soaring despite new mortgage rules and luxury home sales defy gravity.
Elsewhere: First-time buyers turn to condos in Canada, searching for the new hot neighborhood in New York and why is public housing in the UK fading away?
Toronto
GTA real estate sales hit record high in February (Toronto Star)
If you're in the market for a single-family detached teardown complete with a gas stove, large manicured backyard and hardwood floors, Toronto may be the real estate market for you.
Toronto housing market is still soaring despite new mortgage rules (Financial Post)
The new rules, which went into effect across the country but were seen as generally aimed at Toronto and Vancouver, require at least a 10 per cent down payment on the portion of purchase prices between $500,000 and $1,000,000.
Toronto home prices surge as sales far outpace new listings (The Globe and Mail)
The average home price in the Toronto area climbed almost 15 per cent to $685,278, while the MLS home price index, deemed a better measure, showed a gain of 11.3 per cent.
Luxury home sales in Toronto, Vancouver to 'defy gravity,' report says (CTV)
Toronto and Vancouver will continue to lead luxury home sales in Canada this spring in both volume and price, and mostly for the same reasons they dominated last year, says a new report released Wednesday.
Canada
As detached home prices soar, first-time buyers turn to condos (The Globe)
But as two new analyses of the housing market make clear, soaring prices of detached houses in Vancouver and Toronto are masking the reality that, for many Canadians, housing has actually become more affordable over the years, spurred by falling interest rates, steady income growth and a surge in condo construction.Shadow flipping banned by Richmond real estate firm
Shadow flipping banned by Richmond real estate firm (CBC)
"Instead of saying 'let's let it go' and 'it's not a big deal,' well, it's a big deal to someone who lost," said Metro Edge Realty CEO Kevin Lynch. "So instead of waiting, we're being a proactive company."
This indicator on housing affordability is a lot less rosy than Ottawa's (The Globe)
Millennials struggling for traction in today's economy? A federal Finance Department report says today's young people are the wealthiest yet. Unaffordable housing? The RBC affordability index said this week that only Toronto and Vancouver are an issue.
Two-thirds of Canadians in poll think government should intervene in housing market (CBC)
Across the country, two-thirds of those polled thought the government needed to intervene more in the housing market. The remaining third thought that government should stay out and leave it to the industry to manage.
USA
Of course, while a supermarket or a cold-brew coffee shop may be enticing to some, these can sound alarm bells for others. The consequences of gentrification can be unfortunate for both longtime residents and new arrivals in search of low-cost housing, even though they may welcome more stores and services.
Neighborhood integration is a great goal, but just because a place is currently home to more than one race doesn't mean it will retain this diversity in the decades to come. A new study published in Sociological Science explores this potential future for New York, Chicago, Los Angeles, and Houston. It finds that 35 percent of all neighborhoods in these cities—around 3,800 total—are likely to resegregate in the next two decades.
Silicon Valley Residents Leave for Greener Grass, Cheaper Housing (Wall Street Journal)
The region lost more than 7,500 residents to other parts of the U.S. last year, the first time Silicon Valley has lost more U.S. residents than it has gained since 2011, according to the Silicon Valley Competitiveness and Innovation Project. Two local groups commissioned the study to identify strategies to reinforce the region's innovation.
International
"It was 15 shillings and four pennies a week," he says, picking out one of the oldest and gently chuckling. "Around 70 pence. You wouldn't get it now. It was a good thing them days."
"Many property markets are nevertheless susceptible to global economic headwinds that could dampen the fragile economic recovery and have a knock-on effect on house prices, especially in the periphery countries."
Realosophy Realty Inc. Brokerage is an innovative residential real estate brokerage in Toronto. A leader in real estate analytics and pro-consumer advice, Realosophy helps clients buy or sell a home the right way. Email Realosophy
Share This Article