Realosophy Team in Media Roundup, Toronto Real Estate News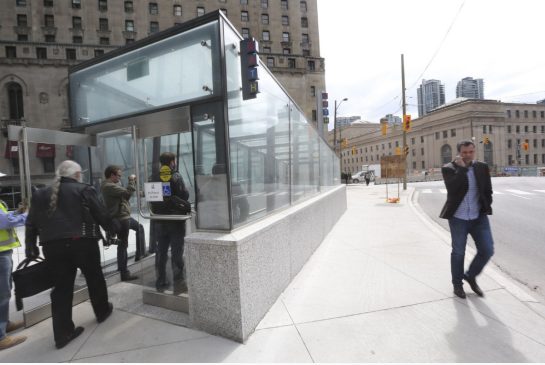 Source: Toronto Star
All you need to know regarding the housing market in Toronto, Canada and abroad.
This week in Toronto: Why the market is so competitive right now, condos remain a popular option and housing shortage amid yet another boom warning.
Elsewhere: Canadians have faith in their housing market, the Panama Papers hit American real estate and what London's housing crisis says about the inequality chasm.
Toronto
Why Toronto's Real Estate Market is so Fiercely Competitive Right Now (Move Smartly)
A widening imbalance between the demand for homes and the supply of homes coming on the market for sale both through the resale and new construction markets is making what was an already hot real estate market in 2015 even hotter in 2016.
Condos a popular option as average Toronto detached prices hit $1.2M (CTV)
Residential property prices in Toronto have shot up 12 per cent over last March, according to first-quarter numbers from the Toronto Real Estate Board. Those numbers were boosted by the ever-rising price of fully detached homes and condos in the city. The average detached price is now $1.17 million, while the average condo price is at $416,251, according to the report.
Toronto, Vancouver Face Housing Shortage Amid Warning Price Boom May 'End Badly' (Huffington Post)
Canada's two hottest housing markets are experiencing a shortage of homes coming onto the market, National Bank Financial notes in a new report. The supply of homes listed for sale in those two cities has dropped to the lowest levels seen in 12 years.

Canada
Canadians bursting with confidence because they have faith in their housing market (Financial Post)
"The main positive driver for the forward look on the economy was the view that the value of real estate would increase," said Nik Nanos, chairman at Ottawa-based Nanos Research Group.
Read Beyond The Fairy Tales About Canada's Housing Market (Huffington Post)
Housing bubbles in Canada and the rest of the world are measured through changes to selling prices of homes. While you can debate which house price measure to use, the most commonly used is average selling price, which in Canada happens to be the most-discussed headline in the news each month. So let's use average selling prices to explain why housing bears are not Chicken Littles.
In their own words: 'How can I afford a home without bankrupting us all?' (The Globe and Mail)
"Where will I raise my child? How can I afford a home without bankrupting us all? How long can a family last in 600 square feet? How can anyone trying to raise a family afford a $600,000-plus mortgage? It keeps me up at night."
How Washington is creating affordable housing – with recycled Canadian homes (The Guardian)
On a sunny day in August, three small homes floated across the waters of the Haro strait, their gray rooftops bobbing as the barge they sat on slowly made its way across the channel of water in the Pacific north-west, crossing the Canadian border into the US.
Rogers to offer $9.99 internet to low-income housing organization tenants (CBC)
Rogers Communications Inc. is expanding a program it already offers in Toronto to tenants in non-profit housing developments across the country to give them basic internet access in their home for $9.99 a month.
USA
She also said that a Treasury program that tracks people who use shell companies to purchase expensive real estate in New York and Miami was underway and that she had noticed people trying to find ways to avoid reporting the information to the department.
How secret offshore money helps fuel Miami's luxury real-estate boom (Miami Herald)
At the end of 2011, a company called Isaias 21 Property paid nearly $3 million — in cash — for an oceanfront Bal Harbour condo. But it wasn't clear who really owned the three-bedroom unit at the newly built St. Regis, an ultra-luxury high-rise that pampers residents with 24-hour room service and a private butler.
New York City's Unequal Housing Becomes a Stage for Public Art (City Lab)
"In this case, we're trying to approach housing and affordability and class and race and gentrification—all the reasons that living can be fraught in New York City," Dalton says. "We want to have that discussion in a heightened and, simultaneously, more open and maybe more confrontational way."
International
London's red-hot housing market of late is by now an international legend, drip-feeding the media with tragicomic stories of insane pricing on a weekly basis—from the $710 cupboard to the one-bedroom flat on sale for $37 million. Now a new report out this week details some of the harmful social effects that this boom in housing costs has wrought. Unsurprisingly, they are many.
China's overheated property market (BBC)
Officials at a housing registration office in suburban Shanghai were so preoccupied that they didn't bat an eyelid when we walked around with a small camera to film the queues. In communist China, where the state has a deep-seated suspicion of the foreign media, that's very unusual. That's how busy they are.
Realosophy Realty Inc. Brokerage is an innovative residential real estate brokerage in Toronto. A leader in real estate analytics and pro-consumer advice, Realosophy helps clients buy or sell a home the right way. Email Realosophy
Share This Article