Realosophy Team in Media Roundup, Toronto Real Estate News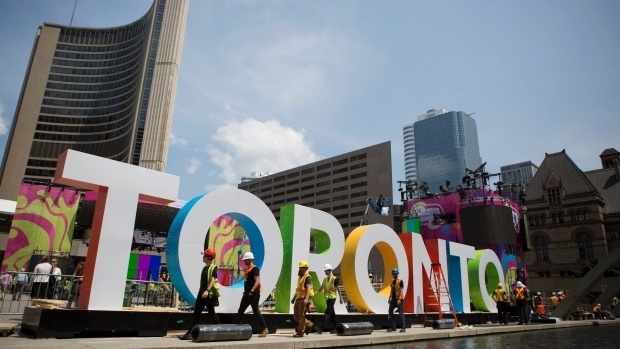 Source: CBC
All you need to know regarding the housing market in Toronto, Canada and abroad.
This week in Toronto: What it takes to buy a home in the 6ix, a whole different level of insanity in the Spring housing market and the suburbs don't provide respite from bidding wars.
Elsewhere: The CMHC gives its verdict on Canada's housing market, America's great housing divide and six countries that tell the story of Europe's recovery.
Toronto
What it takes to buy a home in Toronto's red-hot real estate market (Toronto Star)
"Every time I talked to them, they were just more and more defeated. They were just giving up more and more: 'Okay, maybe I don't need a house in this neighbourhood or maybe I don't need a garage, maybe I don't need free parking or I don't need it to be updated. I'm okay with knob and tube, I'm okay with radiant heating.' They either start doing that or they just start putting in crazy bids, too," he said.
Spring housing market 'a whole other level of insanity' (The Star)
"There's just a lack of supply and inventory. The inventory has been at historically low levels for really 10 years almost. This year, the inventory is even lower than it was last year," said Forbes.
The housing market that just won't stop (The Globe and Mail)
Mr. Pasalis said many seeking a relative deal have been priced out of older, more established bedroom communities and are looking to Durham Region, where houses can be had for $500,000. "It's still super-competitive out in the suburbs," he said.
The head of beleaguered Toronto property developer Urbancorp said his company has been forced to lay off employees and scale back future development as it grapples with "cash flow challenges" and an international legal skirmish between creditors in Canada and Israel.
Canada
What CMHC says about every major housing market in Canada (The Globe)
The national housing agency looked at four areas: Overheating, measured by the ratio of sales to new listings; price acceleration based on average prices; overvaluation based on average prices and new housing indexes; and overbuilding, based on rental vacancy rates and the stock of completed and unsold condos.
The three faces of Canada's increasingly strange housing market (Canadian Business)
The Bank of Canada's benchmark interest rate is a quarter point above its record low primarily because the economy is weak. But there is another reason. Counterintuitively, the central bank says lower interest rates are necessary to reduce the risk of a housing bust. As thousands of suddenly unemployed energy workers seek new jobs, they will be able to do so without worrying about a spike in the cost of their mortgages.
1980s Canadian Real Estate Stories Could Be Written Today (Huffington Post)
Written in July 1988, the story talks about how low mortgage rates have helped to fuel skyrocketing housing prices that would require down payments of $50,000 just to buy an average home.
Canada's Hottest Housing Markets Driven By 'FOMO' (Read: Panic Buying) (Huffington Post)
Nearly one in five respondents in the survey from TD Canada Trust showed signs of "FOMO," or "fear of missing out" on the large price gains seen particularly in Greater Vancouver and Greater Toronto.
USA
The Post analysis, based on data from Black Knight Financial Services spanning 2004 through 2015, shows how the nation's housing recovery has exacerbated inequality, leaving behind many Americans of moderate means. It also helps explain why the economic recovery feels incomplete, especially in neighborhoods where the value of housing — often the biggest family asset — has recovered little, if at all.
We've heard plenty about America's skills gap across the tech industry, but a skills gap is also hobbling construction — and it's delaying building projects, shrinking building inventories, and inflating the cost of homes and home-related projects. The knowledge and skills necessary to repair our toilets, install our furnaces and build our houses are dying on the vine. And, unless we want our grandkids growing up in primeval teepees, we need to work quickly to fix it.
Landlords get away with these affronts to human health and dignity, Desmond contends, because they wield disproportionate power, enforced by the relentless machinery of the courts. Nor do housing codes provide any relief: No tenant in her right mind would call in city housing inspectors to report a leak or broken fixture, because those inspectors can be counted on not only to ticket the landlord for the grievance at hand but also to issue a heap of other costly code violations while they're at it, in slums with no lack of them.
International
The fall was swift and painful, as a collapse in housing prices wiped out many families' savings. Worse, Irish taxpayers were saddled with a tab of 64 billion euros, or about $72 billion, to bail out the country's banks. (The figure was eventually cut to about €40 billion after a debt refinancing.)
Berlin Is Banning Most Vacation Apartment Rentals (City Lab)
The penalty for breaking the law is a substantial €100,000 ($113,000) fine — levied on people renting their homes, never on the guests themselves. There will still be some loopholes that allow a few vacation apartments to persist, but it seems that, in Berlin at least, the astronomical rise of Airbnb and other short-stay rental sites is effectively over.
Realosophy Realty Inc. Brokerage is an innovative residential real estate brokerage in Toronto. A leader in real estate analytics and pro-consumer advice, Realosophy helps clients buy or sell a home the right way. Email Realosophy
Share This Article