Realosophy Team in Media Roundup, Toronto Real Estate News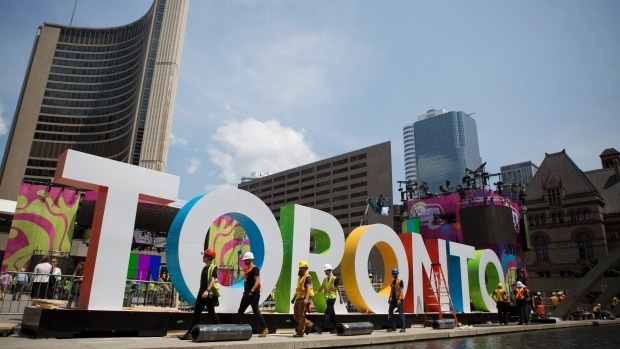 Source: CBC
All you need to know regarding the housing market in Toronto, Canada and abroad.
This week in Toronto: The wait list grows for affordable housing in Ontario, why more sprawl won't solve the problem - or will it?, and real estate agents try their best to stand out in a hot housing market.
Elsewhere: Universities in Vancouver and Toronto struggle to attract professors due to soaring housing prices, America's great housing divide and a population boom is coming to London.
Toronto
Toronto's Red-Hot Market Sends Property Values Soaring (Toronto Star)
City homeowners will receive assessment notices — their first since 2012 — from the Municipal Property Assessment Corp. (MPAC) beginning next week showing a 7.5 per cent annual increase in their property values.
Changes to the Growth Plan mean fewer home choices and higher prices for Ontarians (Toronto Star)
The Proposed Growth Plan for the Greater Golden Horseshoe, 2016, alongside the Greenbelt Plan, Oak Ridges Moraine Conservation Plan and Niagara Escarpment Plan, is designed to manage growth and the protection of the natural environment.
More sprawl won't solve affordable housing shortage (Toronto Star)
Some GTA developers, represented by the industry association BILD, want you to believe high prices are because of restricted land supply. But that's not true. There is no evidence that the province's Greenbelt or Growth Plan are responsible for significant increases in housing prices. Sprawl-hungry developers perpetuate the myth because they want to continue their outdated pattern of paving over some of the best farmland to build car dependent, low-density housing.
In Toronto's Intense Housing Market, These Real Estate Agents Try To Stand Out (Now Magazine)
Some have taken to moving beyond the noise of numbers and appealing instead to their clients' sexual orientations, specialized needs and even spiritual beliefs. Below a few agents in the city who cater to niche markets.
Has it Come to This? Selling Yourself to Buy a Home (CBC)
Putting themselves out there publicly was the idea of their agent, Patrick Lowney. "I do knock on doors up and down streets. I find that there are a lot of agents doing that now, and everyone is saying the same thing. They're saying, 'We have buyers for your house.' I think that people are savvier than expected and they're not buying it anymore," Lowney says.
Ontario's affordable housing wait list grows (Toronto Star)
A record 171,360 Ontario households were waiting for affordable housing in 2015, with average wait times of almost four years, according to an annual report that tracks need across the province.
Facadism: Is It an Architectural Plague Or Preservation? (Now Magazine)
But if facadism – building new structures above, behind or inside the skins of heritage buildings – is so heinous, why is it so common? Is it because, since Torontonians have lost so much of their city's past, they are determined to hold on to fragments of what remains? Or is it because so many architects seem to have lost the knack of creating building fronts that impress, awe, intrigue, enchant or invite us to explore within?
Toronto Police Raid Marijuana Dispensaries across the city (Global News)
Toronto Mayor John Tory told Global News the decision to crack down on the dispensaries was made by licensing authorities and police, but he had previously called on them to take urgent action on the matter. "Well I just think that what we can't have is marijuana dispensaries popping up like wildflowers all over the city and neighbourhoods and in retail strips," he said Thursday.
Canada
Universities struggle to attract professors amid soaring housing prices (The Globe)
Universities in Vancouver and Toronto are struggling to find ways to entice professors to move to cities known for eye-popping house prices and out-of-control bidding wars.
Ottawa should crack down on money laundering in Canadian housing, experts say (CBC)
Ottawa needs to beef up its efforts to combat money laundering in the real estate industry, say critics and housing observers after documents revealed that dozens of companies haven't shown how they're trying to detect questionable transactions.
Code Red Campaign focuses on "broken" housing market (News 1130)
"Our goal is to ensure that every party — the left, the centre and the right — designs its platform in ways that signal how they are going to boldly reign in the housing market that is now growing out of reach for many younger Canadians from coast to coast and is simply out of control in big cities like Metro Vancouver and Metro Toronto," says UBC policy professor Paul Kershaw, author of a new study supporting the campaign.
USA
America's great housing divide: Are you a winner or loser? (Washington Post)
The overall U.S. housing market has recovered from the crisis that plunged the country into recession. But a new analysis by The Washington Post shows that the recovery has been deeply uneven, creating winners and losers along lines of race, income and geography.
Why 2014 Marked a Historic Shift in Housing Arrangements (City Lab)
For more than 130 years, the most common living arrangement for young adults had been to live with a spouse or significant other. The U.S. hit peak-romantic-cohabitation in the 1960s, when 62 percent of 18- to 34-year-olds were coupled off in their own households and 20 percent were living with their parents. By 2014 the former share had fallen to 31.6 percent, while the latter rose to 32.1 percent—a turning point in the modern era. (The remainder were heading up their own households, or living in the home of another family member, a friend, or in dorms.)
Hillary Clinton hits Donald Trump on housing crisis comments (CBS News)
"He actually said he was hoping for the crash that caused hard working families in California and across America to lose their homes," Clinton said, speaking at a rally with union members at a training facility in Commerce, in Los Angeles County, "all because he thought he could take advantage of it to make some money for himself."
Share This Article