Realosophy Team in Media Roundup, Toronto Real Estate News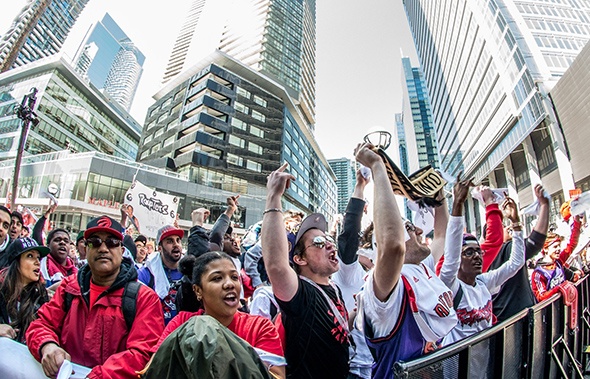 Source: Blog TO
All you need to know regarding the housing market in Toronto, Canada and abroad.
This week in Toronto: Are realtors about to have their Uber moment, fewer listings make for a bigger Spring and one developer torn between affordable housing and making money.
Elsewhere: Housing boom correlated with job growth in Canada, a hidden reason for America's housing crisis and Munich cracks down on illegal vacation rentals.
Toronto
Are Toronto realtors about to have their Uber moment? (Toronto Star)
About five years ago, a TV interviewer asked John Pasalis if real estate was going to be disrupted by the internet the way Expedia had upended the travel industry. "No," said the founder of Leslieville's Realosophy brokerage.
Real estate brokers prepare to release secretive sales data after tribunal rules against TREB (CBC)
The president of Realosophy Realty says he's always believed the information should be open to everyone. "People want to do some of their own research," he says.
Tribunal ruling will drag real estate industry out of 'stone age': professor (CTV)
Other industries have been transformed by big data but the real estate business remains entrenched in information control, says Murtaza Haider, an associate professor at the Ted Rogers School of Management at Ryerson University.
Fewer listings in Toronto's housing market make for a bitter spring (The Globe and Mail)
Last week, Torontonians learned the dispiriting news that High Park's cherry trees won't be reaching peak bloom in 2016. Buyers in the city's spring real estate market may find that forecast just as disheartening.
Build Toronto Torn Between Affordable Housing and Making Money (Torontoist)
Over the past year, Build Toronto has taken steps to sell more land to be developed into affordable housing, and while 400 units are in the works, none have yet been built. At issue is a conflicting mandate for the agency which raises questions about how City agencies balance social responsibility with financial obligations.
Most government-sponsored Syrian refugees now have housing, McCallum says (The Star)
"I'm probably the only immigration minister in the world whose major challenge is not being able to deliver enough refugees quickly enough to satisfy the amazing generosity of Canadian households, Canadian families who want to sponsor them," he said.
Canada
Toronto, Vancouver are creating all Canada's job growth (CBC)
Blistering hot housing markets aren't the only things setting Toronto and Vancouver apart from the rest of Canada — the two cities also accounted for all of the country's job growth, economists say.
How giant blimps could help solve Canada's Indigenous housing crisis (CBC)
A Montreal company says it can help solve the housing crisis in Canada's north by using its fleet of giant blimps to ship pre-fabricated houses to remote communities that can't be accessed by plane or truck.
Pace of Canadian housing starts falls in April; Ontario, Quebec lead decline (The Globe)
"We saw a run-up in new construction in 2011 and 2012 that then got absorbed during a lull through 2014," Kavcic said in a note. "Then another burst of activity came through 2015 which might now be settling down while inventory gets sold."
China is buying Canada: Inside the new real estate frenzy (Macleans)
The richest, of course, regard homes in the West as stable vessels for disposable cash, but Shen lays no claim to such affluence. Last spring, the 39-year-old left behind his middle-management advertising job in Shanghai to seek the dream of home ownership he and his wife couldn't afford in their home city. "We just followed our hearts to begin a totally different life," he tells Maclean's, adding: "We can make the house dream come true in Canada."
USA
The cost of entitlement can make up a substantial amount of the final cost of a home. The process includes several steps, like submitting and receiving plan approval from local governments, getting zoning changes, and even things like permits for building near wetlands.
American Capitalism's Great Crisis (Time)
This sickness, not so much the product of venal interests as of a complex and long-term web of changes in government and private industry, now manifests itself in myriad ways: a housing market that is bifurcated and dependent on government life support.
Why So Many Asylum Seekers Come to America and Wind Up Homeless (VICE)
"Many of the clients that we've come to represent have no savings—no financial resources whatsoever—so they're really relying on the generosity of others," Miller said. "That's where the housing comes in. They are living on people's couches, in spare bedrooms, if they're lucky. Basically living with whoever will let them live with them."
Where New York Is Gentrifying and Where It Isn't (City Lab)
The report divides the city's neighborhoods into three categories: gentrifying (those that were low-income in 1990 and experienced rent growth above the median between 1990 and 2010-2014), non-gentrifying (those that started off as low-income in 1990 but experienced more modest growth than gentrifying areas), and higher-income (those that had higher incomes in 1990 and thus were already gentrified).
International
If your neighbor is illegally renting her home out to tourists, kindly turn her in to the authorities. That's the message this week in Munich, whose governing Social Democrats want to create a website where residents can inform the city if they think the apartment next door is being used for an illegal vacation rental.
Irish housing crisis: Three families a day losing their home (The Independent)
"The government - in particular Fine Gael - must learn from mistakes of previous governments and not allow this situation to drift with the cost of even more families becoming homeless."
Realosophy Realty Inc. Brokerage is an innovative residential real est
ate brokerage in Toronto. A leader in real estate analytics and pro-consumer advice, Realosophy helps clients buy or sell a home the right way.
Email Realosophy
Share This Article