Realosophy Team in Media Roundup, Toronto Real Estate News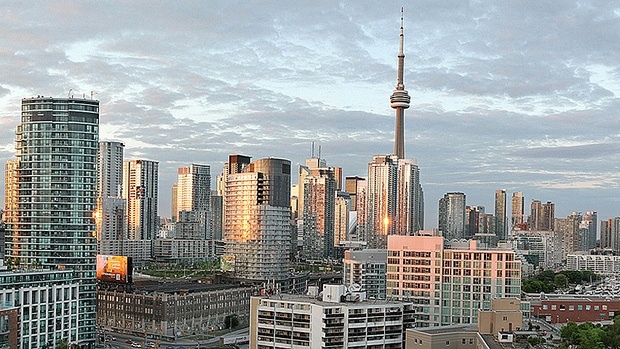 Source: CBC
All you need to know regarding the housing market in Toronto, Canada and abroad.
This week in Toronto: The reality of pink mortgage living, how housing is a health issue and the average home price in the GTA is up more than $100,000 a year.
Elsewhere: Should the Canadian federal government do anything about housing, the case for public housing in the United States and building a mountain in UAE.
Toronto
A $836,000 home on a single salary – the reality of 'pink mortgage' living (The Globe and Mail)
That's what Fotini Iconomopoulos found herself doing recently when she walked into a tiny detached house on a large lot in Toronto's coveted Riverdale neighbourhood. Although the house was exactly what she was looking for, she still had some doubts, namely about the $800,000-plus sticker price.
Proper housing is a crucial a health issue (Toronto Star)
And yet, experts in health are often trained to focus on the provision of health-care services, often sending patients back into the social and economic conditions that made them sick. Nowhere is this more evident than in the case of individuals experiencing homelessness or living in unsafe, precarious housing.
Average price of a GTA home up more than $100,000 in a year (The Star)
The Toronto region's heated housing market shows no signs of reversing its record-setting streak this spring, with April sales up 7.4 per cent and prices 16.2 per cent higher than the same month last year, according to the latest statistics from the Toronto Real Estate Board (TREB).
Dangerous – but affordable – fire-trap apartments a risk to Toronto tenants (The Globe)
The blaze, say neighbours, began in the kitchen; witnesses describe firefighters tossing piles of junk out into the street. Toronto Deputy Fire Chief Jim Jessop said an inspection found that the building was an illegal rooming house, with 11 units for tenants, including two in the basement and one in the furnace room.
Medical pot shops in Toronto face possible crackdown (The Star)
The Queens of Cannabis owners wanted their bright and airy Bloor Street W. shop to have a "healing atmosphere" distinct from dozens of other marijuana dispensaries springing up, almost daily, across Toronto.
Canada
What the feds should do about regional housing froth: nothing (The Globe)
It is easy to make the case that the Canadian housing market is headed for a fall. At the national level, our Great Recession from late 2008 through early 2009 knocked out only 8.5 per cent of its stuffing. What's more, the previous peak had been recovered by late 2009 and aggregate prices since have marched steadily upward: March, 2016, established a new height.
Foreign buyers crushing Vancouver home dreams as governments do little: study (CBC)
The Canadian and British Columbia governments are complicit in fuelling Vancouver's housing crisis as foreign Chinese buyers continue to shut local residents out of the market, a new study says.
Work camp housing wildfire 1st responders forced to evacuate (CBC)
A massive wildfire nicknamed "the beast" has forced a work camp north of Fort McMurray housing first responders to evacuate Saturday night.
USA
Decades ago, these kinds of subsidies, provided by the federal, and in a few places state government, gave rise to what was once praised—and is now maligned—as public housing. If we want to solve the problem of the high cost of quality housing today, we will have to embrace this kind of active government engagement again.
Last November, voters in Boulder, Colorado, narrowly rejected a ballot measure that would have given neighborhoods the ultimate say over zoning changes. The measure would have essentially transferred the city's zoning authority to 66 different neighborhood-level associations. It was a disaster in the making.
Wall Street appeals to Main Street with millions in community based projects (CNBC)
The PRO initiative is meant to "provide local leaders with the tools and flexible capital to bring healthy food, education facilities, affordable housing and small businesses to vulnerable communities," Janis Bowlder, JPMorgan's head of community development for global philanthropy, told CNBC in an interview.
International
Building a mountain may be one of the more ambitious and costly proposals for increasing rainfall: A plan to build a man-made mountain in the Netherlands has been estimated to cost up to $432 billion, according to Business Insider. "If [the project] is too expensive for [the government], logically the project won't go through, but this gives them an idea of what kind of alternatives there are for the long-term future," Roelof Bruintjes, NCAR scientist who specializes in weather modification, told Arabian Business. "If it goes through, the second phase would be to go to an engineering company and decide whether it is possible or not."
How Hyperconnected Cities Are Taking Over the World (City Lab)
Cities are a key element to that evolution for many reasons. First of all, the world has become urban. If you want to understand where people are, people are in cities. Second: economics. Most of the world's economic power is concentrated in cities, and therefore they become the pivotal entities you need to analyze to understand the world economy. Thirdly, cities are increasingly connecting to each other. They're forging their own diplomatic networks, [which] I call "diplomacity."
Realosophy Realty Inc. Brokerage is an innovative residential real est
ate brokerage in Toronto. A leader in real estate analytics and pro-consumer advice, Realosophy helps clients buy or sell a home the right way.
Email Realosophy
Share This Article