Realosophy Team in Media Roundup, Toronto Real Estate News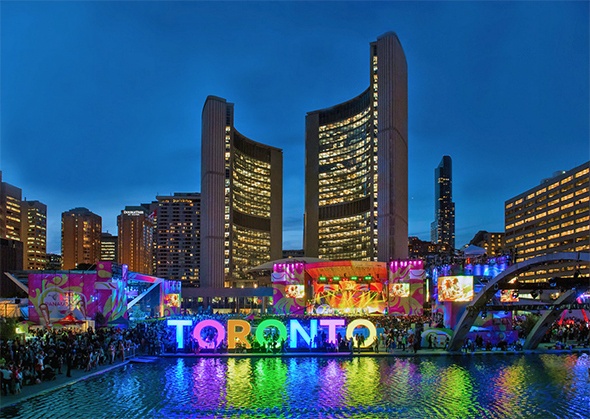 Source: Blog TO
All you need to know regarding the housing market in Toronto, Canada and abroad.
This week in Toronto: Fears of offshore buyers heading to Toronto grows, John Tory says the city needs more federal dollars to solve the housing problem and construction is to blame for rising noise complaints.
Elsewhere: The Canadian housing boom fueled by China's billionaires, while China's interest in the United States fades and will the Olympics save Rio's hosing market?
Toronto
Toronto's house price jump stirs fear offshore buyers will head east (The Globe and Mail)
Almost 10,000 resale homes changed hands in the Greater Toronto Area last month, the highest recorded number for the month of July, the Toronto Real Estate Board reported. Average resale prices jumped 16.6 per cent to $709,825, with the cost of detached homes surging 21 per cent from the same period last year, to $952,983.
Toronto needs more federal dollars to solve housing problem, Tory says (CBC)
"We are at the bottom of a very big mountain to climb and we need to have housing so people of any income group no matter what job they have to afford to live in the city."
Construction to blame as noise complaints in Toronto rise along with the skyline (CBC)
The number of noise complaints is rising along with the skyline, and the city says construction is to blame for the largest share of complaints in 2016 so far.
How to reduce Toronto's high cost of housing (Toronto Sun)
Instead of trying to micromanage the housing market by taxing certain categories of buyers, governments in Queen's Park and at city halls across the Greater Toronto Area should focus on reducing these barriers to new homebuilding.
Vancouver real estate tax sparks concerns for Toronto housing market (CBC)
"They're not going to want to pay that 15 per cent, so they're going to now dump it into the Toronto real estate market, which is already hot."
Canada
The Canadian Housing Boom Fueled by China's Billionaires (Bloomberg)
They are the product of Vancouver's decade-long real estate frenzy. The city, with its stunning views of the mountains and yacht-dotted harbor, has long been one of the world's most expensive places to live but price gains have reached a whole new level of intensity this year. Low interest rates, rising immigration, and a surge of foreign money—particularly from China—have all driven the increases.
Realtors, lawyers scramble to close deals before 15% tax deadline on Metro Vancouver homes (CBC)
"Hundreds of British Columbians head into the B.C. Day long weekend facing stress and uncertainty concerning the largest financial transaction of their lives," said Dan Morrison, president of the Real Estate Board of Greater Vancouver, which represents nearly 13,000 Realtors.
Vancouver Mayor Will Turn Downtown Tent City into Social Housing (Vice)
Vancouver Mayor Gregor Robertson announced yesterday he'll be making steps to improve the city's housing crisis by building "100 percent social housing" over tent city, the lot currently occupied by unaffordable housing protesters.
Could Montreal's real estate market be the next target for foreign investors? (CBC)
But it's unclear if Montreal, often an outlier when it comes to real estate trends, will be among them. "I really don't think this is something that's looming for Montreal," said Martin Desjardins, a Montreal realtor with Sutton Quebec.
USA
End of an era as China's love affair with U.S. real estate fades (Seattle Post-Intelligencer)
Wong is not the only one who has felt the cooling in the U.S. real estate market for foreign buyers. Total sales to Chinese buyers in the 12 months through March fell for the first time since 2011, to $27.3 billion from $28.6 billion a year earlier, according to an annual research report released by the National Association of Realtors. The number of properties purchased by Chinese also declined to 29,195 units from 34,327 units.
Underwater in the Las Vegas Desert, Years After the Housing Crash (New York Times)
He could walk away from his mortgage and lose the $580,000 he has paid, or he can keep pouring his savings into the same hole. It is a mess with no good choices, he said, just like the presidential election. He will vote Republican, but Clinton or Trump — either way, it feels like a losing wager, he said.
USA Basketball opts out of Olympic housing, stays on cruise ship for Rio Games (Mashable)
That's a world removed from the lodgings at the Olympic Village provided to other athletes, including Australian NBA player Andrew Bogut. Bogut went on a sarcastic Twitter rant this week after checking in to the Olympic Village. Other athletes have complained as well.
International
Will the Olympics Rescue or Ruin Rio's Housing Market? (Realtor)
"There is this perception that there is an economic benefit to holding the Olympics … and that there's a lasting effect of introducing a city to the world," says Constantine Kontokosta, a New York University data science and urban planning professor, who published a 2011 study on the Olympics. "But that certainly hasn't been what we've seen."
The Rent Is Now Somewhat Less High in Paris (City Lab)
Rent control laws in the city of Paris are doing exactly what they were designed to do. That's what France's Minister for Housing, Emmanuelle Cosse, has been saying in recent celebratory interviews to the French media. It's been roughly a year since France put in place strict restrictions on rent rises in Paris and other "strained zones" across the country. And while it's Cosse's job to defend legislation introduced by her government, there is indeed evidence in the past year's figures to back up the assertion that the law changes are doing their job.
Realosophy Realty Inc. Brokerage is an innovative residential real estate brokerage in Toronto. A leader in real estate analytics and pro-consumer advice, Realosophy helps clients make better decisions when buying or selling a home.
Email Realosophy
Share This Article