Realosophy Team in Media Roundup, Toronto Real Estate News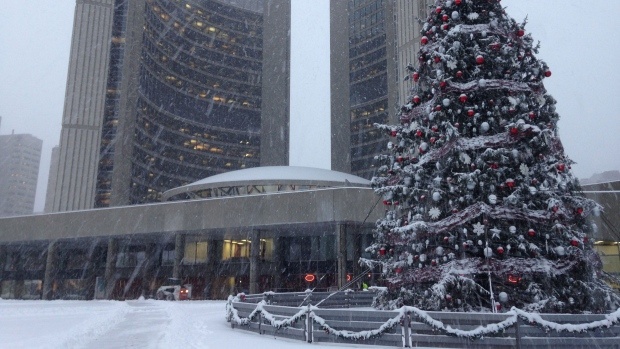 Source: CTV
All you need to know regarding the housing market in Toronto, Canada and abroad.
This week in Toronto: The market in Toronto is hotter than Vancouver, a tenant protection bylaw is hailed as groundbreaking and how housing generates stress in the 6ix.
Elsewhere: Canada's housing market could drag the economy down, mapping the rich-poor divide in U.S. cities and what kind of housing will 'Generation Rent' be able to afford.
Toronto
Toronto housing market now hotter than Vancouver (Blog TO)
Toronto's real estate market isn't cooling down any time soon, unlike the weather outside. According to the Teranet-National Bank Composite House Price Index, housing prices in the city have gone up for the tenth month in a row.
Tenant protection bylaw hailed as 'groundbreaking' (Toronto Star)
It will mean property owners must register with the city, have a comprehensive pest management plan that includes licensed professionals, use licensed contractors for all repairs and have a state of good repair capital plan.
'Danger Report': Real estate pros fret court could break lock on secret sales data (CBC)
"It kind of shows you what their fear is, and open data is really behind a lot of this," says broker John Pasalis with Realosophy Realty in Toronto. "They're worried the agent is going to get cut out." Pasalis argues that worry is what's driving the Toronto Real Estate Board (TREB) in its long and bitter battle with Canada's Competition Bureau to keep certain sales data under lock and key.
Toronto tops in Ontario for work stress, report says (CBC)
"Further, more Toronto residents are paying above 30 per cent of their income on housing than anywhere else in the province. Even though Toronto has a high number of people in the upper-most income categories, the city overall is quite economically insecure, which is a reflection of the breadth of wealth distribution in the city."
Ontario court ruling says condo buildings can ban sharing services such as Airbnb (Financial Post)
In a ruling that could have wider implications, an Ontario court has said that condominium corporations have the authority to ban unit owners from renting out their properties on services such as Airbnb or Expedia.
Canada
Canada's cooling housing market will soon start dragging the economy down, watchdog warns (Financial Post)
Policy makers have been introducing measures in recent months to slow growth in the country's two hottest markets, Toronto and Vancouver, with the province of British Columbia imposing a tax on foreign buyers in the latter. Real-estate activity in the two cities is diverging as a result. Average prices around Toronto rose 23 per cent in November from a year earlier, while sales also soared. Sales in Vancouver, meanwhile, have declined steadily, falling 37 per cent last month compared to the prior year.
B.C. government offers down-payment loans to first-time homebuyers (Vancouver Sun)
The goal is to match part of a person's down payment to help them afford to buy their first home, as long as they already qualify for a mortgage under federal rules and the home is worth less than $750,000.
Real estate developers slammed B.C. over surprise foreign-buyer tax (The Globe)
Hours after B.C. announced its tax on foreign buyers this past summer, prominent developers e-mailed Premier Christy Clark and her government saying the policy amounted to a betrayal of Metro Vancouver's international citizens and could hurt a market already showing signs of cooling.
The dark side of the boom (The Globe)
Rising house prices make people wealthier on paper, but they also threaten to seriously damage the personal finances of those who borrow more than they can truly afford to buy a home. While most Canadians can handle their payments, the ranks of those suffering financial stress from oversized debt is growing, and quickly. The Bank of Canada says the proportion of indebted households that owe at least 3.5 times their gross income has doubled since before the financial crisis.
Canada Has A Housing Supply Crisis. So Why's It Punishing Homebuyers? (Huffington Post)
So what's going on here? Why is the supply of housing not keeping up with demand, even though there is so much money to be made? The answer, according to a growing number of experts, is that local policies and public opposition to development are killing off home construction, causing home prices to skyrocket. Not a good thing in a country whose population grows by more than 300,000 every year.
USA
Mapping the Stark Rich-Poor Divide in Major U.S. Cities (City Lab)
Using data from state and federal governments, the team mapped the median household income of each census tract in five cities: New York City, San Francisco, Atlanta, Boston, and Washington, D.C. Census tracts in light blue have a median household income between $100,000 and $150,000, while those in darker blue represent more than $150,000. Those colored in orange represent median household incomes of less than $100,000. The darker the shade, the lower the income.
Housing Fight Hits San Diego (New York Times)
The fight for more housing has a new war room in San Diego. Increasingly, even well-off professionals are finding they can no longer afford to live in the San Diego area. In October, the county's median home price was the highest in a decade — $507,500 — according to CoreLogic, a data analysis company.
New York still the apple of foreign property investors' eyes (Reuters)
New York City remained the top choice this year among foreign investors in commercial real estate while Washington fell to No. 15 as a global destination and dropped from the top five U.S. cities for the first time, a survey showed on Thursday.
International
It's looking like the best that those of us without a massive inheritance or family-funded deposit can expect is to rent long-term. The message being pushed at the moment appears to be along these lines: give up your dreams of home-owning. Accept your fate of paying for something on which you may not see a future return. Live in the moment. And if we're set to become like the long-term renters of Switzerland, Germany and Belgium, these look like some of our options.
Wall Street Is Europe's Landlord. And Tenants Are Fighting Back (NY Times)
The Tobun family never missed a rental payment on their modest brick rowhouse in eight years. But in February, the couple, who have two young children, received a letter warning that they would have to leave their home when the lease expired. Forty of their neighbors got the same notice.
Realosophy Realty Inc. Brokerage is an innovative residential real estate brokerage in Toronto. A leader in real estate analytics and pro-consumer advice, Realosophy helps clients make better decisions when buying or selling a home.
Email Realosophy
Share This Article