Realosophy Team in Media Roundup, Toronto Real Estate News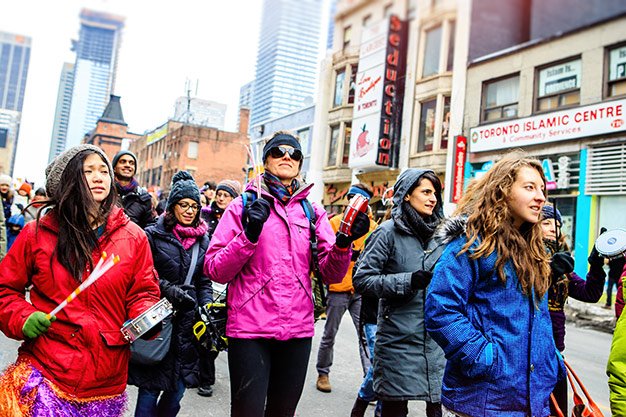 All you need to know regarding the housing market in Toronto, Canada and abroad.
This week in Toronto: Ontario Finance Minister might change mind on foreign buyer tax, desperation sets in for house hunters in Toronto, and Toronto passes on Trump Tower.
Elsewhere: Chinese inquiries spike in the rest of Canada following Vancouver foreign buyer tax, NYC to get less federal aid for housing and sales plunge in London thanks to Brexit.
Toronto
Ontario Reconsidering a Foreign Buyer's Tax to Cool Housing Market (Globe and Mail)
Finance Minister Charles Sousa said on Thursday he is looking at the tax as one of a number of options to control aggressive growth in home prices, after rejecting such a measure last year. "A year ago I was thinking, 'Let market forces prevail,'" Mr. Sousa said. "But now I'm concerned about … the ability of people to enter the marketplace. [There are] bidding wars everywhere you go, it appears, and I'm sensitive to that."
Desperation Sets in for House Hunters in Toronto's Red-Hot Market (Bloomberg)
"It's terrible, it's just discouraging," Kayali, 27, said. "You go to the open houses and it's mostly couples like us. And we're all in the same boat, looking at one another and I'm thinking 'O.K. You're probably outbidding me.'" Just last week they hoped to bid on a semi-detached home similar in size and a five-minute drive away. The next day, it sold for C$1.4 million, 42 percent over asking.
Price of homes sold in GTA last month up 27.7% from year ago (Toronto Star)
Winter hasn't done anything to cool the region's blazing real estate market. As the number of home listings continues to flag, re-sale prices soared 27.7 per cent across the Toronto area to $875,983 in February, compared to the same month last year.
Low supply drives February price jump in Toronto real estate market (The Globe and Mail)
A year ago, real estate agent Christopher Bibby was turning down listings because he thought the sellers had unreasonable expectations for how much a buyer might be willing to pay. This week, he's calling them back.
Realtor Promises 'Goldmine' in Listing Proving Toronto's Gone Nuts (Huffington Post)
Note the naked appeal to sheer greed and FOMO (fear of missing out). This is what an irrational market panic looks like, folks: Gambling with huge money on the hopes someone will pay even more for the property you bought.
No bidders offer to buy Trump-branded tower in Toronto (CBC)
Nobody has stepped up with a bid to buy the Toronto condo and hotel tower bearing Donald Trump's name, which means ownership of the infamous structure will now fall to its largest debt holder.
Canada
Chinese inquiries in Toronto, Montreal, Calgary real estate spiked with Vancouver tax (CBC)
Inquiries from China for property in several big Canadian markets spiked in the months after Vancouver introduced its tax for foreign buyers, according to a report based on data from a top Chinese foreign property website.
Chinese home buyers turn attention away from Vancouver (The Globe)
Vancouver is probably the hottest market in the country, as rental apartment valuations operate in the shadow of the housing market. CBRE had them pegged as low as 2.75 per cent for multi-family Class A high-rise units in its year end report but that percentage is partially a function of speculators banking on converting property to residential ownership while also considering the possibilities of adding density to their land or hiking rents.
Canadian investors optimistic despite housing market jitters, Manulife survey finds (CBC)
If there was one area of concern, it was in the housing market. In the poll, almost as many people perceived it to be a bad time to buy a house as thought it was an ideal time to buy in.
USA
New York City to Get Less Federal Aid for Housing (New York Times)
"We also are not going to say to folks in Washington, go ahead and cut us because we have so much money to put in — we don't," the mayor said Wednesday during an unrelated news conference about the city's coming ferry service. "Our reserves could be eaten up very, very quickly if the magnitude of budget cuts that's possible here was to play out."
Trump Mulls Cutting Billions From Public Housing to Fund Larger Military (New York Magazine)
Five months later, the Trump administration is considering cutting $6 billion from the Department of Housing and Urban Development to help fund a $54 billion increase in America's defense budget, according to documents obtained by the Washington Post.
The Steady Deconstruction of America's Cities (City Lab)
To live in a city is to watch it change, sometimes quickly and in troubling ways. These changes, more often than not, are the product of decisions by city planners on which longtime residents often have little input or sway. This process is usually referred to with a commonly used term: gentrification. But there is no single answer to the questions of what gentrification really means, what causes it, who controls it, and how it actually changes neighborhoods and the people who live in them.
International
"Last year's London property market was severely impacted by an unprecedented sequence of events with changes to stamp duty and the EU referendum vote leading to a substantial reduction in property sales transactions, especially in central London," said chief executive Nic Budden.
Like those 19th-century scrambles, the China "rush" brought sudden prosperity to far-flung places. Townsville, a coastal city in north Queensland, hosted thousands of fly-in-fly-out workers (or "fifos"), who served the Bowen Basin's coal mines and Mt Isa's copper and zinc mines. Their six-figure salaries boosted the local economy and inflated the housing market, which attracted speculative investors from faraway Sydney, Melbourne and Brisbane. "There was so much money around," says Peter Wheeler, a Townsville estate agent.
Realosophy Realty Inc. Brokerage is an innovative residential real estate brokerage in Toronto. A leader in real estate analytics and pro-consumer advice, Realosophy helps clients make better decisions when buying or selling a home.
Email Realosophy
Share This Article