Aside from a small dip during Covid, Toronto rents are ever higher for both condos and houses - as buying becomes more out of reach for many.
As Featured in this month's Move Smartly Report: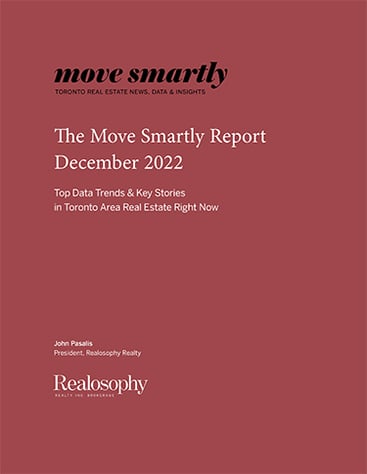 FREE MONTHLY WEBINAR: The Market Now with John Pasalis - Next Session Coming Jan 2023
Join John Pasalis, report author, leading market analyst and Move Smartly contributor, and President of Realosophy Realty, and in a free monthly webinar as he discusses key highlights this month's report and answers your questions. A must see for well-informed Toronto area real estate consumers.
Register now to get recording of latest session and access to future sessions.
Often overlooked in the housing affordability crisis, I recently took a closer look at Toronto's rental market to see how prices, sales and inventory levels have changed over the past couple of years.
The rental statistics below are based on properties that were listed for sale on the Toronto Regional Real Estate Board's (TRREB) MLS system. This largely consists of condominium (condo) units and low-rise houses (either an entire house or a unit in a multi-unit home) and does not include purpose-built rental apartments.
Looking at the number of leases, we see two slightly different trends for condos and low-rise houses. Condo rentals really picked up during the second half of 2020 and continued at a very elevated level during the first three quarters of 2021. While condo rental volumes in 2022 are well ahead of pre-COVID levels, they are down from their COVID peak.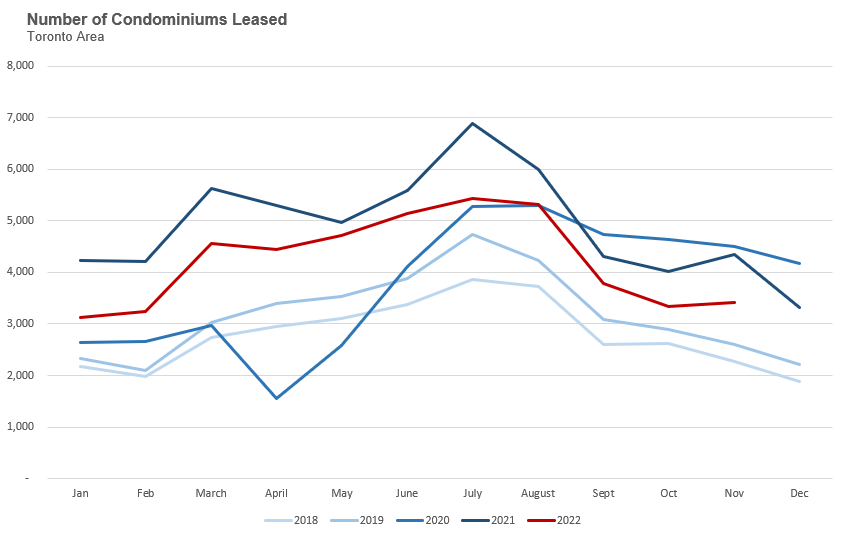 The rental market for low-rise houses, on the other hand, is at an all time high during 2022. This is likely a product of the fact that low-rise house prices accelerated far more rapidly over the past two years and as prices got further out of reach more potential buyers moved to the sidelines and decided to rent. More recently, high interest rates have made it harder for first time buyers to get a mortgage which has also pushed many buyers to the sidelines.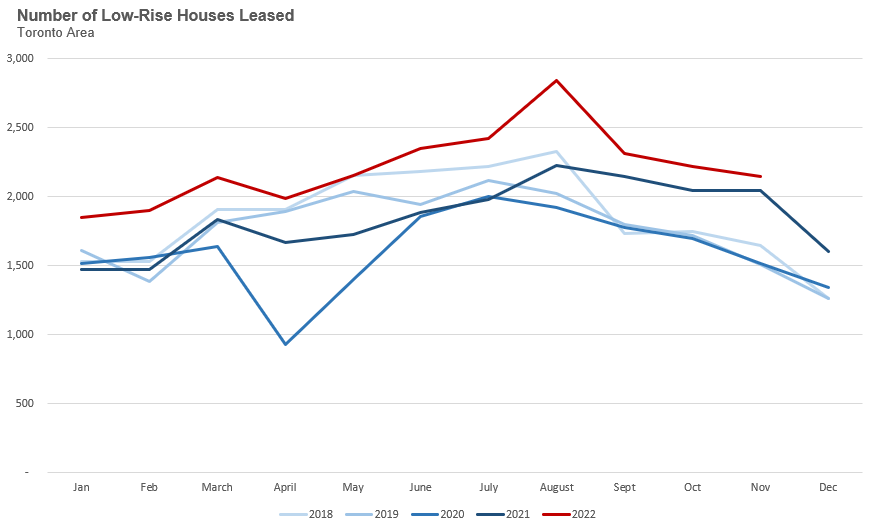 The number of condos available for lease is inline with historical norms and below levels seen over the previous three years. This is a good place to be as we move into 2023 when the GTA is expected to see roughly 18,000 condo completions during the first half of the year.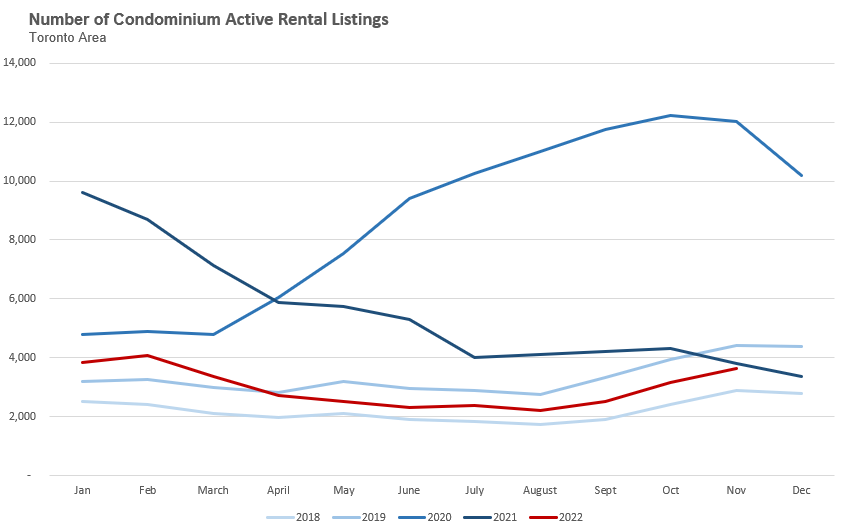 The number of low-rise houses available for rent, on the other hand, is well ahead of historical volumes, but the market is still relatively balanced given the strong sales volume. At the end of November there was just 2 months of available low-rise rental inventory.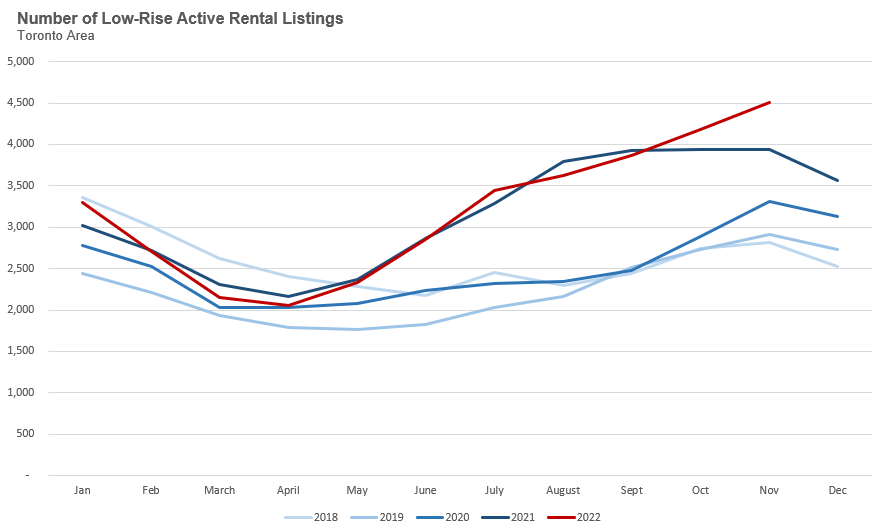 Aside from a short term decline in condo rent prices during COVID, rents have accelerated since 2015 and both condo and low-rise rents are above pre-COVID levels. The decline in average rents the past few months is a typical seasonal trend, rents usually peak in the summer before declining during the fall/winter market.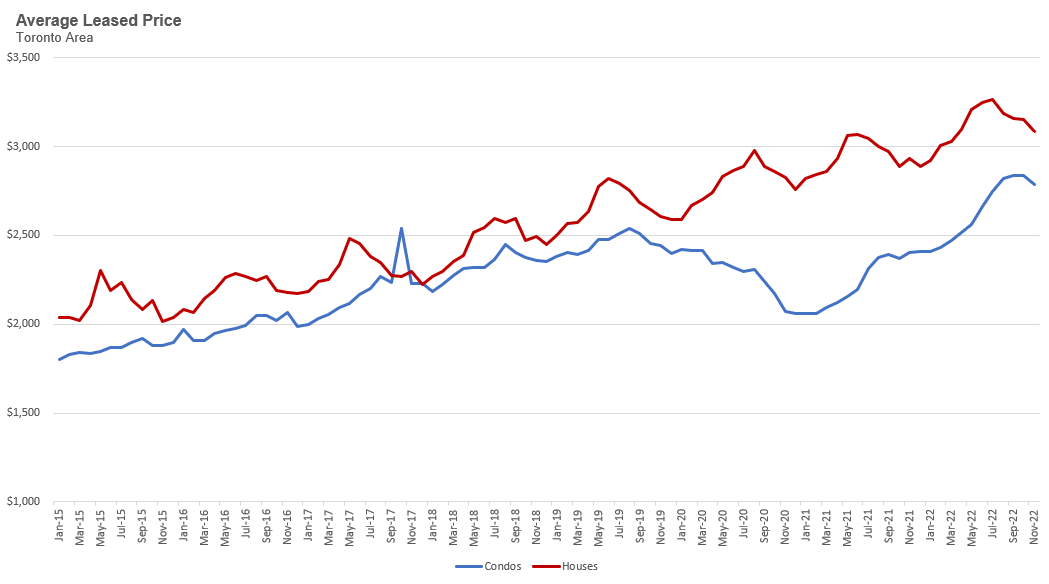 The chart below compares the average condo rent in November 2022 to the pre-COVID average which I have defined as February 2020. The average rent is up by 14% in Toronto, 20% in Peel, 21% in York and Halton and 34% in Durham.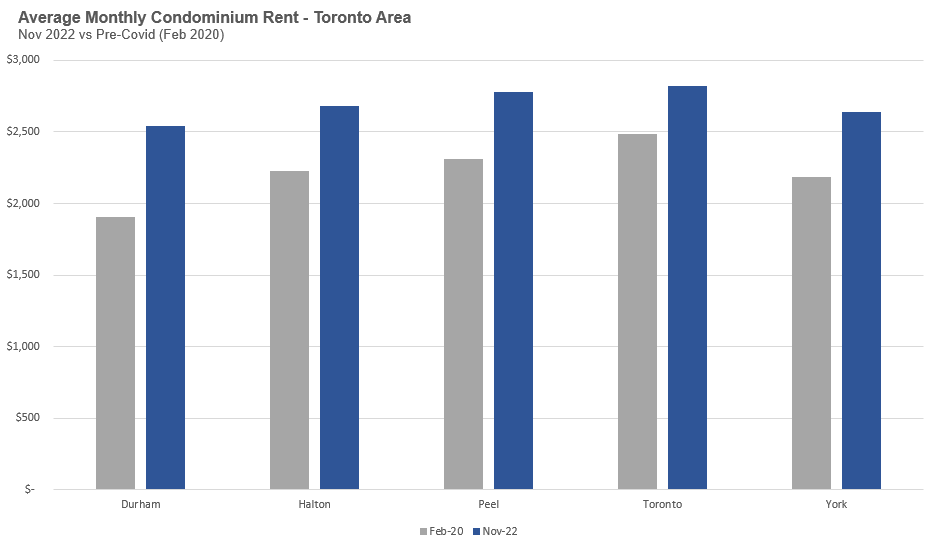 When comparing the average low-rise rent in November 2022 to the pre-COVID average we see that the average rent is up by 8% in Toronto, 17% in Peel, 18% in York, 20% in Halton and 23% in Durham.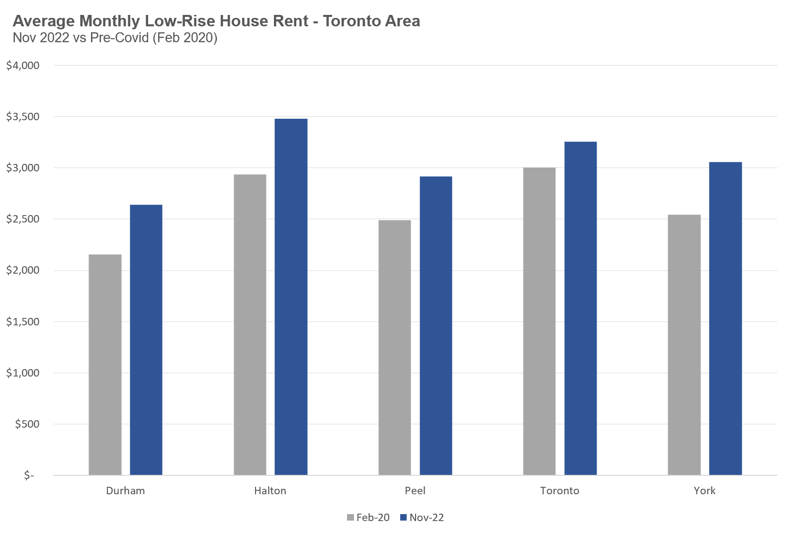 High interest rates coupled with elevated home prices will continue to make it hard for potential first-time home buyers to qualify for a mortgage which will likely lead to continued strong demand for rentals in 2023.
The Move Smartly monthly report is powered by Realosophy Realty Inc. Brokerage, an innovative residential real estate brokerage in Toronto. A leader in real estate analytics, Realosophy educates consumers at Realosophy.com and MoveSmartly.com and helps clients make better decisions when buying and selling a home.
Email report author John Pasalis, Realosophy President
Share This Article