We are finally starting to see some inventory build up as listings start to increase while sales slow heading into the fall market.
As Featured in this month's Move Smartly Report:

Toronto's housing market continued to cool as we moved from the summer into the fall home-buying season, normally the second busiest time for the market each year.
The fall home buying season has seen climbing housing inventory continue its upward trend that began over the summer.
As new listings increase and sales decline, the Months of Inventory (MOI) for houses has increased from 1.3 in May to 3.8 in the past month of September.
New listings during the first half of the year were at 20-year lows for most of the period but have started to increase closer to historical monthly levels over the past few months. On the other hand, sales have plummeted, with detached home sales for September at their lowest level on record.



The dynamics in the condo market, however, are slightly different. Condo sales are below the long-term average for September but are not at record-low levels as we see in the detached home market. On the other hand, new listings have climbed to a new high for September, behind only the 2020 record high during to the Covid-19 global pandemic.
These dynamics have pushed the MOI for condos from 1.6 in May to 5.1 MOI in September.
If new listings continue to outpace sales, then the inventory of homes available for sale will increase, which could put downward pressure on prices.
But if the number of new listings coming on the market begins to trend lower in the months ahead, this may lead to a levelling off in prices, much like what we saw last year.
This will be a key trend to watch.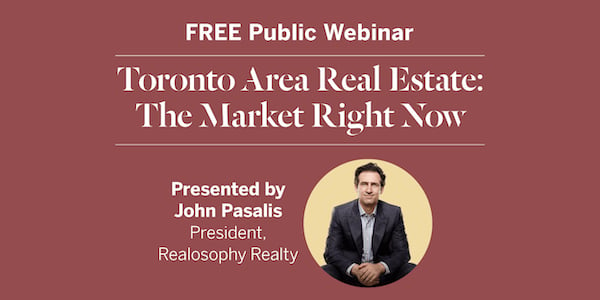 WATCH LIVE: The Market Now with John Pasalis - Thurs October 12th 2023 12PM ET
Join John Pasalis, report author, for key highlights of this month's report and responses to your questions. Sign Up Now >
By the Numbers: September 2023
Year-over-year, the average price for a house in the Toronto area was $1,366,876 in September, up 6% over the same month last year. Last month's median house price was $1,181,000, up 4% over last year.
House sales in September were down 7% over last year, while new house listings were up 49%. The number of houses available for sale at the end of the month, or active listings, was up 50% over last year.
The current balance between supply and demand is reflected in the Months of Inventory (MOI), which is a measure of inventory relative to the number of sales each month (for a more detailed explanation of this measure, see the final section of this report). In September, the MOI for houses increased to 3.8, a sharp increase from 1.3 in May just four months ago, indicating a slowing market.
The average price for a condominium (condo) in the Toronto Area was $735,366 in September, which is down 2% over last year. The median price for a condo in September was $670,000, down 1% over last year.
Condo sales in September were down 4% over last year, and new condo listings were up 43% over last year. The number of active condo listings was up 44% over last year. The MOI increased to 5.05. Much like the market for houses, this is a rapid increase from 1.6 in May, indicating a slowing market.
For detailed monthly statistics for September 2023, the entire Toronto area market, including house, condo and regional breakdowns, see all monthly stats in the full report here.
Browse Real-Time Market Trends on Movesmartly.com:

See Market Performance by Neighbourhood Map, All Toronto and the GTA
Greater Toronto Area Market Trends
Top Image Credit: Getty/iStock
The Move Smartly monthly report is powered by Realosophy Realty, an innovative residential real estate brokerage in Toronto. A leader in real estate analytics, Realosophy educates consumers at Realosophy.com and MoveSmartly.com and helps clients make better decisions when buying and selling a home.
John Pasalis is President of Realosophy Realty. A specialist in real estate data analysis, John's research focuses on unlocking micro trends in the Greater Toronto Area real estate market. His research has been utilized by the Bank of Canada, the Canadian Mortgage and Housing Corporation (CMHC) and the International Monetary Fund (IMF).
Email report author John Pasalis, Realosophy President
Share This Article