After long denying the role that foreign buyers play in Canada's housing market, the federal government and authorities are not targeting the real problem.
As Featured in the monthly Move Smartly Report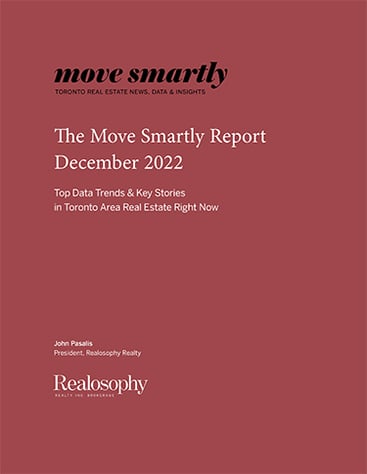 FREE MONTHLY WEBINAR: The Market Now with John Pasalis - Next Session Coming Jan 2023
Join John Pasalis, report author, leading market analyst and Move Smartly contributor, and President of Realosophy Realty, and in a free monthly webinar as he discusses key highlights this month's report and answers your questions. A must see for well-informed Toronto area real estate consumers.
Register now to get recording of latest session and access to future sessions.
The federal Liberal government recently introduced the Prohibition on the Purchase of Residential Property by Non-Canadians Act which will prohibit non-residents of Canada from purchasing residential real estate for two years beginning January 1, 2023.
Unfortunately, this policy is too little and far too late to have any meaningful impact on Toronto's housing market.
How big of an impact have foreign buyers had on the housing market?
For years the Canadian Mortgage and Housing Corporation (CMHC) argued they were not influencing house prices and even implied that xenophobia rather than facts was was behind these concerns. My favourite comment from their 2016 research was their jab at the "twitterverse" for suggesting that foreign buyers were influencing house prices:
"To some, the scapegoat is obvious: blame foreigners. It's the recurring theme, the clear cause according to the twitterverse and many commentators."
As someone who has been active on the twitterverse for some time, I can confidently say that very few people were arguing that foreign capital was the single cause for high home prices, but they did argue that it was one of many important drivers of home prices that policy makers should have looked into rather than dismiss the way CMHC did.
Then in 2019, with the help of Statistics Canada, CMHC was able to publish more accurate statistics on the share of existing homes owned by non-residents. It turned out that their original estimate that just over 2% of condominiums in Toronto and Vancouver were owned by non-residents was well off the mark.
The share of condominiums that have at least one non-resident owner was 11.2% in Vancouver and 7.6% in Toronto. This is a very big share when one considers that this refers to the entire stock of condominiums rather than the percent of sales each year.
The provincial governments in British Columbia and Ontario introduced taxes on homes bought by non-residents in 2016 and 2017 respectively. The Ontario government's non-resident tax was originally 15% of the sale price of a home, but that was increased to 25% in 2022.
As far as I'm aware, the province of Ontario has not published any recent statistics on the number of homes bought by non-residents each year, but I suspect their non-resident tax has significantly cooled that activity. This doesn't mean that foreign capital isn't still flowing into Canada's housing market, it just means that if it is, it is likely flowing through individuals and companies that are exempted from paying the tax.
The provincial non-resident tax doesn't target the source of the capital, the tax is based on the residency of the buyer. There's a big difference between targeting foreign buyers vs foreign capital — the former is far easier than the latter.
It's for this reason that I was originally hopeful that the federal Liberal government was going to make some material changes to actually target foreign money rather than foreign buyers. Their election platform specifically said they were going to:
"Ban foreign money from purchasing a nonrecreational, residential property in Canada."
Their announcement regarding the housing related policies in their April 2022 budget also discussed foreign capital:
"Curbing unfair practices that drive up the price of housing by imposing a two-year ban on foreign capital coming into Canada to buy residential real estate."
But at this point the Liberal's foreign buyer ban appears to target individuals and corporations rather than foreign capital and their plan will likely have a number of exceptions including for international students. Ensuring the parents of university students can speculate in Canada's housing market (in their child's name) appears to be one of the key selling points our governments are promoting when encouraging international students to study in Canada.
Given the existing foreign buyer taxes in Ontario and BC, it's quite clear that the Liberal's foreign buyer ban is an exercise in political theatre and will likely have very little impact on the housing market.
The Move Smartly monthly report is powered by Realosophy Realty Inc. Brokerage, an innovative residential real estate brokerage in Toronto. A leader in real estate analytics, Realosophy educates consumers at Realosophy.com and MoveSmartly.com and helps clients make better decisions when buying and selling a home.
Email report author John Pasalis, Realosophy President
Share This Article