Toronto is the first municipality in the GTA to return to pre-pandemic prices.

As Featured in the monthly Move Smartly Report for August 2022 - read story below and go to report to read all stories for the month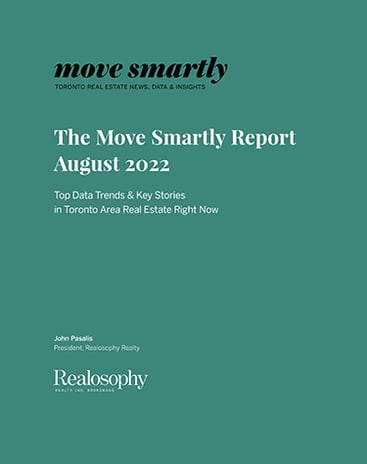 FREE PUBLIC WEBINAR: The Market Now with John Pasalis
Join John Pasalis, report author, leading market analyst and Move Smartly contributor, and President of Realosophy Realty, and in a free monthly webinar as he discusses key highlights this month's report and answers your questions. A must see for well-informed Toronto area real estate consumers.
Register now to get recording of latest session and access to future sessions.
Consistent with the most recent monthly market stats, we continued to see many of the same on the ground trends in the Greater Toronto Area (GTA) in July as well — very few active buyers, fewer showings, and downward pressure on prices.
However, one change we are now seeing on the ground is renewed interest from buyers who are interested in beginning or restarting their home search in September. While this is normally a typical seasonal trend, it is notable now because it wasn't clear a month ago if we would see the resumption of this typical trends, given the historic increase in interest rates and downward pressure on home prices we have been experiencing.
We are also likely to see an increase in the number of homes listed for sale in September which is also a typical seasonal trend. Whether home prices continue to trend down or stabilize will largely depend on how demand changes relative to any change in new listings. If buyer demand grows at a faster rate than new listings, we may see some stability in home prices as we move into the fall market.
The other interesting trend I have been observing on the ground for most of July has now started to appear in the latest monthly sales data. While data was previously showing that average and median prices for low-rise houses were back to last year's levels, many of the actual sale prices I was seeing in a number of different neighbourhoods in the City of Toronto looked well below last year's prices.
The current sales data shows that the City of Toronto is the only municipality in the Greater Toronto Area (GTA) where house prices have fallen back close to pre-COVID pandemic levels (the average price for low-rise Toronto homes in July 2022 was $1.433M compared to 1.407M in Feb 2020, prior to the first pandemic-related lockdown in Canada). Median prices in July 2022 are still above pre-pandemic prices in every other GTA municipality.
However, compared to other GTA municipalities, the City of Toronto has not experienced as large a decline in prices since February because prices there saw the slowest rate of appreciation during the COVID market boom (a price increase of 30% across in the GTA over two years); in the City of Toronto, a 21% decline has been enough to set prices back to February 2020 levels.
In tomorrow's post, I will share data comparing all municipalities to show which areas have seen the biggest decline in prices in this current slowdown.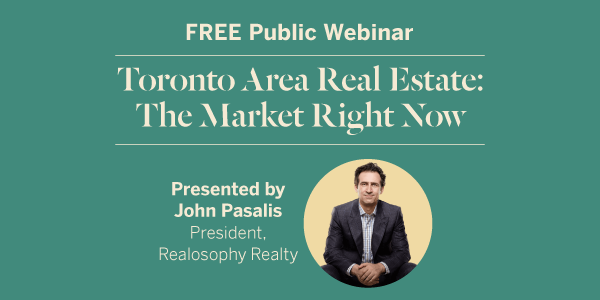 Share This Article