This time last year, nearly 1,000 Toronto home buyers and sellers suffered major financial losses - could they have done something differently or was it just bad timing?
In April 2017, the average house price in the Greater Toronto Area (GTA) peaked at $920,791 and within four months tumbled by 20% to $732,292 - a rate of decline far more rapid than that experienced by US cities in their most recent housing crisis.
Our research found that
nearly 1,000 people
had to walk away from the homes they bought (but had not yet moved into), losing their deposits and risking being sued because they were unable to get financing, many because they were unable to sell their current home once demand and prices started to fall.

I have a lot of sympathy for those involved (some of whom sent me emails asking for help in the aftermath) - and I feel it's important for the rest of us to learn from their situation. Could they have done something differently or was it just bad timing and worse luck (as it sometimes is)?
This is a question I frequently get and it is one that I am passionate about. While I believe it is impossible to predict the real estate market, being informed about it is a different matter - I believe that many of the mistakes buyers and sellers make are preventable had they known about the underlying trends in their local market.
As I explained at a Realosophy public seminar (see video above), if you follow the Toronto real estate market in the news, the first sign of a real slow down was in early June 2017 when the Toronto Real Estate Board (TREB) released their sales figures for the previous month showing that sales had fallen 20% over the previous year and that the average price of a home fell from $920,701 in April to $863,910 in May. While we normally don't compare changes in average price from one month to the next because of seasonal differences, we could note that prices don't normally fall between April and May since both are part of the peak spring buying season.
But, as I have written before, house price changes tend to lag changes in demand and inventory, and looking at these metrics, we could see that the red flags in the market started to appear even earlier, in late March.
When we noticed the market changing very rapidly in March, we started tracking year over year changes in sales and new listings on a weekly rather than monthly basis. We don't normally need to track changes on a weekly basis because the housing market usually doesn't change that rapidly – but when there is a rapid shift, this approach offers us far more insight into the momentum of the market.
The first big change we noticed was a surge in the number of new listings in late March. The chart below shows the year over year change in the number of new listings for houses between 2017 and 2016 on a weekly basis.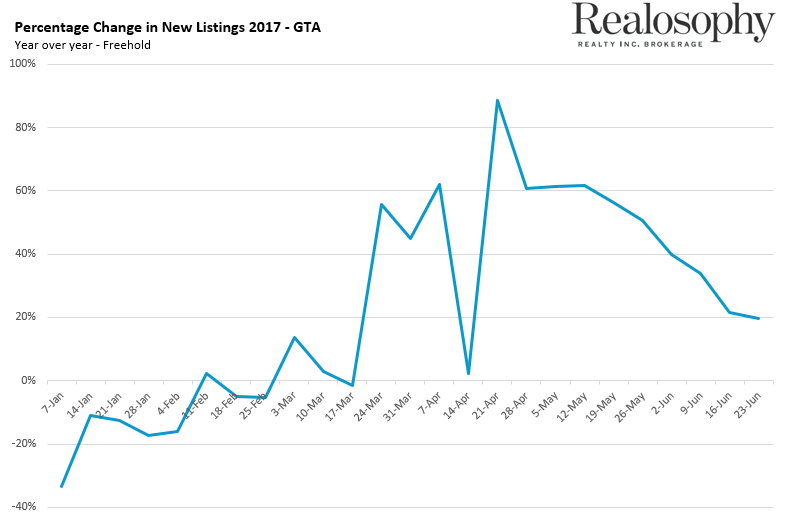 New listings were down for the first two months of 2017 and then suddenly in late March the number of homes listed for sale increased by roughly 50% for three weeks in a row – and then, after a brief dip the week of Easter, were back up over 80%. It's tough to say for certain why the number of new listings surged, but one explanation is that many owners tried to time the market: they saw the rapid increase in prices and decided to list their houses for sale before the province introduced new measures to cool the housing market in April.
When looking at the demand for houses, there was a big spike in sales in late March thanks to the surge in new inventory that came on the market which offered some relief for buyers, but by the second half of April, sales were down 20% year over year and we can see that every week that passed sales kept falling further until they were down by more than 40% in June.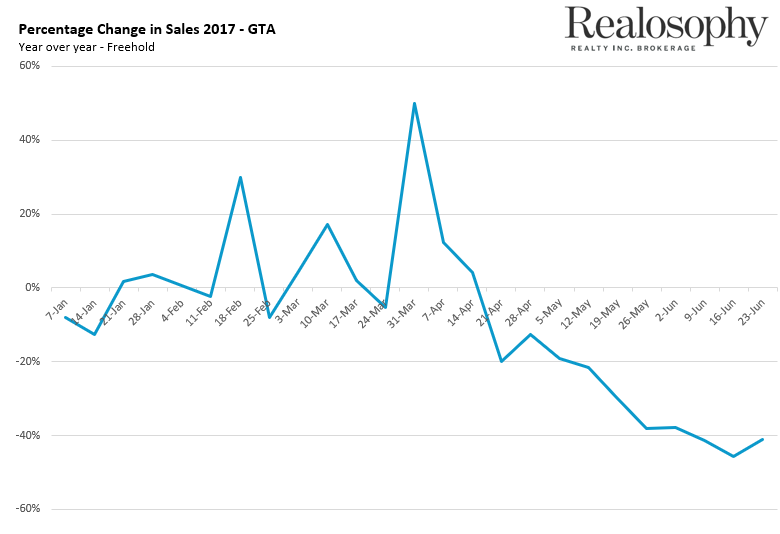 So how could this information have helped buyers and sellers last year?
It was impossible to predict in April that prices would fall 20% in just four months, but we could see that the market had turned and was rapidly turning into a buyer's market. It was as if the real estate market was suddenly slamming on the breaks, a big shift from the rising and competitive market we had seen six weeks earlier.
This meant that if buyers also had a home to sell they would be listing their house in a market that was progressively getting worse for sellers.
We cautioned our clients about this shift in the market and for those that still bought and had a home to sell, they made two important decisions that I believe helped them avoid being the buyers who had to walk away from their purchase because they couldn't sell their home.
Firstly, we listed their home for sale immediately. Many buyers who bought in April took their time preparing their existing home for sale not realizing that the market was falling out from under them every week that passed.
The second important decision they made was to accept that first offer they got in May that was a bit below what they were expecting but still a good offer. Other sellers (including some that emailed me in the aftermath) made the mistake of rejecting their early offers with the hope that they would get more if they just waited a bit longer.
In a normal market, waiting isn't a bad strategy, but the market was far from normal in 2017 and when we showed our clients the data, they saw a market that was softening week by week and made an informed decision to take that early offer.
Having the right information at the right time can make the difference between a smart real estate decision and a very bad one that ends up costing hundreds of thousands of dollars.
This is why I'm passionate about applying real estate data and analysis to real life consumer decisions and why our brokerage Realosophy Realty spends a significant amount of resources analyzing the GTA's housing market – to help our clients make more informed decisions when they're actually buying or selling a home.
If you're in the market to buy or sell a home, I can't stress how important it is to have an agent that truly understands the micro changes that are happening in the market.
John Pasalis is the President and Broker of Realosophy Realty Inc. Brokerage in Toronto. A leader in real estate analytics and pro-consumer advice, Realosophy agents help clients buy or sell a home the right way.
Follow John on Twitter @johnpasalis
Share This Article