Our lead story in this month's Move Smartly Report unpacks conflicting reports about the condo market.
Download the full Move Smartly Report for November 2020 here
Recent news articles about Toronto's condo market range from pessimistic to optimistic, leaving many wondering what exactly is happening.

In early October, Bloomberg published an article titled "Condo Listings Surge 215% in Signal of Downtown Toronto Weakness" while a couple of weeks later Livabl published an article titled "Toronto condo prices rise over 8% even as new listings surge".


The Livabl article had a more optimistic tone quoting the Toronto Regional Real Estate Board's chief market analyst Jason Mercer saying that "there was still enough competition between buyers to support average selling prices substantially above last year's levels."

While this is technically true, it leaves one with the impression that condo prices are trending up when in fact average condo prices have been trending down over the past seven months.

To better understand how prices can be up over last year, but still be trending down we'll need to look at some data. To do this, I'm going to focus on the downtown Toronto condo market (the area south of Bloor between the DVP and Dufferin) since it's the hardest hit area in the GTA.

The chart below shows the average price for condominium apartments for each quarter since the start of 2019.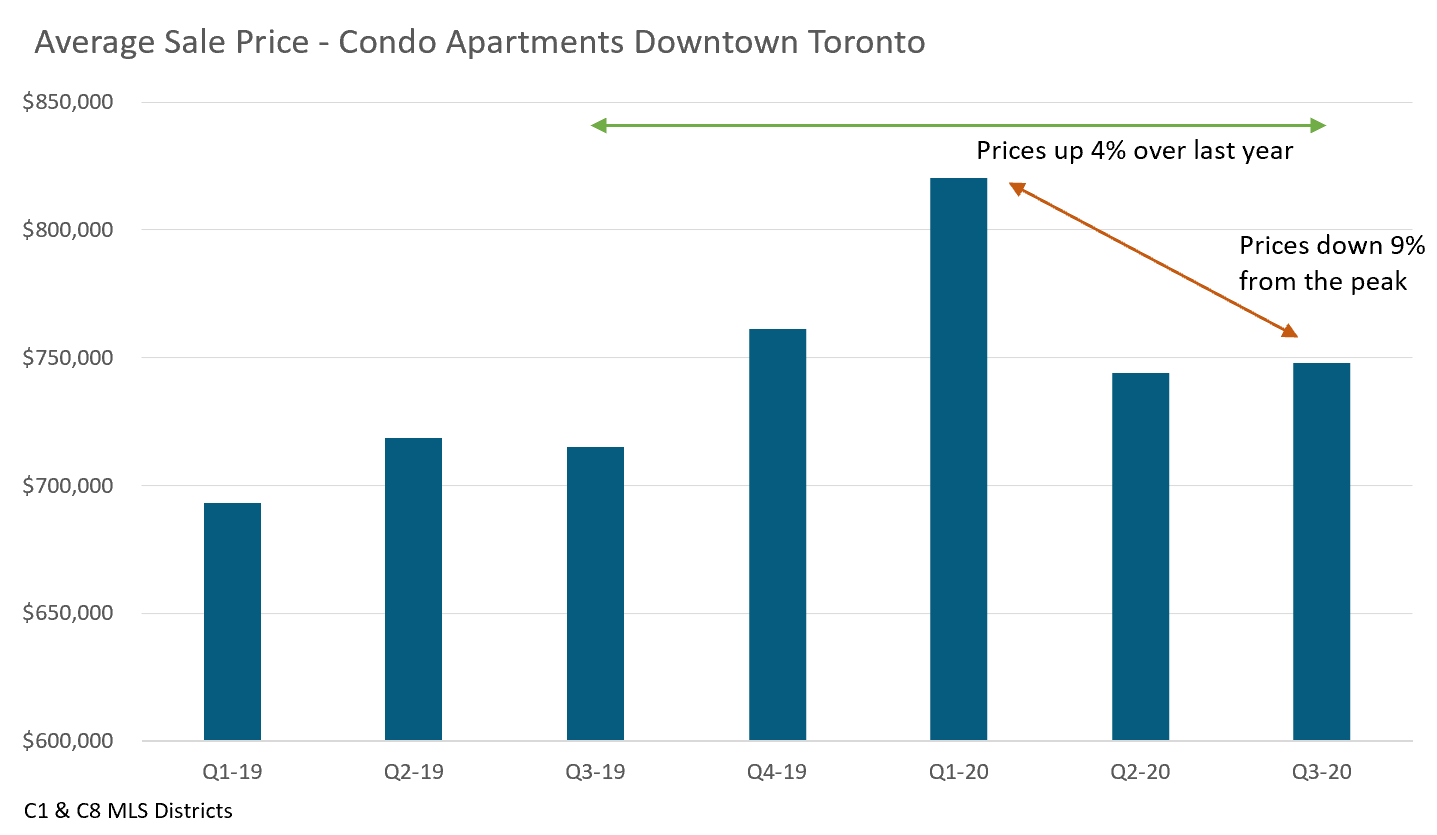 Condo prices downtown were relatively steady during the first three quarters of 2019. The average price for a downtown condo in the third quarter of 2019 was $714K. But in the last quarter of 2019 and the first quarter of 2020 the market changed significantly.

A sudden surge in demand coupled with very tight inventory resulted in a very competitive market which pushed average prices up to $820K in the first quarter of 2020, a $100K (15%) increase in just six months.

Since then average condo prices downtown fell by 9% to just under $750K.

Now, there are a couple of important things to note here.

Firstly, the decline in the second quarter was partly due to a steep decline in the number of large and more expensive units selling. Because there were proportionately fewer expensive units selling in the second quarter, this skewed the average down. When looking at the third quarter stats, we don't see this same trend occurring.

But more importantly, we typically don't analyze changes in home prices or sales on a month over month or quarter over quarter basis. Real estate is a seasonal business and to avoid reading too much into price changes that have more to do with seasonal changes in consumer buying patterns we typically compare prices and sales against the same period last year.

But the risk with only comparing home prices year over year is that it can sometimes give us a false impression of the market. While both statements below are factually correct, which do you think is more important and which says more about the downtown condo market today?
Average condo prices in Q3-2020 are up 5% over last year
Average condo prices in Q3-2020 are down 9% from the first quarter

When we consider the fact that condo prices do not typically decline this much from the first quarter to the third quarter, the decline in prices is likely the more important and timely trend.

That's why the statement below from Urbanation's Shaun Hildebrand really captures what is happening in the condo market today:

"It's very likely that by the first quarter of 2021 we could be in a situation where we see double digit year over year declines in average condo prices downtown, and that's under a scenario where prices remain flat from where they are right now."

Shaun's prediction was not based on a forecast of the future, but a better understanding of where the market is today. Condo prices are already down 9% from their peak, and even if they remain flat for the next five months, we will see close to a double digit year over year decline in downtown condo prices in the first quarter.

The bigger question will be whether or not condo prices stay flat over the next five months or whether we will see more downward pressure on prices.
Read my full analysis on this and other key trends in the November 2020 Move Smartly Report

Follow John's latest updates on Twitter, YouTube, Facebook or Instagram

John Pasalis is President of Realosophy Realty, a Toronto real estate brokerage which uses data analysis to advise residential real estate buyers, sellers and investors.

A specialist in real estate data analysis, John's research focuses on unlocking micro trends in the Greater Toronto Area real estate market. His research has been utilized by the Bank of Canada, the Canadian Mortgage and Housing Corporation (CMHC) and the International Monetary Fund (IMF).
Share This Article