We haven't seen numbers like this since the height of the onset of Covid-19 pandemic.
As featured in the monthly Move Smartly Report - watch full story video above, read brief recap of story below and go to report to read all stories for the month
FREE PUBLIC WEBINAR: The Market Now with John Pasalis
Join John Pasalis, report author, leading market analyst and Move Smartly contributor, and President of Realosophy Realty, and in a free monthly webinar as he discusses key highlights from this report, with added timely observations about new emerging issues, and answers your questions. A must see for well-informed Toronto area real estate consumers.
The Toronto Regional Real Estate Board reported that the Greater Toronto Area saw a total of 7,283 home sales for the month of May as seen in this chart below.
This is the lowest sales volume for the month of May in over twenty years, aside from May 2020 when sales plummeted due to the initial COVID-19 lockdown.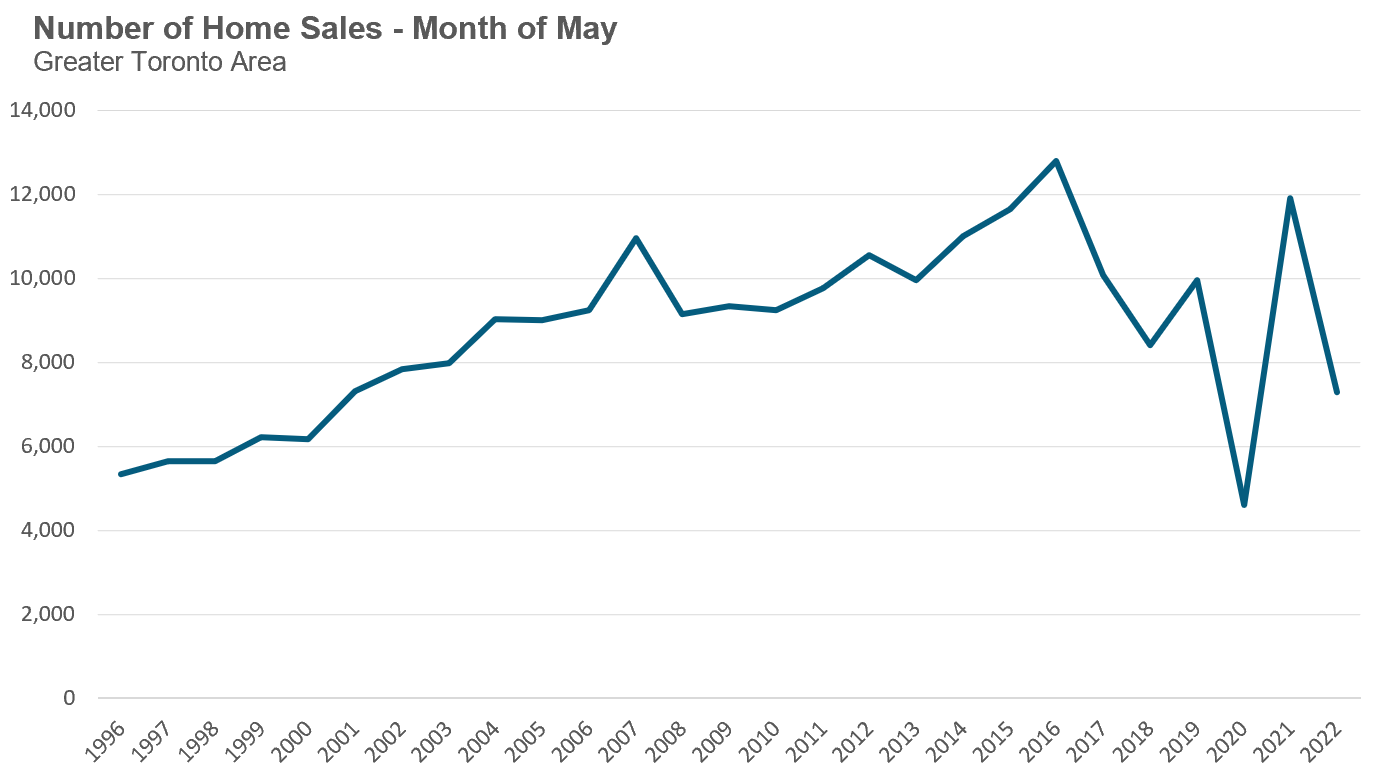 Looking at this chart above, it's worth briefly touching on the previous downward trend we saw in sales after 2016 when the Toronto area housing market experienced a housing bubble that peaked in the first quarter of 2017 with sales falling sharply after that. Sales continued to slump in 2018 because the federal government introduced a stress-test on uninsured mortgages which took some buyers out of the market as they adjusted to a tighter lending environment. Sales rebounded in 2019 before plummeting when the province went into its first lockdown due to the COVID-19 pandemic.
This time, one of the big factors behind the 20-year low in sales volumes last month are the rapidly rising interest rates and the expectation that rates will continue to increase in the months ahead. Notably, this factor is a bit different when it comes to the timing of its impact as the Bank of Canada itself acknowledges.
"When we adjust our policy interest rate at the Bank, we don't expect immediate results. It usually takes 18 to 24 months to see the full effects."
- Bank of Canada
Given this, the decline in the housing market we are seeing today is likely just the start — if we do end up seeing a very sluggish market in the years ahead, it will be a type of market that Toronto residents are not used to seeing.
The Move Smartly monthly report is powered Realosophy Realty Inc. Brokerage, an innovative residential real estate brokerage in Toronto. A leader in real estate analytics, Realosophy educates consumers at Realosophy.com and MoveSmartly.com and helps clients make better decisions when buying and selling a home.
Email report author John Pasalis, Realosophy President
Share This Article