Toronto real estate market sales have dropped sharply in the third week of Ontario's state of emergency due to Coronavirus pandemic.
This week, I am beginning my weekly updates where I unpack the latest statistics on Toronto's housing market to see how the market is adjusting to the Coronavirus (COVID-19) pandemic, following Ontario's declaration of a state of emergency on March 17 2020.
During volatile and uncertain economic times, it's not good enough to look at housing data from one month to the next because it often masks the real time trends that you need to take into account in your decision-making.
Click on the video below for this week's update - and read the blog recap below. (You can also access the same weekly video update on YouTube, Facebook and Instagram. And if you are into stats, check out my Twitter for more data for this week.)


When doing analysis of the housing market, we typically compare sales statistics (e.g., number of sales, new listings, average prices, etc.) for a given 7-day period this year and we compare that to the same 7-day period last year.
When looking at how sales have changed this year compared to last year, we see that they have been up pretty much the entire year. They were up by roughly 50% during the first two weeks of March, during the third week sales were up 18% and last week sales finally hit the brakes and fell 37% over the previous year.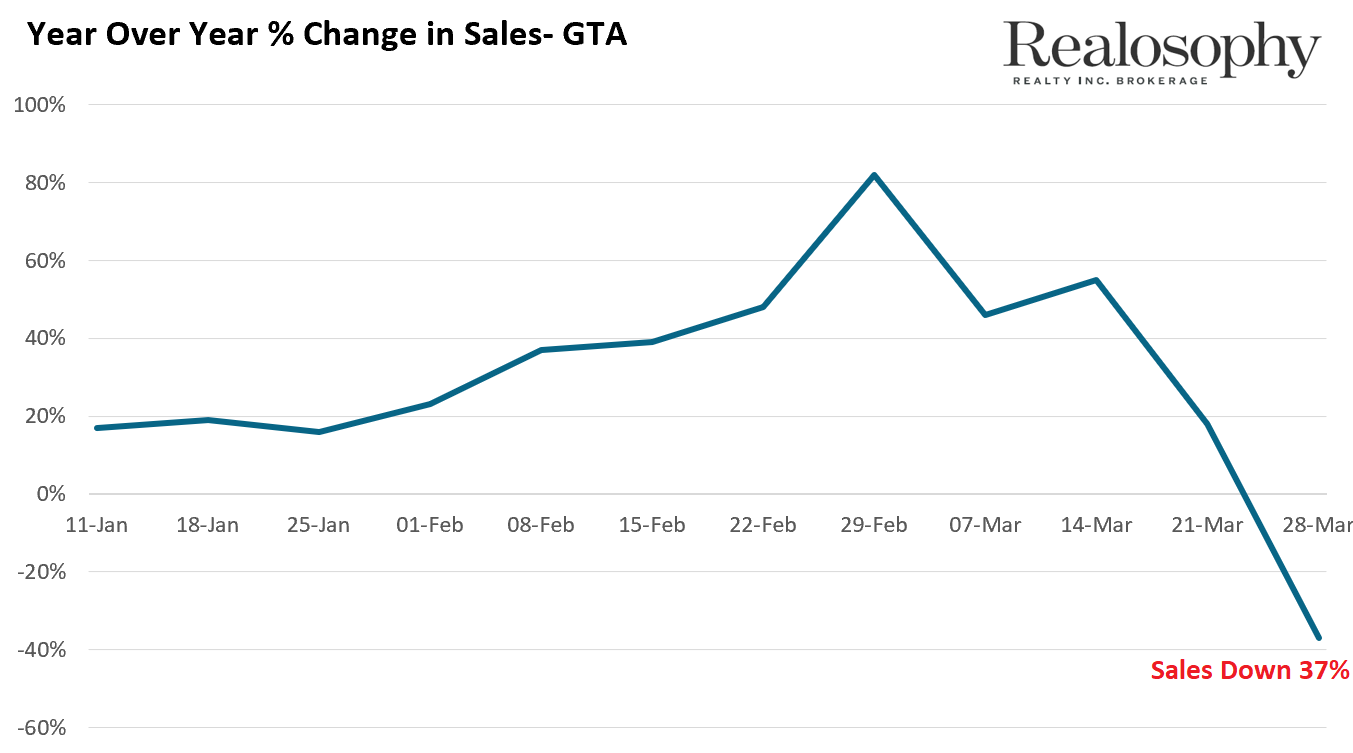 From the above chart alone, we can see the value in analyzing housing data weekly when the market is volatile.
The monthly data for March which should be released later this week will show that sales are up by roughly 15% suggesting the market is still booming, but that monthly figure masks the fact that sales during the past couple of weeks have been slowing down dramatically.
Now, normally a decline in sales is followed by a spike in the number of homes available for sale and an increase in inventory, but that hasn't happened. It didn't happen because new listings last week fell by 33% and the number of homeowners taking their homes off the market was up 27% over last year (see chart below).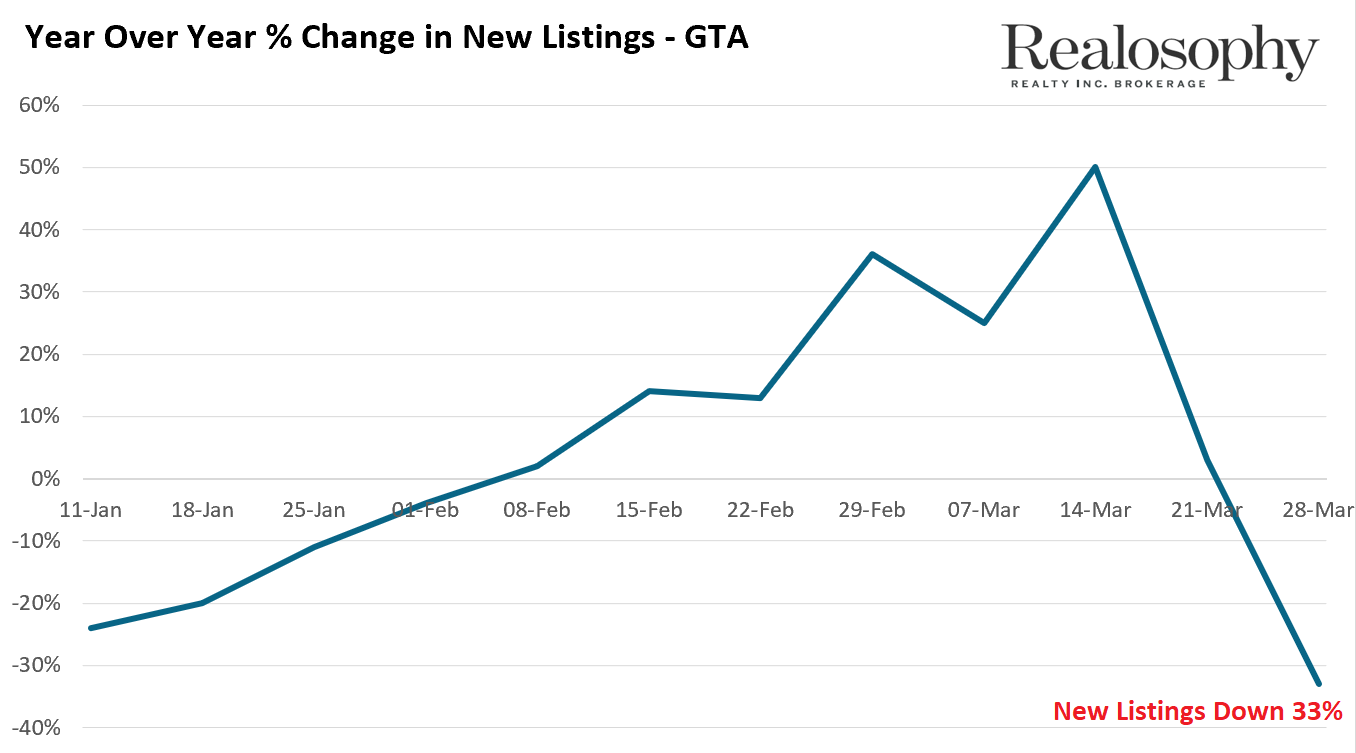 This indicates that both sellers and buyers (and their agents) are hitting pause on their real estate transactions, as we have been directed to by the Province of Ontario, the Ontario Real Estate Association and other authorities as part of our overall efforts to reduce the spread of COVID-19.
On the ground, we are seeing a big shift in how people are buying and selling homes.
Buyers are no longer spending their weekends touring 6 houses with their real estate agents and are instead doing far more research online, relying on virtual tours, floor plans and good marketing to identify only the homes that are the best fit for them.
For sellers, this means getting far fewer home visits than they normally would - but also that the buyers who do schedule a visit are far more serious than the average buyer who visits would normally be.
In the numbers, average prices are still up over last year, but have been trending down over the past 4 weeks from a high of $949K at the end of February to $856K at the end of March. Now, this drop does not mean everyone's house value fell by 10% in 4 weeks. A big factor behind this decline is a shift during the end of March that saw more lower-priced homes selling with a corresponding decline in the number of higher-end homes selling.
That of course does not mean that a seller today should expect the same elevated prices that some sellers achieved a month ago when 15 people were submitting offers versus the 1-2 offers homes are getting today.
But we're still finding that most homes are selling within their market value and there isn't much downward pressure on prices yet. This in part has to do with the fact that we are not seeing a surge in inventory as mentioned above.
Toronto's housing market still only has 1.3 months of inventory (the amount of time it would take for every home on the market to sell if no new homes were put up for sale) which means it's still a seller's market, although I would not be surprised if we start to see a shift to a more balanced market (in which buyers and sellers are more evenly advantaged) in the weeks ahead.
It's a quickly changing situation, so each week I'll be back with my commentary on the market, unpacking any changes we are seeing both in the numbers and on the ground as agents serving our clients.
Check back on this blog, YouTube, Facebook, Instagram, or Twitter next week.
Take care until then.
John Pasalis is President of Realosophy Realty, a Toronto real estate brokerage which uses data analysis to advise residential real estate buyers, sellers and investors.
A specialist in real estate data analysis, John's research focuses on unlocking micro trends in the Greater Toronto Area real estate market. His research has been utilized by the Bank of Canada, the Canadian Mortgage and Housing Corporation (CMHC) and the International Monetary Fund (IMF).
Follow John on Twitter @johnpasalis,
Share This Article