This month's Move Smartly report discusses when Toronto's downtown condo market will return to normal and the many vulnerabilities it faces.
As Featured in the Move Smartly Report: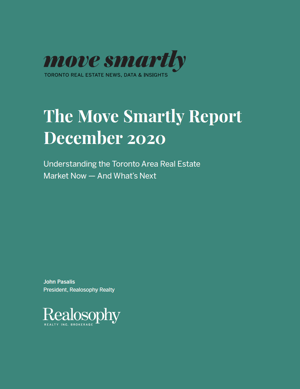 Last month, as part of a speech titled Financial Stability and the COVID-19 pandemic, the Bank of Canada used data provided by us at Realosophy Realty as part of their analysis into the vulnerabilities facing Toronto's downtown condo market.
The speech notes that there are a number of factors working against the downtown condo market. The shift to working from home means many people are looking for more interior living space as well as outdoor space which is having a negative effect on the condo market. A decline in immigration and foreign students is also impacting the downtown rental market.
We can see from the chart below that rental listings are surging while median rents are plunging. While some people in my industry are confident that the downtown condo market will see a swift recovery in early 2021, I'm not as optimistic.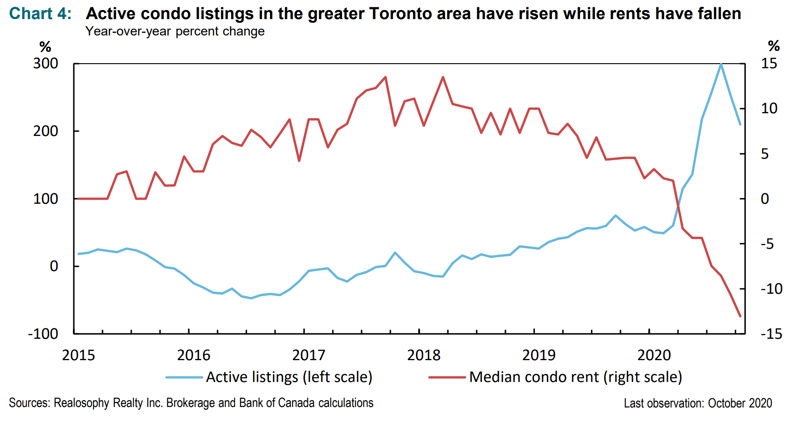 In a recent BNN Bloomberg interview, I discussed why any return to the condo market will be tied to a return to the offices of the downtown financial district. Today, the financial district is a ghost town. People are not back in their offices in part because it's impossible get thousands of people to their desks efficiently when you can only have three people at a time in an elevator due to Covid-19 restrictions.
If people do not have to commute to the office, then there is no longer a need to move to a condo a five minute walk away. Assuming Canada's vaccine rollout goes as planned and the majority of Canadian's are vaccinated by September of next year, I still do not expect things to be "back to normal."
The return to downtown offices will likely be a gradual process for most companies and I expect the return of the downtown condo rental market will also be gradual.
That being said, the resale condo market may end up recovering faster than the rental market if investors jump back into the market in the months ahead. We are starting to see strong interest from investors looking for deals in the resale condo market.
If this trend continues, condo investors rather than end users will set the floor on downtown condo prices.
Read my full analysis on this and other key trends in the December 2020 Move Smartly Report

Follow John's latest updates on Twitter, YouTube, Facebook or Instagram

John Pasalis is President of Realosophy Realty, a Toronto real estate brokerage which uses data analysis to advise residential real estate buyers, sellers and investors.

A specialist in real estate data analysis, John's research focuses on unlocking micro trends in the Greater Toronto Area real estate market. His research has been utilized by the Bank of Canada, the Canadian Mortgage and Housing Corporation (CMHC) and the International Monetary Fund (IMF).
Share This Article