In the GTA's overheated market, even first-time buyers with good incomes are finding it nearly impossible to afford a home without long commutes to the city.
Read the Latest on the Market Now: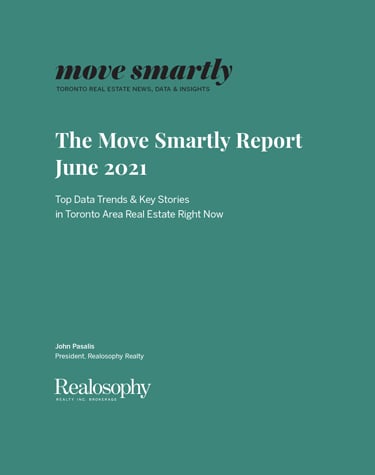 Click on video above to watch, read full story below and click on report to the left to get all the latest analysis and data on the market now.
Want to hear more? Join author John Pasalis each month for a free public webinar on the latest data & insights on the market now. Learn more
I get a lot of emails and questions from home buyers and sellers in the GTA who are trying to make sense of this overheated housing market, but of all the questions I receive, one in particular really stuck with me.
Below is the question I received from Christina:
"Hi John! I love reading about all your real estate takes. I am a first time home buyer in Toronto, with 20% down for a 700,000 home. And have a middle class family income. I'm finding it infuriating to say the least, that it appears this isn't even enough to live a comfortable life, or break into a market where value intersects with price.
Even homes outside of the GTA, are soaring. And when you factor in commute expenses, your potential housing savings are lost in commute. Plus your opportunity cost lost in a 90 min commute, one way.
Getting pretty anxious, that I may be completely priced out of the market. For 30 somethings looking to start a family, it seems financially impossible.
Would love to know your thoughts on waiting to get in, and will and if we see a cool?"
In looking at this question, I see that Christina has managed to save $140,000 as a down payment and has a household income in the low $100K range (above the median income in the GTA), both of which are incredibly diligent achievements which denote her financial dedication and viability as a mortgage holder/home owner.
These numbers would make her maximum home buying budget $700,000.
So just how hard is it for Christina to buy a family home for no more than $700K in the Toronto Area?
If Christina was buying a home last year, it would have been tough, but she still would have had plenty of options. Just over 17% of all the 3-bedroom houses that sold during the first quarter of 2020 sold for a price that was at or below $700K.
When we fast forward to the first quarter of 2021, only 3% of all the 3-bedroom homes that sold had a sale price at or below $700K. Most of these were, as Christina noted, a 90-minute commute to downtown Toronto or were in need of significant renovations.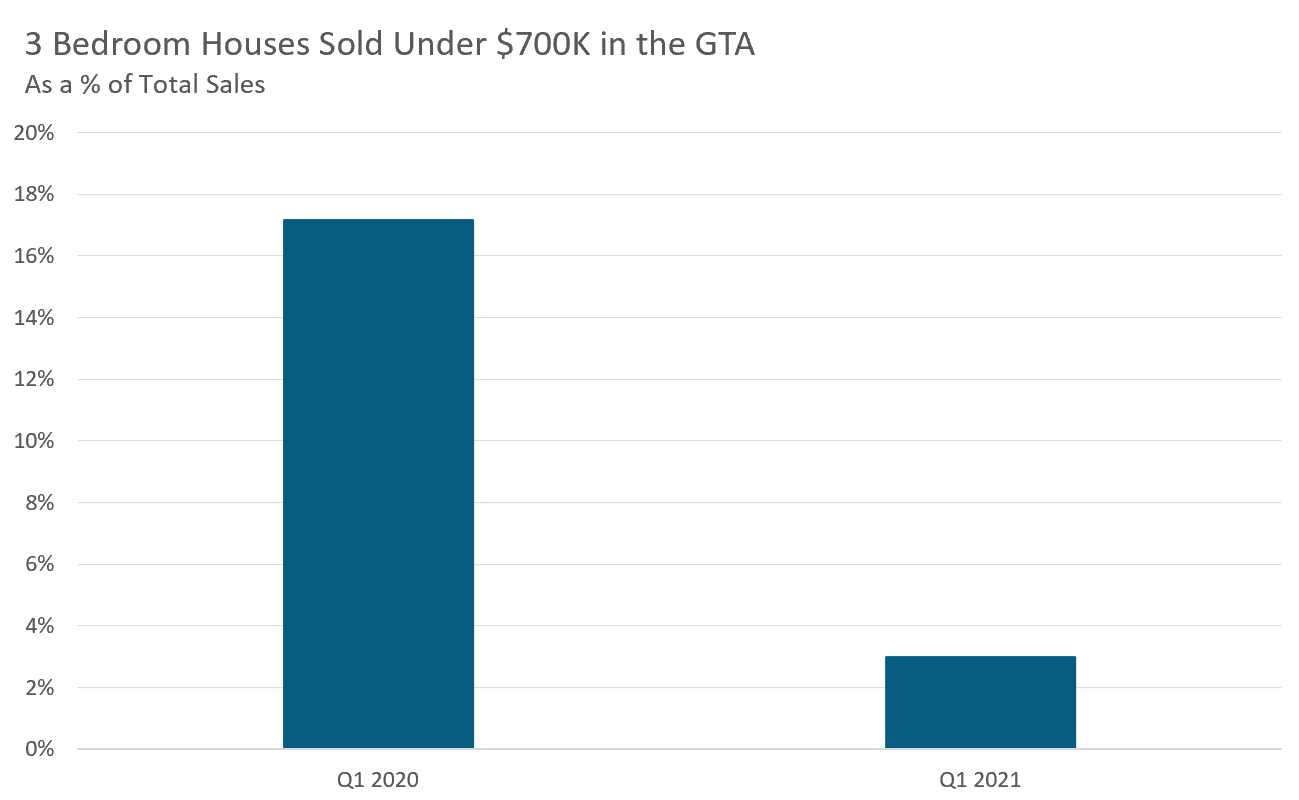 When a family that has saved $140,000 as a down payment and earns a household income that is well above the median finds they have very slim odds of buying a home anywhere in the entire Greater Toronto Area - an area that stretches as far east as Clarington, west to Burlington and north to lake Simcoe - this is a sign that policymakers have failed Christina and thousands of other young households like hers.
The thing that many of the potential home buyers like Christina find the most disheartening is that housing affordability does not appear to be a priority for federal policymakers, and in fact, rapidly rising house prices has been a desired outcome of policy measures - as Bank of Canada Governor Tiff Macklem said "we need the support, we need the growth we can get".
Want to hear more? Join author John Pasalis each month for a free public webinar on the latest data & insights on the market now. Learn more
The Move Smartly Monthly Toronto Area Market Report is powered Realosophy Realty Inc. Brokerage, a residential real estate brokerage serving Toronto and the GTA. A leader in real estate analytics, Realosophy educates consumers at Realosophy.com and MoveSmartly.com and helps clients make better decisions when buying and selling a home.
Email report author John Pasalis, Realosophy President
Share This Article