Jesse in Toronto Neighbourhoods
During my dire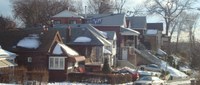 ctionally challenged tour of Fairbank, I accidentally ended up in its western neighbour of Keelesdale (check out Realosophy's neighbourhood profile for local housing and school stats). The incredibly hilly landscape initiates the beginning descent into the downtown core. The varied housing styles and streets, which Toronto Life described as both "not much to look at" and "charming," were built to accommodate this steep terrain.
I find it difficult to classify homes in this area by particular styles as no one street ha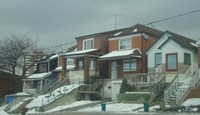 s a homogenous feel to it. Eclectic collections of homes line the majority of streets throughout Keelesdale. All-brick bungalows and two-storeys, both detached and semi-detached, have a presence in the eastern half of Keelesdale, the area in between Fairbank's western border and Keele Street; all-siding homes also make an appearance as do brick-and-siding combos. The hills on which these homes were built forced unique construction into the planning. Second-storey front entrances are popular among the above-mentioned styles, allowing for a separate entrance into the basement, possibly for basement tenants? Wrought iron railings line driveways and front porches, and in the case of homes perched high above the streets, they line the numerous steps leading up to the front door.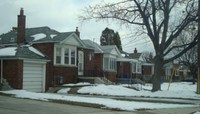 The western portion of Keelesdale, in between Keele Street and Weston Road, is the location of mostly all-brick homes, which retain the similar mixed-bag of styles of its eastern counterpart, despite its contrasting flat ground. As with older neighbourhoods, renovations and re-modeling make their presence known, usually in the form of second-storeys. HomeOwners who have chosen to maintain the original framework and appearance of their homes have mounted satellite dishes and other forms of technology in various locations, adding a touch of modernity to what seems like an otherwise untouched exterior.
Getting around Keelesdale's streets is not for the faint of heart in the winter months. Although driving seems to be the most effective method of transportation throughout the neighbourhood, giant snow banks on roadsides create just enough space for one car to squeeze through; this occurs on one-way streets as well, but is less of an inconvenience. Couple large hills with poor snow maintenance and hazards arise for both drivers and pedestrians; my car had gotten stuck in the snow twice during my exploration.
The TTC does provide bus service along the main arteries that cut through the neighbourhood- the Rogers Road 161 & 168 and Eglinton Avenue West 32 & 307 intersect with the Dufferin 29, Keele 41 and Weston Road 89 however there is no service through the residential portion.
Keelesdale is home to a varied ethnic population- Portuguese, Italian, Spanish, Vietnamese and Chinese being listed as the most prominent, according to 2003 census. Keelesdale Park, located in the northwest corner of the neighbourhood is host to Jamaica Day the weekend before Caribana. Ethnic variety continues in the numerous regionally-oriented restaurants that line Keele Street in between Eglinton Avenue West and Rogers Road; a spectacularly decorated eatery specializing in Indian-Canadian cuisine definitely caught my eye.
Education-wise, the addition of York Adult Day School to existing George Harvey Collegiate Institute allows for educational access to residents of all ages.
Charming is a well-suited description for what is located within Keelesdale's boundaries. It is a fantastic example of adaptation to land and making the best of what is available.
Jesse Fleming is a freelance writer based in Toronto. Email Jesse
Subscribe to the Move Smartly blog by email
Photo Credits: Jesse Fleming
Share This Article