Jesse in Toronto Neighbourhoods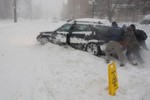 Somewhere in between snow storms, I ventured out of my house-turned-hibernation-cave with a plan to seek out all that Oakwood-Vaughan had to offer (check out Realosophy's Oakwood-Vaughan Neighbourhood Profile for local school and housing stats). A recurring winter theme of Toronto neighbourhoods is that the road less travelled is also the one less ploughed, a logical approach but vexing nonetheless. This occurred to me as I attempted to head home from Oakwood-Vaughan and found my car had become stuck in a wicked combination of ice and street piled snow; road salt was severely lacking in the equation. After borrowing a shovel from a neighbouring Montessori school and attempting, in vain, to dig myself out, it was the kind act of a passer-by that coaxed my car free and enabled me to continue on my way.
Throughout my snow bank battle royal, I gazed longingly at the TTC buses charging up and down Oakwood Avenue. It was apparent that my convenience-driven need for a car had been overshadowed by mass transit once more. Oakwood was once home to its own streetcar line that branched northwards off of the St.Clair line. However, with the 1960's enthusiasm for all things gas powered, the Ossington 63 bus route took its place - Ossington Avenue being the southern extension of Oakwood. The 512 St.Clair Avenue, 161 Rogers Road, 29 Dufferin Street and 32 Eglinton Avenue West routes also service the entirety of Oakwood-Vaughn. The latter two bus routes, along with the previously mentioned Ossington 63, were included in the recently announced TTC service changes effective February 17th, 2008.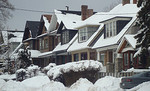 Similar to surrounding older Toronto neighbourhoods, the ho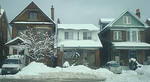 uses of Oakwood-Vaughan reflect era in which they were built. Generally, homes south of Rogers Road are two-storied buildings with a facade of all siding or brick-siding combination and are narrower and closer together than those located in the northern portion of the neighbourhood. Front-porched and high-roofed, these homes site on a maze of one-way streets. Closer to Eglinton Avenue West, the traditional bungalow makes an appearance amidst two-storied semi-detached and detached, all-brick homes. Westmount Apartments and Rosecliff apartments are two collections of low-rise buildings that dapple the north west section of Oakwood-Vaughan among the many homes, creating a diverse neighbourhood full of both renters and home owners. Apartments atop retail stores can be found along both St.Clair Avenue West and Eglinton Avenue West further adding to this diversity.

Oakwood Village lies at the junction of Oakwood Avenue and Vaughan Road. This little section of the neighbourhood is one of a few retail areas that lie within the neighbourhood - another is located at Oakwood Avenue and Rogers Road while a portion of Eglinton is known as the International Market. Popular within these retail hubs are varieties of ethnic eateries that reflect the Caribbean, Philipino and Latin heritage of the neighbourhood. Randy's, at the corner of Eglinton Avenue West and Oakwood, is a place that has been recommended to me numerous times for its spicy beef patties.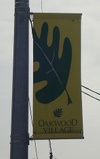 I was happy that I had seen the bulk of the neighbouhood, including community staples such as the Oakwood Village Library and Arts Centre as well as Art Starts Neighbourhood Cultural Centre, before my frustration-inducing 25 minute snow bank bonding session. These organizations have addressed ongoing problems within the neighbourhood and have set up art-based programs to try and steer the community in the right direction.
On a side note, here's what the city is doing to help clear the mounting snow in an attempt to make side streets accessible once more.
Jesse Fleming is a freelance writer based in Toronto. Email Jesse Subscribe to the Move Smartly blog by email
Nearby Neighbourhoods:
Photo credits: (top) http://thedartmouth.com; (all others) Jesse Fleming
Share This Article