Realosophy Schools for Home Buyers Workshop - Starts Again Sept 2012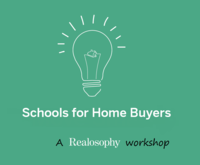 If you're buying a home, schools are likely important to you. To help you make better buying decisions, Realosophy is now drilling down to give you stats on house price appreciation and EQAO score changes at the school district level. Join our free workshop to understand latest trends, get our top neighbourhood picks and ask your own questions in a friendly atmosphere. Our popular workshops take place on the first Saturday of each month. Scroll to the bottom of this post to sign up for the next one. (Learn more about workshop)
This Week's Top Schools List
Beat your kid at Scrabble one too many times over Family Day and worried about the quality of schooling she's getting?
Introducing our latest top ten neighbourhoods list - Best Toronto Neighbourhoods for Great Schools - the latest in our spotlight on schools and real estate. This list tells us which Toronto neighbourhoods have the largest number of schools that best the province's standardized testing (EQAO).
Caveats about the limits of EQAO testing notwithstanding, this is THE list for many aspiring Toronto home buyers.
Not surprisingly, this list of "top neighbourhoods for best schools" is also is a list of of luxury neighbourhoods ($1 million and up). Cheers to Markland Woods (Markland Wood to its close-knit residents) for making it anyway.
Safe as Houses Schools?
Leaving aside the question of whether it's really the school that makes the child, it's clear that many home buyers - even those without school-age children - look at school quality as a way to buy into a "safe" neighbourhood that will always increase or at least hold steady in value. And it's an impulse that's harder to ignore as Toronto moves into a flat real estate market over the next few years (against the not-so-picturesque backdrop of European economic contagion, unrest in the Middle East and general malaise).
But far too often our need for safety outstrips our ability to get it. So what does the data say - are great schools a magical elixir for house values?
Looking at our list, we see that over the last three years, neighbourhoods with great schools have shared an interesting trait - though they post healthy rates of appreciation, in most cases they underperform relative to the city average (23%).
This is not too surprising given that these neighbourhoods start at relatively high values, making them less likely to appreciate as notably as fast-surging emerging neighbourhoods might.
This 3-year period also includes the short-but-sharp real estate downturn of 2008, set off by the bomb that was the US subprime mortgage collapse. But like boring-but-safe bonds (or the asset class that used to act like safe-but-boring bonds), we don't expect these neighbourhoods to dazzle so much as hold firm, particularly in bad times. So how did they do?
Like everywhere else, the downturn in Toronto's real estate market began in October 2008. Luckily, and not like everywhere else, the downturn lasted approximately 6 months. The neigbourhoods on this list experienced some of the sharpest drops during the downturn, with a average year-over-year drop in prices of 12% (compared to a city-average drop of - 6%). Should we be surprised?
First, the caveats. It's important to keep in mind that neighbourhood appreciation stats in high-priced neighbourhoods tend to be skewed as the sale of only one or two houses can have a disproportionate impact on overall appreciation figures. We are also looking at a very short period of time.
But we start to see something really important about the relationship between schools and house appreciation - because many "best school" neighbourhoods are also luxury neighbourhoods, any "schools boost" may be offset by the high-price tag effect. In lean times, home buyers at top end of the market can always hold off on upsizing, resulting in a more pronounced fall in demand in this market segment. Overtime, these neighbourhoods do recover their value as evidenced by longer appreciation trends. But these are hardly the steady-as-she-goes neighbourhoods we expect them to be.
Again, this list underscores our central point about schools and house appreciation - there is no simple relationship here.
The Data
Overall score (in the bright yellow circle) represents an average of the six EQAO tests written by students in 2010-11 (reading, writing and math at the Gr. 3 and Gr. 6 levels), averaged over all schools in the neighbourhood (percentage indicates number of students performing at or above the provincial standard).

Covers all elementary schools in Toronto (Note: schools with only one elementary school have been excluded; some schools are too small to report EQAO results and are excluded).
Average house prices for the neighbourhood in 2011.
3 Year increase in house prices from 2008 to 2011.
2008 Downturn performance represents year-over-year appreciation from Oct 2008 to Oct 2009.
Urmi Desai is editor of the Move Smartly blog and is responsible for strategy and marketing at Realosophy Realty Inc. Brokerage. A leader in real estate analytics and pro-consumer advice, Realosophy helps clients buy or sell a home the right way. Email Urmi
Subscribe to the Move Smartly blog by email
Schools for Home Buyers Workshop Sign-up

Share This Article