New statistics show high levels of local investor investment in Ontario's housing market.
As Featured in the monthly Move Smartly Report: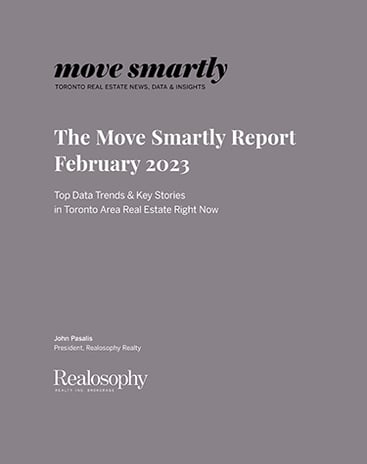 FREE MONTHLY WEBINAR: The Market Now with John Pasalis
Join John Pasalis, report author, leading market analyst and Move Smartly contributor, and President of Realosophy Realty, and in a free monthly webinar as he discusses key highlights this month's report and answers your questions. A must see for well-informed Toronto area real estate consumers.
Register now to get recording of latest session and access to future sessions.
Statistics Canada's Canadian Housing Statistics Program recently published data on real estate investor activity in Canada.
This long-awaited research is important because, according to research, high numbers of real estate investors tend to amplify boom and bust housing cycles, causing prices to rise higher and more rapidly during boom periods and crash further during housing busts.
Statistics Canada found that over 40% of condos in Ontario are owned by investors as seen in this chart.
These numbers have raised questions in the media about the role investors might have also played in our housing affordability crisis. However, I think that saying that investors are the cause of high home prices is too simplistic.
Instead, I think this high level of real estate investment is a symptom of a country that did not prioritize the construction of permanent rental housing for decades, leaving a big gap in rental housing supply, which has been filled by, not only institutional and non-resident investors, but in province investors. As I know from my real estate practice and have written about previously,, many of these in-province investors are small-holding individuals and families ('mom and pop') investors who have either bought a condo or held onto their condos when moving to a new home in order to rent them out as investments.
For many renters, today's condos are yesterday's apartment buildings.
We can see this gap in the supply of rental housing by looking at the number of rentals completed each year in Toronto against the number of condo completions.
The above chart is from a recent report by the Building Industry and Land Development association that looked into the gap in the supply of purpose built rental housing in Ontario.
One way to see how the increase in investor-owned condominium units over time has impacted the market is by looking at the number of condominium units listed for lease each year which has accelerated significantly since 2019.
While strong demand from investors, as with any demand, can push condo prices higher, it's worth remembering that investors are also providing much needed rental inventory in a market that hasn't built any rental apartments. But despite this increase in condominium rental inventory from investors, this has not damped the change in the average price for a condominium rental. We can see from the chart below that average rents were rising gradually from 2010 until around 2015 but prices accelerated more rapidly between 2015 and 2020. Average rents fell at the start of COVID as many renters moved out of the downtown core but rents have since more than rebounded and are above pre-Covid levels.
As long as Canada's policy makers continue to ignore the need for permanent rental housing, the gap in the supply of rentals will be filled by mom and pop investors, driving up condo prices.
This lack of foresight is no doubt adding to our housing affordability crisis, particularly for the young professionals and first-time buyers who in the recent past would have purchased condos as their first step onto the housing ladder.
Top Image Credit: Getty/iStock
The Move Smartly monthly report is powered by Realosophy Realty, an innovative residential real estate brokerage in Toronto. A leader in real estate analytics, Realosophy educates consumers at Realosophy.com and MoveSmartly.com and helps clients make better decisions when buying and selling a home.
John Pasalis is President of Realosophy Realty. A specialist in real estate data analysis, John's research focuses on unlocking micro trends in the Greater Toronto Area real estate market. His research has been utilized by the Bank of Canada, the Canadian Mortgage and Housing Corporation (CMHC) and the International Monetary Fund (IMF).
Email report author John Pasalis, Realosophy President
Share This Article