Why this holiday season is unprecedented for reasons beyond this Christmas weekend's 'weather bomb.'
As Featured in this month's Move Smartly Report: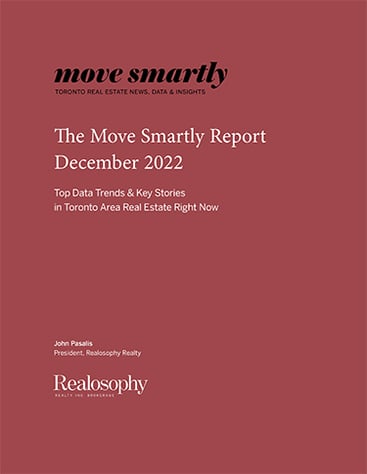 FREE MONTHLY WEBINAR: The Market Now with John Pasalis - Next Session Coming Jan 2023
Join John Pasalis, report author, leading market analyst and Move Smartly contributor, and President of Realosophy Realty, and in a free monthly webinar as he discusses key highlights this month's report and answers your questions. A must see for well-informed Toronto area real estate consumers.
Register now to get recording of latest session and access to future sessions.
When we consider the speed and magnitude of the Bank of Canada's interest rate increases this year, I don't think it's any surprise that today's higher interest rates are weighing on household finances with many struggling to make their mortgage payments.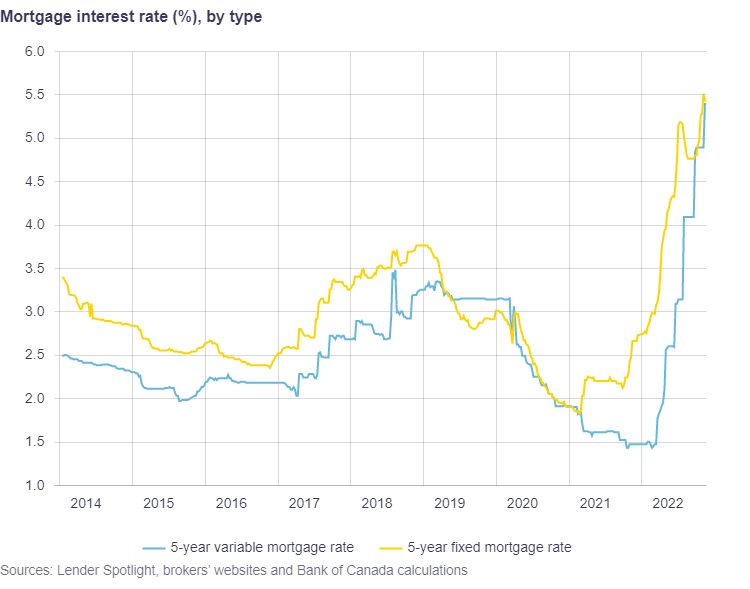 Today's rising interest rates are especially impacting borrowers with variable rate mortgages. A variable rate mortgage in Canada can either have variable or fixed payments.
With a variable payment mortgage, a homeowner's monthly mortgage payment changes with the prime rate. If the prime rate increases then the borrower's mortgage payment increases to cover the additional interest payment.
With a fixed payment mortgage, the homeowner's monthly mortgage payment remains unchanged even as the prime rate increases. But at some point, the homeowner will hit their "trigger rate" which is the interest rate at which the homeowner's monthly payment only covers the interest on the mortgage with no contribution going towards the principal.
The Bank of Canada reported that at the end of November, approximately 50% of all variable rate mortgages had hit their trigger rate. This ratio has likely increased given the BOC's December 50bp rate hike.
What happens when a borrower hits their trigger rate? There is no standardized approach that all banks are taking, but in general the borrower will likely have to increase their monthly mortgage payment to ensure that it covers the cost of interest and some contribution towards the principal.
Mortgage broker Daniel Vyner notes that the distress some households are experiencing isn't just coming from yesterday's highly leveraged non-prime home owners. Households who were prime borrowers yesterday, he argues, are becoming non-prime borrowers today.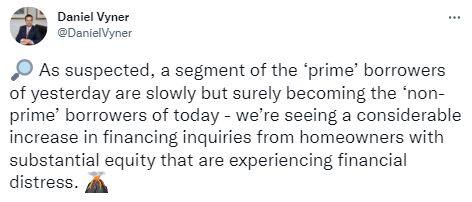 Any household that is renewing their mortgage over the next year will likely face a significant increase in their monthly mortgage payments due to today's high interest rates. In many cases, home owners are seeing their mortgage payments increase by as much as 40 to 50%. For example, a household that had a $2,000 per month mortgage payment would see that increase to $2,800 or $3,000 when renewing at today's interest rates.
To soften this payment shock, Canada's mortgage insurers are allowing banks to extend a home owner's maximum amortization period to 40 years at renewal which would lower their monthly mortgage payment.
As we move into the new year, I suspect we'll likely hear even more stories of financial distress and I would not be surprised if we see some very highly leveraged real estate investors begin to sell some of their properties in order to deleverage.
The Move Smartly monthly report is powered by Realosophy Realty Inc. Brokerage, an innovative residential real estate brokerage in Toronto. A leader in real estate analytics, Realosophy educates consumers at Realosophy.com and MoveSmartly.com and helps clients make better decisions when buying and selling a home.
Email report author John Pasalis, Realosophy President
Share This Article