This time last year we published a report Freeholds on Fire: How Investor Demand for Houses is Driving Up Prices in the Greater Toronto Area which looked at how investors in the GTA were impacting the market for single family homes.
The chart below shows the percentage of properties purchased by investors in 2012 and 2016 and the one thing that stands out is that investors were most dominant in York Region municipalities like Aurora, Newmarket, Markham and Richmond Hill.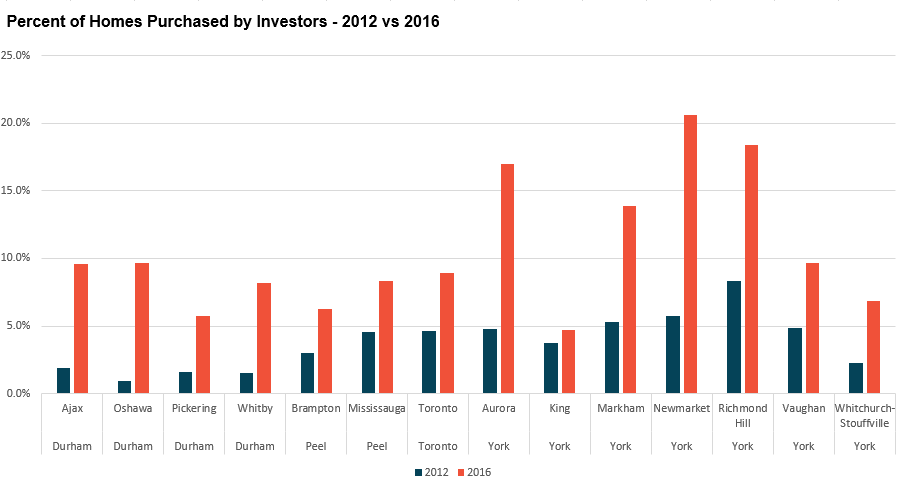 We published our report to caution buyers about the impacts this type of speculative buying might have on the market in these areas. One of the key signs of a housing bubble is when more and more people start to buy real estate strictly as an investment rather than as a place to live.
These regional differences in the GTA were important because research has shown that neighbourhoods and municipalities within a large metropolitan area like the GTA can see house prices appreciate and depreciate at very different rates. This means that as a home buyer you want to be more cautious about buying in a neighbourhood that has a high number of investors.
Looking at the areas that have had the steepest decline in prices during the first quarter of 2018 versus the first quarter of 2017, it's no surprise that the areas that were once dominated by investors are showing the steepest price declines. (Update: You can read more about the latest data in our new report published today Apr 12 2018 - A Sticky End: Lessons From Toronto's 2017 Real Estate Bubble)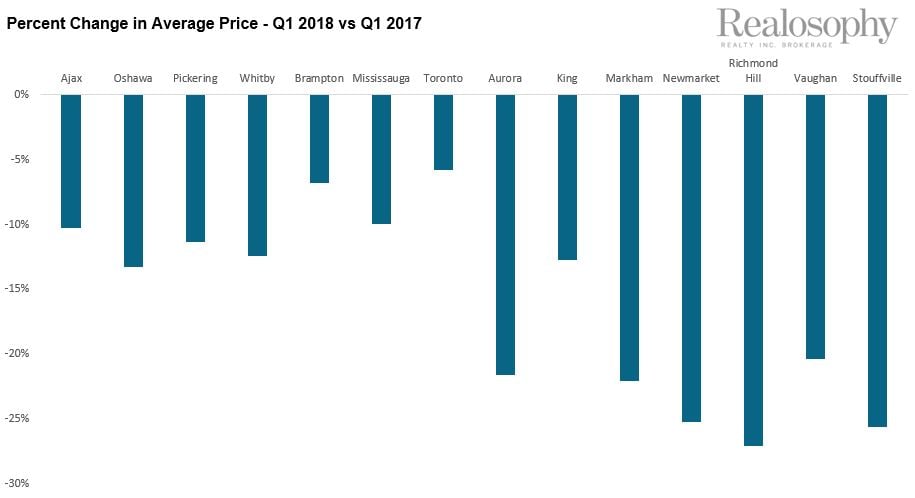 The two municipalities with the highest rates of investor activity in 2016, Richmond Hill and Newmarket are seeing among the biggest declines in house prices today with Richmond Hill down 27% and Newmarket down 25% over last year.
Brampton showed among the lowest rates of investor activity in 2016 and house prices have fallen just 7% over last year.
While the GTA's housing market overall is looking relatively balanced today - this is masking the fact that some parts of the city are performing well, like downtown condos, while other areas are still seeing downward pressure on prices.
House prices across the Greater Toronto Area are moving in very different directions depending on the neighbourhood you're considering buying in - make sure to understand the dynamics of your local market before rushing in to buy a house.
John Pasalis is the President and Broker of Realosophy Realty Inc. Brokerage in Toronto. A leader in real estate analytics and pro-consumer advice, Realosophy helps clients buy or sell a home the right way.
Share This Article