In spite of historically low sales levels and high interest rates, the demand bottleneck typical of the first quarter is making its annual appearance.
As Featured in this month's Move Smartly Report: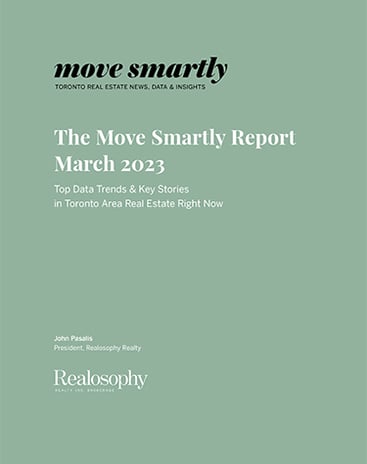 FREE MONTHLY WEBINAR: The Market Now with John Pasalis - Thurs Feb 16th 12PM ET
Join John Pasalis, report author, leading market analyst and Move Smartly contributor, and President of Realosophy Realty, and in a free monthly webinar as he discusses key highlights this month's report and answers your questions. A must see for well-informed Toronto area real estate consumers.
Register now to get recording of latest session and access to future sessions.
In last month's report, I discussed the early signs I was seeing that the housing market in the Toronto area was starting the year hot. One month later, my very early interpretation of the latest data and trends appears to have been correct.
After the Bank of Canada raised its interest rate a record 425 basis points starting in March of last year, one would expect this winter's housing market to remain soft and even see prices trend down further as the market adjusts to today's much higher interest rates. But Toronto's housing market is defying all expectations and is starting the year more competitive than anyone expected.
While sales remained at near 20-year lows for the month of February, new listings were at a 20-year low and the imbalance between supply and demand kept the market competitive. The month of February saw just over 1,400 more homes sell when compared to the previous month, but new listings over the same period were up by only 668.
In other words, the change in sales outpaced the change in new listings by a margin of 2:1.
Looking at a weekly measure of MOI for houses and condos, it's been trending down rapidly to start the year and inventory levels for houses during the second week of March were at their lowest level since April 2022, and, for condos, at their lowest level since May 2022.
On the ground, we are seeing a significant increase in the number of showing requests homes are receiving once they come on the market for sale and an increase in the number of homes receiving multiple offers. During the second week of March, 44% of houses sold for more than the seller's list price, the highest level since June 2022. The condo market is less competitive with 29% of condos selling for more than the list price.
While the vast majority of homes receiving multiple offers are selling for their market value, I have been seeing more and more homes sell for prices that are well above their market value. If this trend continues, we'll likely see some upward pressure on prices as we move towards the spring market.
Data Dive
Which Regions and House Types are Heating Up the Fastest?
In this month's Data Dive, I wanted to take a closer look at how changes in the number of sales, listings and prices differ across regions and house types in the GTA during the first two months of 2023.
I'll start by looking at trends for houses first and will follow that up with a look at the condo market.
Houses
As mentioned earlier, one of the biggest factors contributing to the competition in Toronto's housing market is that the demand for homes right now is outpacing the supply of new listings coming on the market. We can see this by comparing how the number of sales and new listings changed from January to February.
February saw 864 more houses sell when compared to January, but new listings over the same period were up by just 520.
The chart below shows the change in the number of house sales and new listings between February and January for all five regions. Durham and Pell saw house sales eclipse new listings by more than 3 times.
The chart below shows how the Months of Inventory (MOI) for houses changed from January to February 2023 across all five regions. All five regions had less than 2 MOI in February.
All five regions saw average sale prices edge up from January to February (a typical seasonal trend) with Toronto seeing the biggest increase, up 14% in a single month. The change in the median sale price for the City of Toronto was 7%.
Condos
The condo market saw sales increase by 544 between February and January while new listings only increased by 148 units, which means that sales increased nearly 4 times as fast as the change in new listings.
The City of Toronto saw the biggest increase in sales and new listings while new listings actually declined slightly in Durham and Peel regions.
The MOI fell for all five regions in February and ended the month below 3 MOI.
Average sale prices edged up across all five regions with Halton seeing the biggest increase over January up 9% and the median price up 6%.
These early trends suggest that the signs of renewed competition for Toronto area real estate is relatively broad-based, impacting all home types and all regions in the Toronto area.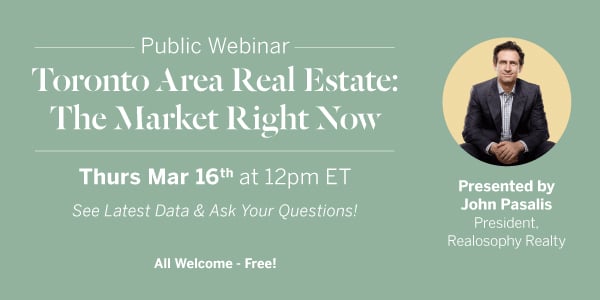 For the most recently monthly stats available for the month, February 2023, and more market analysis, read the full Move Smartly monthly report for March 2023.
Browse Real-Time Market Trends on Movesmartly.com:




See Market Performance by Neighbourhood Map, All Toronto and the GTA
Greater Toronto Area Market Trends
Top Image Credit: Getty/iStock
The Move Smartly monthly report is powered by Realosophy Realty, an innovative residential real estate brokerage in Toronto. A leader in real estate analytics, Realosophy educates consumers at Realosophy.com and MoveSmartly.com and helps clients make better decisions when buying and selling a home.
John Pasalis is President of Realosophy Realty. A specialist in real estate data analysis, John's research focuses on unlocking micro trends in the Greater Toronto Area real estate market. His research has been utilized by the Bank of Canada, the Canadian Mortgage and Housing Corporation (CMHC) and the International Monetary Fund (IMF).
Email report author John Pasalis, Realosophy President
Share This Article