Given the year we've had and the impacts of the COVID-19 pandemic, it's interesting to note which neighbourhoods within the Toronto and GTA area have performed well in terms of home price appreciation.
As Featured in the Move Smartly Report: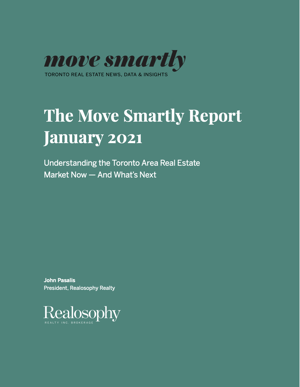 Below are the top performing neighbourhoods as measured by the highest year-over-year change in the median price.
Note that this analysis, is limited to neighbourhoods with at least 24 transactions in each calendar year.
Quite remarkably, our resulting list of top ten performing neighbourhoods for houses (not condos) reflects the urban exodus out of the downtown Toronto core to the outer suburbs in the second half of 2021. Only one of the neighbourhoods on this list was in the City of Toronto.
The average distance to the downtown core for the nine neighbourhoods in the suburbs was 59 km, with two of the neighbourhoods more than 90 km from downtown.
Neighbourhood
City (Region)
% Change
Median Price
% Sold Over Asking
Med Price
2019
2020
2019
2020
Beaverton
Brock (Durham)
38%
$400,000
$550,000
5%
32%

German Hills

Markham (York)
37%
$915,000
$1,250,000
22%
40%

Uplands

Vaughan (York)
32%
$1,280,000
$1,695,000
6%
21%
Palgrave
Caledon (Peel)
31%
$1,217,450
$1,590,000
4%
16%
Rural Burlington
Burlington (Halton)
29%
$1,135,000
$1,468,750
4%
21%

Shoreacres

Burlington (Halton)
29%
$820,000
$1,056,000
18%
31%
Rural Whitchurch-Stouffville
Stouffville (York)
28%
$1,147,500
$1,474,000
5%
12%
Eastlake
Oakville (Halton)
28%
$1,700,000
$2,167,500
11%
19%
Rural Scugog
Scugog (Durham)
27%
$589,625
$749,500
11%
27%
Princess-Rosethorn
Toronto (Toronto)
27%
$1,350,000
$1,715,000
27%
40%
Read Top Performing Neighbourhoods for Condos here
Read my full analysis on this and other key trends in the January 2021 Move Smartly Report

Follow John's latest updates on Twitter, YouTube, Facebook or Instagram

John Pasalis is President of Realosophy Realty, a Toronto real estate brokerage which uses data analysis to advise residential real estate buyers, sellers and investors.

A specialist in real estate data analysis, John's research focuses on unlocking micro trends in the Greater Toronto Area real estate market. His research has been utilized by the Bank of Canada, the Canadian Mortgage and Housing Corporation (CMHC) and the International Monetary Fund (IMF).
Share This Article