July's market numbers show that new listing supply for houses is falling faster than for condos.
As Featured in the Move Smartly Report: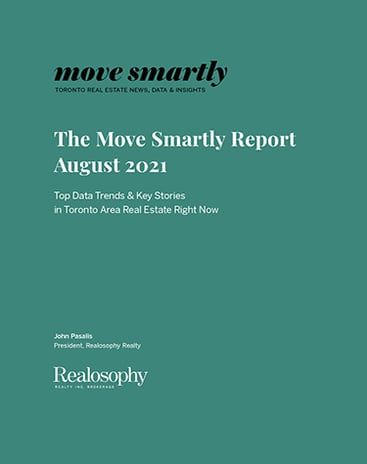 FREE PUBLIC WEBINAR: WATCH REPORT HIGHLIGHTS
Join John Pasalis, report author, market analyst and President of Realosophy Realty, in a free monthly webinar as he discusses key highlights from this report, with added timely observations about new emerging issues, and answers your questions. A must see for well-informed Toronto area real estate consumers.
While the Greater Toronto Area's (GTA) housing market continues to show early signs of cooling (see our Data Dive section in this report for more on this), the market still remains a competitive seller's market.
House sales in July were down 24% over last year, but still above volumes seen in 2018 and 2019.
Sales will likely continue to be negative on a year-over-year basis until at least the first quarter of 2022 since we'll be comparing against a period in 2020 that saw a sudden shock in demand for houses following the initial COVID lockdowns.
New listings have also been declining since March and were down by 37% year-over-year in July.
What's behind the decline in new listings we've been seeing recently?
I suspect there are two primary factors driving this. Firstly, with the provincial Ontario government easing lockdown restrictions this summer, many house- holds are in vacation mode and in no rush to spend more time in their home to get it ready for sale. Many of these homeowners are pushing off their sales to the fall.
The other key factor that might be driving this is a desire from many home- owners to not sell their current home when upsizing or downsizing to another property. Real estate has been a strong performing asset over the past twenty years and with interest rates below 2% homeowners are motivated to hold on to their properties if they have the financial means to do so.
Our brokerage is in the process of quantifying these investors to better understand their impact on the housing market.
There were 4,724 houses available for sale at the end of July, a decline of 47% over the previous year and down over 63% from the pre-Covid times of 2018 and 2019.
The months of inventory (MOI) has continued to be at or below 1 for the past eight months, but we are seeing a decline in the number of homes selling for over the owner's asking price, down from 79% in March to 63% in July. (For more on MOI, see the Monthly Statistics section later in this report.)
The price for an average GTA house in July 2021 was $1,300,701 and has remained close to the $1.3M range since February 2021.
Condo sales in the Toronto area in July were up 1% over last year.
New condo listings were down 24% in July over last year. Since March, new listings for condos have not been declining as rapidly as they have been for houses. This has kept the number of active listings more inline with previous years though still down 28% over last year.
Given this level of new listing supply hitting the market, the MOI for GTA condos has been increasing from a low of 0.8 in March to 1.4 in July, taking some heat out of the condo market as buyers have more choice. The share of condos selling for over the asking price fell from 63% in April to 45% in July.
The average price for a condominium in June was $693,440 and has plateaued around the $700K range since March.
Read the full Move Smartly Toronto Area Market Report to see all monthly statistics for houses, condos and regional trends this month
Top Image Credit: Getty/iStock
The Move Smartly monthly report is powered Realosophy Realty Inc. Brokerage, an innovative residential real estate brokerage in Toronto. A leader in real estate analytics, Realosophy educates consumers at Realosophy.com and MoveSmartly.com and helps clients make better decisions when buying and selling a home.
Email report author John Pasalis, Realosophy President
Share This Article