While the federal budget won't make homes more affordable in Canada, average buyers and sellers won't be impacted by policy-induced market shocks either.
Over the past month there have been countless calls for the federal government to introduce policies aimed at cooling Canada's red hot housing market which saw average house prices rise by 32%/y in March.
But the 2021 federal budget released today had very few measures aimed at improving affordability in Canada's housing market, as I discussed with BNN Bloomberg's Jon Erlichman earlier today.

In fact, the only measure aimed at targeting the market for resale houses in Canada is the introduction of a 1% tax on vacant homes owned by non-residents.

"Houses should not be passive investment vehicles for offshore money. They should be homes for Canadian families." - Chrystia Freeland, Canadian Minister of Finance

The problem with the federal government's proposed tax is that it does nothing to stop non-resident money from flowing into our housing market. The federal government is simply asking these investors to rent their investment properties out and if they don't they'll have to pay a 1% annual tax based on the value of the vacant property.

This policy is likely to have little to no impact on Toronto's housing market since the share of homes that are vacant and owned by non-resident investors is not very large.

Now that the federal budget is behind us, I will say that there is some rationale to the decision to not do anything drastic to cool the market - something I discussed in my April report.
Many of the recommendations put forward by economists in the run-up were knee jerk reactions that were trying to solve short-term problems. Much of the demand for homes we've been seeing to date has been from people who want a home to live in - not investors looking to rent them out. This means that any measures aimed at "cooling demand" would effectively make it harder for these home buyers to buy a home which, would understandably not be a popular policy. Demand from home buyers will gradually cool down and we are already seeing some early signs of this.

The policies I think would be the most appropriate to introduce are policies that would gradually make it harder for domestic and international investors (not regular buyers) to qualify for a mortgage, or, similarly, policies that make investing and speculating in Canada's housing market less lucrative. These types of policies would prioritize homes as a place for people to live in rather than as investment vehicle for domestic or international investors. But even these types of policies would have had a very gradual impact on the housing market.
Unfortunately there is no silver bullet that will make homes more affordable.

So what does this mean for Toronto home buyers today?

Today's budget means that our federal government does not want to interfere with our overheated housing market and wants to see demand unwind naturally. It means we are unlikely to see a sudden decline in house prices caused by new government policies - unlike what we experienced in 2017 after the introduction of Ontario's foreign buyer tax.

And while it's impossible to know for certain where home prices will be over the next twelve months, the fact that policy makers have been largely supportive of this boom in house prices and because the market is still deep into seller's market territory, I tend to agree with the majority of my Twitter followers who believe house prices are more likely to be up vs down next year.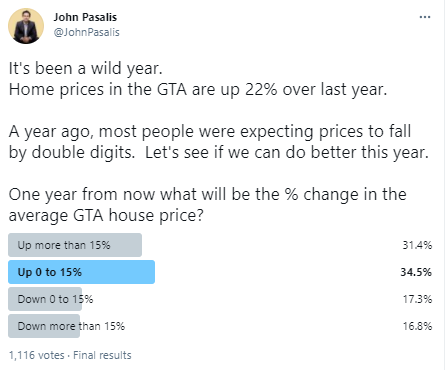 The thing about housing bubbles that we often misunderstand is that they can go on for a long time. Calling a market a bubble does not mean it's going to crash tomorrow.
So what is the average home buyer or seller to do?
In my next monthly report, I'll share how I use my academic research into housing bubble to inform how I go about deciding when to jump in and buy a home vs. when I think it's a good time to patiently wait on the sidelines.
Follow John's latest updates on Twitter and YouTube

John Pasalis is President of Realosophy Realty, a Toronto real estate brokerage which uses data analysis to advise residential real estate buyers, sellers and investors.

A specialist in real estate data analysis, John's research focuses on unlocking micro trends in the Greater Toronto Area real estate market. His research has been utilized by the Bank of Canada, the Canadian Mortgage and Housing Corporation (CMHC) and the International Monetary Fund (IMF).
Share This Article