House sales of 7,825 in May are up 157% over last year - but this is due to the anomalies of the COVID-19 lockdown last year - and sales volumes have been trending down since their peak of 10,068 in March.
As Featured in the Move Smartly Report: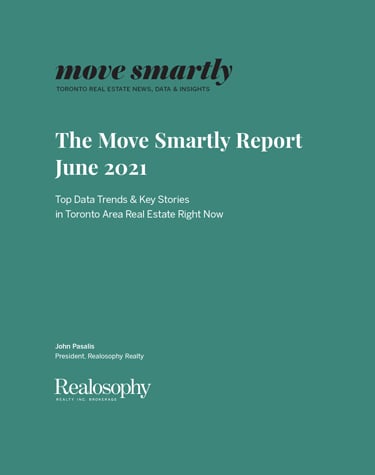 The Market Now
Have questions about this unpredictable market?
John Pasalis, President of Realosophy Realty and author of the Move Smartly report is hosting a monthly webinar for past and present clients of Realosophy Realty. Hear key takeaways from this month's report and get answers to your questions.
While house sales of 7,825 in May are up 157% over last year, sales volumes have been trending down since their peak of 10,068 in March. House sales typically increase on a month-over-month basis as we move into the spring market, but the effects of COVID-19 reversed this traditional seasonal trend.
This change is largely due to the fact that COVID-19 pulled a lot of demand forward in 2020, meaning that buyers who were planning on buying a home in 2021 moved up their home buying plans and bought in 2020. There were a number of factors behind these accelerated home buying decisions including 5 year mortgage rates falling to the mid 1% range and renters wanting to leave their cramped dense apartments in favour of more spacious houses with outdoor space.
This resulted in a very competitive market during the second half of 2020 and the first quarter of 2021, but the surge in demand is slowly unwinding.
The market for houses remained relatively competitive because the volume of new listings coming onto the market followed a similar trend as new listings declined from a peak of 15,263 in March to 11,760 in May.
While the market for houses is still tight with just one month of inventory, we are seeing a slight decline in the number of houses selling for over the seller's asking price. We are also seeing this decline in the number of houses receiving more than one offer on their offer night and in the number of offers that are being received.
The average price for a home in the Toronto area was $1,312,344 in May. Average prices have remained close to the $1.3M range since January.
The Toronto area saw 3,661 condo sales in May, up 151% over last year. However, much like house sales, condo sales have also been declining since their peak of 4,963 sales in March.
While condo sales have declined 26% between March and May of this year, new listings have seen less of a decline and are down just 6% over the same period.
This has pushed condo inventory levels up slightly to 1.4 months of inventory.
The average price for a condo in May was $703,782, up 13% over last year. On a month-over-month basis, average condo prices have remained relatively stable since March.
Monthly Statistics
House Statistics
House sales (detached, semi-detached, townhouse, etc.) in the Toronto area in May 2021 were up 157% over the same month last year. Year-over-year comparisons don't tell us much since we are comparing today's market against the second month of Ontario's first COVID-19 lockdown that saw the real estate market freeze overnight.
The more interesting trend we have been seeing is a month-over-month decline in home sales since the peak reached in March. March to May is typically a period when home sales are increasing from one month to the next, but the effects that COVID-19 has had on the real estate market continues to distort the traditional seasonal trends in the market.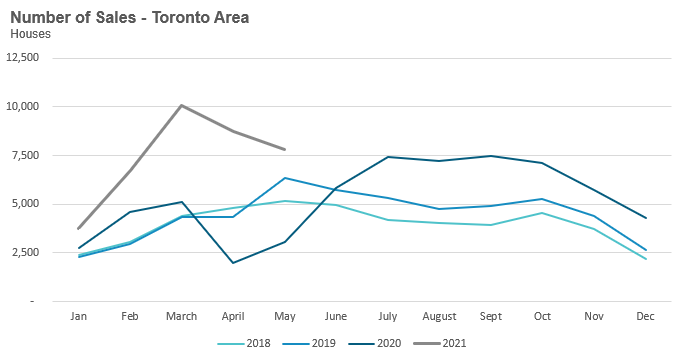 New listings in May were up 110% over last year, but much like the sales numbers, new listings are also showing a month-over-month decline since March.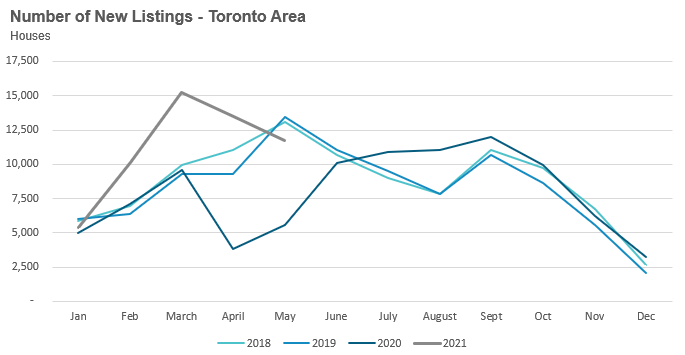 The number of houses available for sale ("active listings") was up 4% when compared to the same month last year.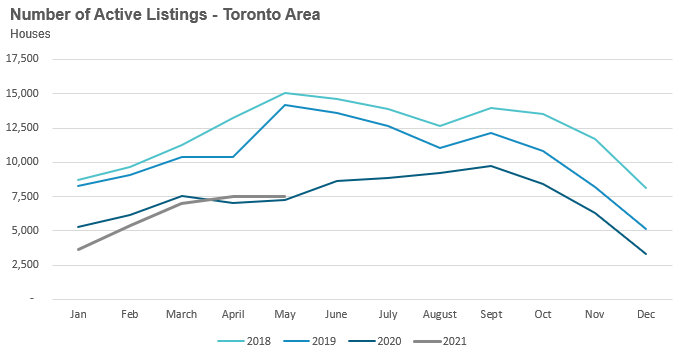 The Months of Inventory ratio (MOI) looks at the number of homes available for sale in a given month divided by the number of homes that sold in that month. It answers the following question: If no more homes came on the market for sale, how long would it take for all the existing homes on the market to sell given the current level of demand?
The higher the MOI, the cooler the market is. A balanced market (a market where prices are neither rising nor falling) is one where MOI is between four to six months. The lower the MOI, the more rapidly we would expect prices to rise.
This May, the market remained very competitive with an MOI of 1.
While the current level of MOI gives us clues into how competitive the market is on the ground today, the direction it is moving in also gives us some clues into where the market may be heading. The MOI has remained relatively stable at or below 1 MOI for the past six months.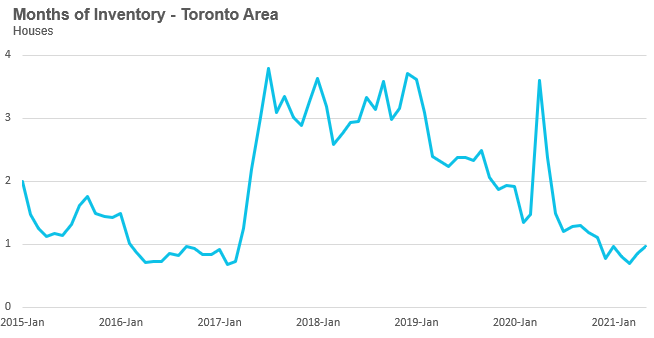 The share of houses selling for more than the owner's asking price dropped from 79% to 70% in May. While this figure still suggests a very hot and competitive market, we are finding at our brokerage, Realosophy Realty, that the number of offers that houses are receiving on their offer nights has declined significantly, and that in many cases houses may only get one offer. In cases like these, a house priced lower to encourage multiple offers will still likely sell for more than the owner's asking price because the buyer knows that the asking price does not reflect the actual market value of the house.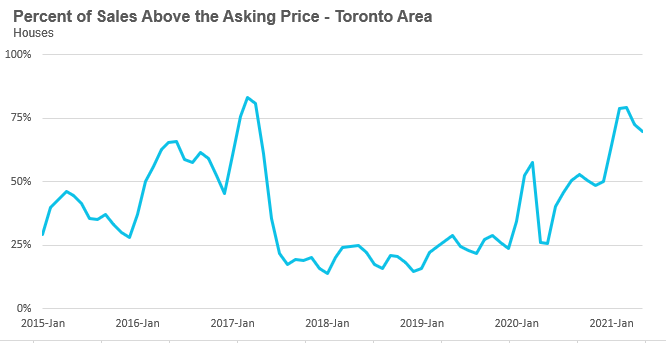 The average house price in May was $1,312,334 while the median was $1,140,000, up 32% and 33% respectively over last year.
While average house prices are up significantly over last year, house prices have plateaued in 2021 with average prices remaining relatively constant in the $1.3M range since the start of the year.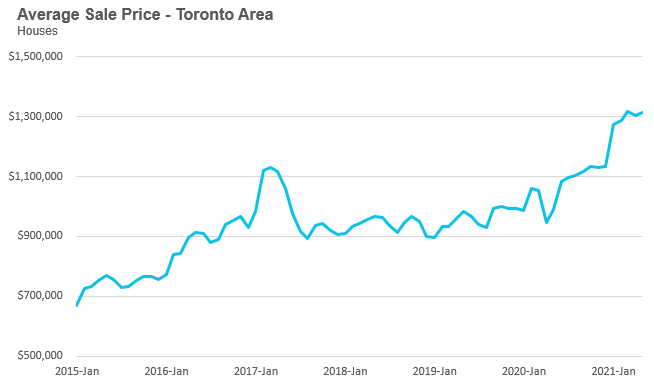 Condo Statistics
Condominium (condo) sales (condo apartments, condo townhouses, etc.) in May were up by 151% over last year, but much like house sales, are seeing sales decline since reaching a peak in March.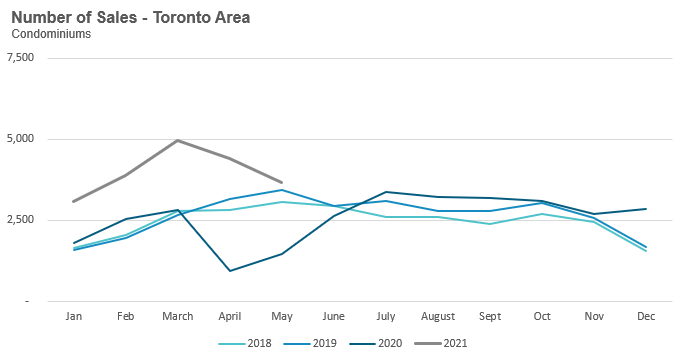 New condo listings were up by 89% in May 2021 over last year. The number of condos available for sale at the end of the month, or active listings, was up 26% over last year.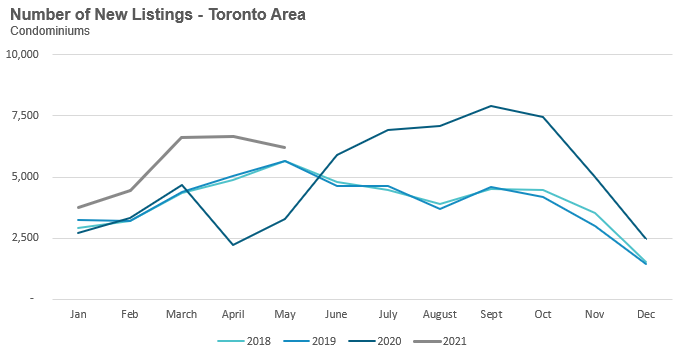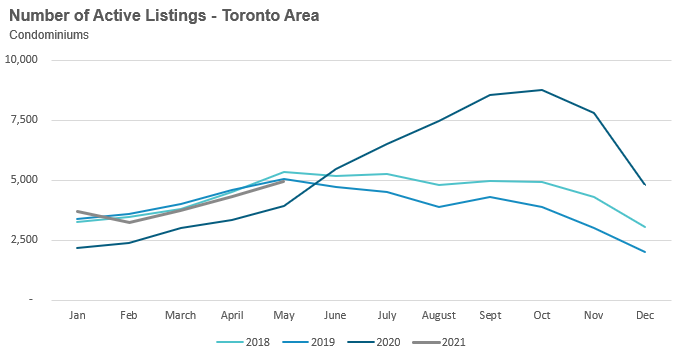 The decline in sales (demand) and strong number of new listings (supply) pushed the MOI up to 1.4 for the month of May.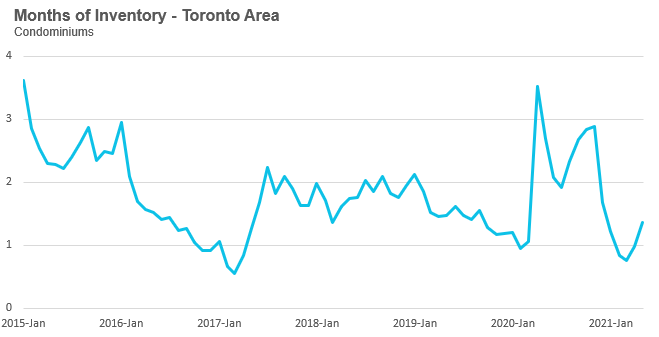 The competition for condos is easing slightly with the share of condos selling for over the asking price falling from 63% in April to 58% in May.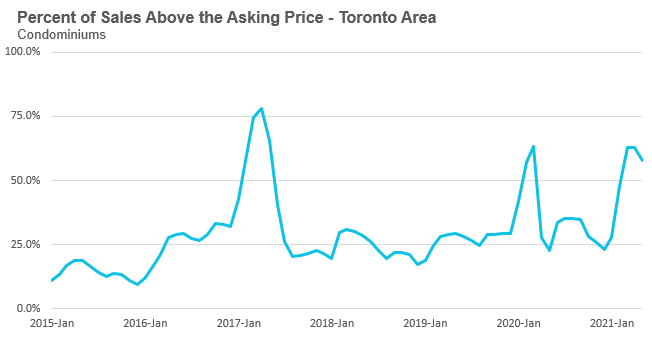 The average condo price in May was $703,782 while the median was $642,000 which were both up 13% over last year.
Average condo prices were in the low $600K range during the fourth quarter of 2020 and after a rapid acceleration during the first quarter of 2021 to approximately $700K, now appear to be plateauing.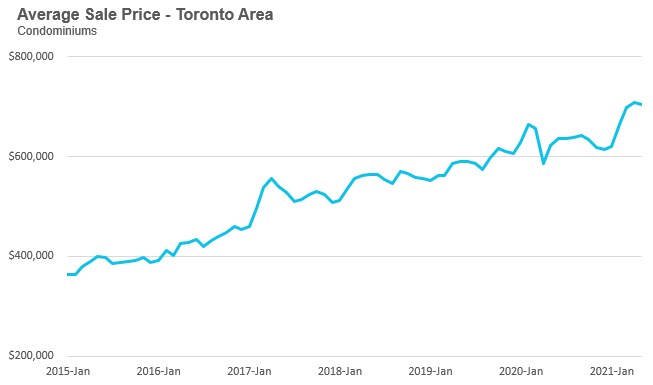 Regional Trends
Houses
Sales across all five regions in the GTA were up significantly in May as were average prices. Despite the increase in new listings, MOI is at 1 or below 1 across the entire GTA, indicating a strong market.

Condos
The surge in condos sales continued in May across the entire GTA. Average prices were up across the suburban regions, along with the City of Toronto. Also indicative of strong market conditions, current MOI levels are below last year's levels for all five regions.

Browse All Live Regional Market Trends on Movesmartly.com:
Greater Toronto Area Market Trends
Market Performance by Neighbourhood Map, All Toronto and the GTA
More Data for Realosophy Clients
Realosophy clients can access the same information above on realosophy.com plus see additional information on every home for sale, including building permit history, environmental alerts and more. Visit Realosophy Buyer Service or contact your Realosophy agent for more details.
Top Image Credit: Getty/iStock
The Move Smartly monthly report is powered Realosophy Realty Inc. Brokerage, an innovative residential real estate brokerage in Toronto. A leader in real estate analytics, Realosophy educates consumers at Realosophy.com and MoveSmartly.com and helps clients make better decisions when buying and selling a home.
Email report author John Pasalis, Realosophy President
Share This Article