While i
t's impossible to predict where exactly home prices will go, tracking these key factors can show us which direction is most likely.
As Featured in the monthly Move Smartly Report: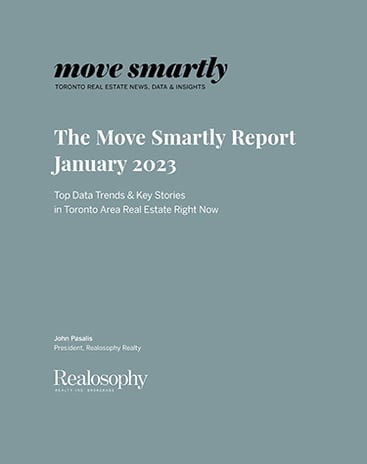 FREE MONTHLY WEBINAR: The Market Now with John Pasalis
Join John Pasalis, report author, leading market analyst and Move Smartly contributor, and President of Realosophy Realty, and in a free monthly webinar as he discusses key highlights this month's report and answers your questions. A must see for well-informed Toronto area real estate consumers.
Register now to get recording of latest session and access to future sessions.
Each new year, we see predictions about the future path of home prices over the next twelve months. But I learned first-hand a long time ago that forecasting Toronto home prices is a 'mug's game', especially during periods of economic uncertainty.
Toronto's housing market has taken many dramatic turns over the past few years.
The demand for homes and home prices surprisingly accelerated in late 2020 in the early days of the COVID pandemic. Prices then flattened out for most of 2021, before an irrational exuberance picked up toward the end of 2021 and into the first quarter of 2022 pushing home prices to record highs (as discussed above in this report). In the second quarter of 2022, buyer fatigue and rapidly rising interest rates then resulted in prices falling over 20% in five months from March onwards and staying flat from July onwards.
Every one of these changes was unpredictable.
For example, the Covid pandemic itself was a surprise, as was the market's sudden take-off after an initial slowdown (just listen to our Move Smartly summit experts back in July 2020 to see how different many thought the rest of 2020 would look). And while it's not surprising that rising interest rates (and mere talk of it) would cool the market, nothing suggested why the market should have become so frenzied just before, to the point where buyer fatigue was starting to cool down the market even prior to rate increases. And the rapid interest rates introduced by central banks around the world were also the result of a persistent inflation remaining long after most experts thought transitory inflation would recede as Covid-19 pandemic effects receded.
While we can normally make educated guesses about the future path of home prices in the short-term, it's obviously a lot harder to do this when the market has been as volatile as it's been over the past three years.
Given this, rather than make a single forecast about the future, I find it's more helpful to consider the different potential paths for home prices, the factors that might lead prices to move one way versus another and how likely it is that prices will move in those directions.
Will Prices Rise, Stay Flat or Fall Further?
Let's consider a simple model with three possible outcomes: 1) home prices remain relatively constant, 2) home prices decline and 3) home prices increase. While it's technically possible that we'll see home prices rise in 2023, the likelihood of that happening is extremely low when compared to the other two options — prices remaining relatively flat or falling.
Below I'll highlight the factors that might make the difference between prices remaining flat versus falling over the next twelve months.
Macro Economic Factors
The most important metric that will drive the future path of home prices is the inflation rate, which will largely dictate where interest rates will go.
While most economists expect interest rates to remain high in 2023, there is the question of how long? If the inflation rate remains stubbornly high then we will be stuck with elevated interest rates for a longer period of time which could have a big impact on the housing market in 2024 as well, and the number of home owners who may struggle to keep up with mortgage payments may increase (more on this next).
Given the impact of rising rates, there is also the risk of a recession in 2023. How a potential recession impacts the housing market will depend on how deep and prolonged the recession is — job losses resulting from a wider economic slowdown obviously are strongly linked to poor outcomes from the housing market.
Financial Distress
It's been less than a year since the Bank of Canada started to raise interest rates and we have yet to see much financial distress from home owners or real estate investors. While some of course are already feeling the impact of inflation on food and other prices, the impact of today's higher rates has not yet been felt by those locked into a mortgage with fixed monthly payments.
This will change as more and more households renew their mortgages over the next twelve months and face a big increase in their monthly mortgage payment when they renew at today's much higher interest rates.
While we know that there will be distressed households over the next year who will need to sell their homes, the important question will be whether the number of distressed sellers will be high enough to materially impact the supply of homes coming onto the market.
I'm not entirely convinced that we'll see enough distressed sellers in the low-rise house market to materially impact home prices.
Mortgage insurers and banks appear to be willing to allow existing home owners to extend their amortization period when renewing their mortgages in order to lower the payment shock they would otherwise experience. (As a reminder, extending the amortization period from 25-years to 30-years, lowers an owner's mortgage payments by spreading their payments over a longer period.) This is not an optimal solution for households who are eager to pay down their mortgage sooner rather than later, but some will find themselves forced into this position in order to reduce their monthly mortgage payment. In addition, the majority of low-rise house owners are end-users (i.e., those who live in the homes themselves) who, experience has shown, will cut back on all other expenses to keep up their mortgage payments.
The one segment of the market where we are more likely to see financial distress is in the condo sector since a far greater share is owned by investors as opposed to end-users. Investors tend to be more leveraged than the average household and if they want to reduce their monthly debt obligations, they are going to sell their investment property before selling their family home.
While this is an important vulnerability I'll be keeping an eye on, I'm not convinced it's going to be a material risk in 2023. Investors have been flocking to condos (and even houses) over the past 5 years in the GTA and have seen significant appreciation on their properties, allowing many to be able to refinance or handle rising costs with relative ease due to the built-up equity they have realized.
However, within this group, there is a segment that may be more vulnerable, which I discuss next.
Pre-Construction Condos
There are a couple of important risks in the pre-construction (pre-con) condo market that we'll need to keep an eye on.
Firstly, the Toronto area has a record over 32,000 condominiums scheduled for completion in 2023, with more than 18,000 of those scheduled for the first half of the year.
The vast majority of these condo units were bought many years ago, so in most cases, investors have seen the value of their units increase since they bought. But even if the value of their units are up, once it's time to take possession of their completed condos, some investors are going to find that it's a lot harder to get a mortgage when they need their incomes to qualify them at an over 7% 'stress-test' interest rate. While there will be some investors who will be unable to close on their units, forcing them to sell them, it's hard to say if these numbers will be high enough to materially impact the market in terms of significantly lower prices.
The other challenge these investors are facing is that even if they can close on their units and get a mortgage, their mortgage is going to be at today's high interest rates which will materially impact the monthly cash flow of their units. Even in the best of times, when interest rates were well below 3%, the high prices of pre-con condos have made them negative cash flow investments, which means that any rental income they generate isn't high enough to cover the mortgage payments and expenses for the unit. As I've explained frequently, these investors were ok with losing money each month in the belief that their units would see good price appreciation year after year.
At interest rates above 5%, I suspect many of these investors will be losing more cash each month which is going to be harder to accept when the likelihood that the value of their unit will rise in the near term has now come down given current market conditions.
Given this, I would not be surprised if we see an above average share of investors sell their newly completed condominiums shortly after completion — so this is one segment that I will be tracking most closely.
Read More: A Look Back at the Toronto Housing Market in 2022
Top Image Credit: Getty/iStock
The Move Smartly monthly report is powered by Realosophy Realty, an innovative residential real estate brokerage in Toronto. A leader in real estate analytics, Realosophy educates consumers at Realosophy.com and MoveSmartly.com and helps clients make better decisions when buying and selling a home.
John Pasalis is President of Realosophy Realty. A specialist in real estate data analysis, John's research focuses on unlocking micro trends in the Greater Toronto Area real estate market. His research has been utilized by the Bank of Canada, the Canadian Mortgage and Housing Corporation (CMHC) and the International Monetary Fund (IMF).
Email report author John Pasalis, Realosophy President
Share This Article